Techniques & Tools
Mass Spectrometry
Fighting for Mass Spectrometry
Alexander Makarov reflects on the development of the Orbitrap technology, gaps in the mass spec toolkit, and the emergence of rival technologies
| 7 min read | Interview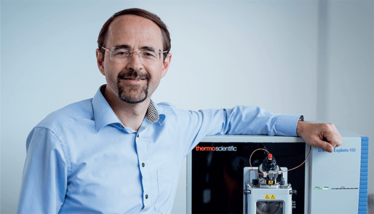 Reflecting on the development of the Orbitrap analyzer, what do you think were the most important factors in its success?

One contributing factor to the Orbitrap success is that it was a matter of survival. When we started developing it, I was working in a very small company in Manchester, UK, during a recession, on a very low salary. We started to realize that we couldn't survive on contract R&D projects alone – we needed our own products. Even with very limited knowledge of the market, it was clear that we needed something really out of the box.

This was when my first internal treatise of the Orbitrap theory came about. I explained my idea to my colleagues – who took one look at my huge stack of paper and said, "Okay, that looks thick enough – we believe this will work." At this point, we very fortunately got a £50,000 grant from the UK Department of Trade and Industry. We were then under a lot of pressure because we had a limited amount of time to work on the Orbitrap development, but also had to continue R&D projects for our company to stay afloat.

Other problems arose around my ideas for the Orbitrap design. Originally, my idea was actually very complicated and when I told our electronics engineer what I needed, he told me it was impossible – in fact, what I wanted then, we still cannot do today. At the time, I did not appreciate the complexity of what I was asking for. This resulted in me being left with, essentially, several pieces of metal and no electronics to drive my design.

I had to come up with something quickly – and I decided to work with pulsed ions produced by a laser. And that meant I didn't need all these complex electronics, but I did need to change the mechanics. We had to update everything, change designs, order new parts – and this became a recurrent theme throughout the whole Orbitrap development. There was never a single idea, we had to adapt continuously – even if it meant throwing away years of work. I would say that there were at least seven or eight instances where most people would have given up the project. But we always had alternatives and we always tried Plan B before the project could be stopped.

As the project progressed and we demonstrated performance, it gained more traction and we were able to build a wider team. We also had excellent managerial support, which allowed us to develop the Orbitrap technology in a relatively short time – although it did take nine years from the inception to the commercial launch. But, in my opinion, the absolute key factor to the Orbitrap success was perseverance – and many sleepless nights!
When you worked with us in 2013, you said that the Orbitrap age was just beginning. Have your expectations been met?

Yes and no. My main idea for the Orbitrap analyzer was that I wanted it to become a routine detector. The trap itself – the basic device made up of three pieces of metal – in its simplicity, lends itself well to routine analysis. I essentially wanted it to become as standard as a single quadrupole. There are thousands of single quadrupoles produced each year and used for all types of routine analysis.
But, somehow, the Orbitrap analyzer remained a higher performance technique. And this is reflected in its price positioning – essentially it is considered a premium product. But I do hope that, one day, this commoditization is still going to happen.

Following this analogy with quadrupoles, with the latest family of Orbitrap Exploris instruments we have already taken this step by reducing size and complexity to that of triple quadrupoles. The Orbitrap Exploris MX detector in particular will be useful for routine LC analysis – and this is where we have the largest volume and penetration in analytical sciences.

Honestly, I thought this would happen faster – but, of course, I didn't take into account the way instrument companies operate. This has been a huge learning curve for me over the past 10 years – it is not enough to create a perfect technology and produce it, you also need to have solid and innovative business models in place to support its expansion.
Do you think there is anything missing from the mass spec toolkit at the moment?

Yes. There are many ways in which we could enhance the information that we provide. In ion mobility spectrometry, for example, although the cross-section information obtained is limited, it is already extremely useful. However, people are desperate for more information about the structure of molecules. The more we go beyond these limitations – using, for example, spectroscopy of ions or optical methods – the more we can analyze, and the better we can determine what is happening with our mixtures. In my opinion, there is massive leeway to explore – but it will require a combination of many complicated spectroscopic techniques.

We also have a lot of mass spectrometry aspects which are still in development – like fragmentation or ionization methods. We are only at the beginning, and we still have to compensate for shortcomings through better informatics – but I personally would like to see improved methods to address the structure of molecules.
Do you have any major concerns for the mass spec field?

Yes. There are two areas where mass spectrometry is under emerging pressure from new technologies. The first is proteomics – where methods based on antibodies, next generation sequencing, or single molecule protein sequencing are attracting more investment than mass spectrometry instrumentation got over its 100-year history. With all this effort and investment, these new technologies are increasingly competing with mass spec. Another area is tissue imaging and spatial -omics, where non-mass spec methods are developing very rapidly. In this sense, there is an existential danger for mass spectrometry. However, I do not think there is imminent danger when it comes to small molecules, pesticides, metabolites – where these new methods are not working as well.

I believe we can still offer a good fight against all emerging methods even in those two fields, if we switch to different business metrics, such as cost of analysis, which better suits mass spec due to lower consumables expense. I think this will enable mass spec to be competitive against other methods in future – although for now, they are still orders of magnitude away from the separation capabilities of LC/MS.
When you think about mass spectrometry as a whole, what do you think the most important development has been over the past 10 years?

I think democratization of mass spectrometry has been vitally important. Many companies now have mass spec technology that is much more accessible to users with no prior knowledge of mass spec. But I think we still have some way to go! And I think we need to make that happen before other competing methods do.

The rise of data-independent acquisition is also definitely up there, and, more generally, the increase of complexity of samples that mass spec can turn into actionable data. Data-independent acquisition is a specific example, which is usually used for proteomics, but it has implications way beyond proteomics. These types of breakthroughs are mainly driven by development of informatics, and neural networks – but they have also been complemented by an increase in speed of analyzers, as well as large improvements in liquid chromatography and other aspects of the complete workflow.

Mass spectrometry has steadily accommodated greater and greater sample complexity overall – and this is what keeps mass spectrometry competitive against other emerging methods. If we organize our instruments and our business models correctly, I think mass spectrometry will remain competitive. If we don't, we will face increasing pressure from other methods based on next generation sequencing or other new techniques.
Receive content, products, events as well as relevant industry updates from The Analytical Scientist and its sponsors.