Techniques & Tools
Spectroscopy,
Food, Beverage & Agriculture,
Mass Spectrometry
Good in a Food Fight
Sitting Down With… Chris Elliott, Faculty Pro-Vice Chancellor and Founder of the Institute for Global Food Security, Queen's University Belfast, Northern Ireland.
Chris Elliott | | Interview
How did you get started in food analysis?
In the 1980s, I worked on methods to detect residues of growth-promoting compounds in animal production, such as anabolic steroids, beta agonists, beta blockers and tranquilizers. At that time, legislation had just been introduced in Europe to ban these substances, so I was not only developing methods, but putting them into regulatory programs.
My goal has always been to do good science that ultimately helps to keep people safe.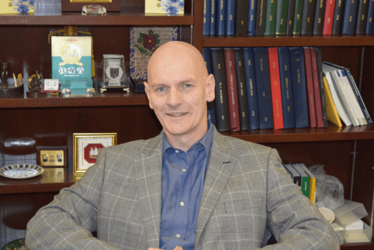 What have been your biggest successes?
It's gratifying to see methods developed by my team being used all over the world, by regulators and by industry – it shows that our research is having a real and meaningful impact. For example, I carried out a review for the UK government after the "horsemeat scandal," and the recommendations I produced were not only accepted by the UK government, but are also being used by agencies in many other parts of the world to improve the integrity of their food supply systems.
What have been the toughest aspects of the journey?
Often, the hardest part is getting the funding in the first place. Like most academics, I spend a lot of time writing grant applications, many of which get turned down. Though the research itself is often very complex, I have put an excellent multidisciplinary team in place over the years, including analytical chemists, immunologists and food psychologists, to make sure that we can deliver.
Finding the right methodologies to do high-quality analysis can be really difficult. We examine innovations in technology platforms across multiple sectors – life science, pharmaceutical science, and so on – to see how those methods can be applied to food safety analysis. We're lucky to have two excellent technology centers at the university: one focused on rapid screening tests using sensor technologies, the other on using targeted and untargeted spectroscopy and mass spectrometry to produce high-quality quantitative data.
How do you ensure your research is applicable to routine use?
A big part of what we do is translating complex analytical techniques into easy-to-use methods. We would like government inspectors and others involved in quality control of food to be able to operate these systems and interpret the data. In addition, we work with many different food companies, small and large, all of whom are very keen to have these types of tools. So we work very closely with industry in trying to get methods that are fit for purpose.
Could you summarize your major projects?
Our most important project aims to improve food safety and food fraud detection between the EU and China. Food safety failures have become a growing problem in terms of ensuring the integrity of our food, but also for trade. We've embarked on an 11 million Euro, four-year project to look at best practice in both territories and drive forward standards. It's jointly funded by the EU and China, and there are 33 partners in total (16 from Europe and 17 from China), with academia, industry and government all working together. Another project we're very enthused about deals with fraud in the global supply chain of rice. Here, we are developing techniques that will identify adulteration and counterfeiting of rice, and also flag a number of potential food safety issues.
Looking at your work, "transparency" appears to be a key theme...
I have a strong belief that people have lost touch with how their food is produced and where. We want to rebuild the trust in our food supply systems – and the only way we can do that is with food transparency.
First of all, consumers need to understand that, although food supply chains are highly complex, information is increasingly available to them. Exciting innovations, such as block chain technology, are making supply chains more transparent. In November 2017, we launched the world's first block chain beer in Northern Ireland – by scanning the QR code you can see where all the ingredients came from, when it was manufactured, and lots of other details. The beer also tastes good!
You are supporting the Food Fraud conference in London. What is the main goal of the event?
We had a very successful conference on food fraud in 2017, bringing UK food industry representatives together to determine what the big issues are. At Food Fraud 2018, we will be expanding the discussion to an international level, and finding out how companies can collectively deal with some of the issues in food fraud prevention.
What type of food is more vulnerable to fraud?
The simple answer is that all types of food are vulnerable – and most already suffer some form of fraud. But more complex food supply chains are strongly linked to an increased likelihood of fraud. The food industry operates on very small profit margins, so there is always pressure to cut costs – one way to do that is to cheat. If the fraud is successful (it goes undetected), vast sums of money can be made, so the motivation for criminals is huge.
Where would you like to see the field in five years?
I'd like to see a stronger network of collaboration at a national and international level. Here at Queen's University, we want to develop a global hub for food fraud detection, working with other laboratories across the world to standardize our methodology. Harmonization has been the trend for analytical science in many other areas, such as veterinary drugs and pesticides, and I'm optimistic we can do the same for food safety.
Receive content, products, events as well as relevant industry updates from The Analytical Scientist and its sponsors.