Techniques & Tools
Mass Spectrometry
Introducing The Mass Spec Quiz
Sue Abbatiello, Principle Consulting Chemist at Waters, tells us about her recent Twitter success – a photo-based MS quiz!
| 2 min read | Interview
Could you tell me a little about your background?

So I've moved between academia and industry a bit throughout my career. After having my second child, I moved from academia and joined Thermo, where I had the chance to get more involved in developing hardware and software to improve analysis. It was exciting to be involved in launching a product, but it was also quite demanding. I eventually went to Northeastern University where I could do more of the "real science" rather than simply running standards a lot of the time. Again, though this was really interesting work, academia can be pretty difficult if you're not a professor and bringing in your own grants.
In the end, I joined Waters as part of their research team. Currently, we're designing and developing hardware for LC-MS analysis for all different applications. It's a lot of fun.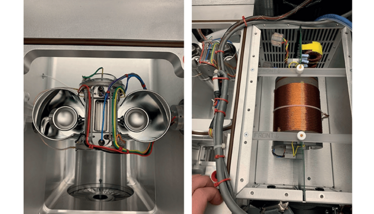 Test your knowledge! For the image on the left, your choices are: Inner parts to a vacuum gauge, Jonny's alive!, Predecessor model to Tosie from the Jetsons, linear ion trap. On the right, choose between: Bracelet maker, RF generator, Heat sink, Thermocouple (answers below).
What inspired you to start posting an MS "quiz" on Twitter?

I think this is the case for most people in the MS space, but throughout my career working with MS instrumentation, I rarely got the chance to actually see inside the instruments. Whenever I did have that opportunity – say when it was broken or being cleaned or something – I would whip out my phone and take a picture. It's just so interesting to see the inner workings!
I eventually had the idea to start posting some of the pictures on Twitter (you can find me @sabbatiello0310) and seeing if people knew what the parts were when taken out of context. Some are pretty easy, some are a little trickier to identify. It's nice to have the chance to share the experience of "peering inside the machine" with those who have never had that chance. It's been really fun to see everyone's responses! And to see who is paying attention to the little details…
What are you most excited about in the MS space?

I'd probably have to say charge detection MS (CDMS). This is something I actually work on at Waters, and the technology we are operating with was developed by Martin Jarrold at Megadalton Solutions. I've been working with MS since the 1990s, and by now we know what it can and can't do. Essentially, as long as you get something into the gas phase, there's a good chance you'll be able to measure it – that is, unless it's too big. And this is the gap that CDMS fills. Now, we are able to ionize protein complexes, particles, even whole viruses… so I'd really like to see how this technology develops in the future.
Answers: left image: RF generator; right image: linear ion trap
Receive content, products, events as well as relevant industry updates from The Analytical Scientist and its sponsors.