Techniques & Tools
Metabolomics & Lipidomics,
Business,
Technology
Joining Forces: Rise of the Omics
Our series profiling academia–industry collaborations continues by looking at how Thermo Fisher Scientific is supporting the University of Birmingham's metabolomics research program.
Mark Viant, Iain Mylchreest |
Tell us about your project…
Mark Viant: We have two metabolomics research centers here at the University of Birmingham – the Phenome Centre Birmingham, which is a £8 million research center opened by UK Government Chief Scientific Adviser Professor Sir Mark Walport in May 2016, and the Birmingham Metabolomics Training Centre. Thermo Fisher Scientific is technology partner with both of those research centers and with the University's proteomics program. Helen Cooper, a professor of mass spectrometry here at Birmingham, leads the proteomics part of the relationship, while Rick (Warwick) Dunn and I lead the metabolomics side. Rick and I have a joint lab with about 25 PhDs, postdocs and technicians, and we direct both the training center and the Phenome Centre.
Phenome Centre-Birmingham (PCB) conducts metabolic phenotyping (metabolomics) studies across the breadth of human health research. We apply both non-targeted and targeted metabolomic approaches to study human diseases and aging in large-scale studies to translate into stratified medicine, ultimately benefiting both UK and global populations. Specifically we use these approaches to measure the "metabolome" of patients – the set of naturally occurring metabolites in cells, tissue or biofluids such as plasma or urine. The big data that is generated is then analyzed using bioinformatics and biostatistical tools to understand molecular mechanisms associated with disease onset and progression, and to identify clinically relevant metabolic markers (biomarkers) that could be used to stratify the human population in terms of disease risk and choice of drug treatment. Current projects include metabolomics studies of reproductive medicine, blood cancers, trauma and organ transplantation.
Thermo Fisher works with us on a number of levels. They currently fund multiple Cooperative Awards in Science & Technology (CASE) PhDs in metabolomics here in Birmingham that provide a bedrock for our collaboration. As well as input from Thermo Fisher on the scientific direction of these projects, the PhD students visit the Thermo Fisher analytical laboratories, spending time working with their scientists – that's a pretty deep interaction and a great experience for the students, who are more used to an academic research environment. We also beta-test some of their instrumentation and software – and that means we get early access!
How did you build the partnership?
MV: I was invited to give a keynote presentation at a conference in Washington DC in 2012. I talked about the science, our approach, and instrumentation. After the talk I was approached by Thermo Fisher. We had an extremely productive chat over a coffee, and it turned out that the company was looking to strengthen its relationships with different academic laboratories around the world, and metabolomics was a big growth area for them.
Iain Mylchreest: The partnership evolved over a series of conversations and visits to Birmingham, where we got to know Mark and his team and were exposed to the science and the collaborative network he was building. Partnerships like these always evolve as we explore mutual interests and visions. As an analytical tools provider, we appreciate collaborations like these where we can enable science, not just for today's challenges, but to develop new capabilities to answer future questions. It was clear to us right away that the team at Birmingham is pushing the field of metabolomics into new areas and is thinking on a bigger, broader scale that requires new channels of information and needs more experimental capability. One of the goals of this collaboration is to take emerging and new capabilities and make them more accessible to the broader community.
What are the benefits of academia–industry collaborations?
MV: There are many benefits, and it's become an activity I am passionate about it. We have a lot of industry collaborations, and it is a key part of how we conduct our research. I'm not interested in being locked in an academic ivory tower with the sole focus on publishing papers – I want to translate our science and achieve impact, and I can make that happen by working with companies. They provide a very challenging 'problem space' in which we can deeply engage with them and further the science of metabolomics.
Diversification of our funding portfolio is also very important to us – you can't depend on the research councils, and here in the UK there are uncertainties around Brexit and the European funding situation. Having industry funding has become a vital fuel for our research program. However, it's not a case of begging for money – it's a two-way relationship. We genuinely believe we can help the company design a better product and ultimately increase sales. We openly acknowledge this partnership in talks and on posters, and we thank Thermo Fisher as our technology alliance partners. It's something that we're very proud of.
A common negative that people bring up is restrictions on publication, but we have never found this to be a problem. It's never slowed down a publication.
IM: Collaborations allow us to stay close to the basic and applied research in emerging fields, and get feedback where we should be directing our technology developments. Additionally, we can see how our current products perform against specific challenges. We then are able to gather input on how we could further enhance products. Essentially, by giving scientists access to technology we can develop new concepts and test them against real-world problems. This is critical for us and helps us to enable better science, open up new experimental capabilities and informational output. Long-term relationships like these can span many generations of a project and helps us see the complete picture – creating opportunities for potential evolutions of products.
I want to translate our science and achieve impact, and I can make that happen by working with companies.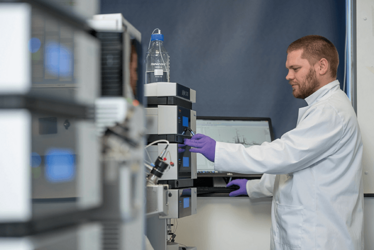 What challenges have you encountered?
MV: Here at Birmingham, we have many industry partners. The Phenome Centre alone has four, two of whom (Waters and Thermo Fisher Scientific) sell mass spectrometry instrumentation. Therefore, one challenge is to think carefully about what research we conduct with one partner and what we do with the other, to avoid damage to either relationship.
IM: We really haven't experienced many challenges with this collaboration. We do our best to avoid potential pitfalls through careful scoping of projects and by focusing our efforts on specific projects. Regular, open dialogue is critical to success.
What makes for an effective partnership?
MV: Two words: deep trust. Without trust, you're not going to build a relationship. You have to be able to look your collaborators in the eye and know that both you and they are offering informative, relevant information.
If you're considering going to go into a relationship like this then my advice is to take it seriously. Think about it and nurture it – if you do that, it's a win–win. You have to respect the relationship and see it from both sides: give them what they need, while ensuring you get what you need. It's the same fundamental basics as any relationship.
IM: Partnerships are successful when expectations are clear and when we are careful about setting realistic deliverables for both parties. Collaborations usually involved multiple projects and can span many areas, so it's important to have a primary point of contact for each aspect of the collaboration. Also, establishing a team to navigate the different projects is critical, so that everyone is clear who to turn to for answers and so that support is provided in a timely manner.
Phenome Centre Birmingham: www.birmingham.ac.uk/phenome-centre
Birmingham Metabolomics Training Centrewww.birmingham.ac.uk/bmtc
Receive content, products, events as well as relevant industry updates from The Analytical Scientist and its sponsors.
---