Techniques & Tools
Mass Spectrometry
Mass Spec: 2022 Retrospective
Looking back on 12 months of mass spec research news, we compiled the best mass spec stories over the past year
Margot Lespade | | 11 min read | News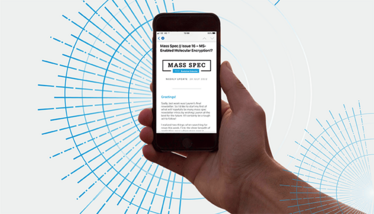 January

Seeing (and predicting) resistance. Antimicrobial stewardship describes a systemic effort within healthcare settings to limit overuse and over-prescription of antibiotics. A key part of this effort is selecting the optimal treatments for a particular disease, chiefly to limit the use of broad spectrum antibiotics and to improve patient outcomes. Current antimicrobial resistance testing methods are culture-based slow, taking up to 72 hours to produce results. MALDI-TOF is already extensively used in microbiology labs to identify microbial species and has the potential to enable antimicrobial susceptibility testing; however, the lack of a comprehensive catalog of marker masses for pathogen–drug combinations has kept the approach out of the clinic. Thus, a group of scientists from Switzerland created a large-scale, publicly available database called DRIAMS, which combines mass spectra from clinical isolates with their respective laboratory-confirmed antibiotic resistance profile. Their results show that this approach can accurately predict the resistance profile within 24 hours.
February

All in on OrbiSIMS. With the volume of mass spectral data increasing all the time, interpretation of such datasets is proving increasingly difficult. Automated peak assignment based on molecular formula prediction (MFP) is widely used in other areas of MS, but has not yet been applied to secondary ion mass spectrometry. Enter Max Edney and a team from the University of Nottingham, UK. Using a combination of MFP and double bond equivalence measures, the team was able to chemically filter 3D OrbiSIMS datasets from a series of increasingly complex samples. Though largely a success, the team also highlighted a number of limitations still to be overcome, including the high number of possible protein peak assignments.

PCR or MALDI-TOF? To overcome some of the limitations with RT-PCR diagnosis, a group of researchers from the National Institute of Health Sciences in Japan developed a MALDI-TOF MS-based method for direct detection of SARS-CoV-2 in nasopharyngeal swabs. Seven peptides derived from the viral nucleocapsid phosphoprotein (NP) were chosen as targets for the clinical specimens, and a purification method for eluting and extracting the NP was developed. Though less sensitive than RT-PCR, the MALDI-TOF method offers advantages in operability, time, and cost – and could help identify contagious patients for isolation.
March

A foodie's heaven. Recent years have seen a large growth in the untargeted metabolomics data available to researchers in the food space. But this brings its own challenges, such as correctly identifying the many MS signals present in a sample. Now, Pieter Dorrestein and his team at The University of California San Diego, have created foodMASST: a mass spectrometry search tool combined with a reference database of food metabolite data that is capable of unpicking the complicated molecular landscape of foods and beverages. Though similar tools exist, foodMASST is the only one able to match spectra from both known and unknown molecules in single ingredient and complex foods and beverages.
April

Probing the proteome. Julia Laskin and Neil Kelleher teamed up to provide better insight into the differential expression of proteoforms in the brain. How? By using top-down proteomics and nanospray desorption electrospray ionization MS imaging (nano-DESI MSI) to directly image proteoforms in rat brain tissue. Overall, they managed to create spatial maps of forty proteoforms of nineteen distinct proteins. This was, in fact, the first paper to show differential proteoform expression in different regions of a brain. The hope is that as the technology continues to advance, we might soon be able to analyze proteoforms in human tissues and explore their use as disease biomarkers.
May

A match made in heaven? Native mass spec and cryo-electron microscopy (EM) – together at last! In the latest offering from Josh Coon's lab, a modified Orbitrap MS system was shown to be capable of depositing a native MS ion beam onto EM grids. In their paper, the team obtained a 3D reconstruction of a 800kDa protein complex – GroEL – from gas-phase deposited ions, finally providing evidence that protein complexes do in fact retain their structure in the gas phase. Their "matrix-landing" method could eventually allow direct coupling of cryo-EM to MS, expanding the scope of this technology and opening new avenues in the field of analysis.

Neglected proteins. According to a paper by Juri Rappsilber, the most frequently studied protein in the human proteome is p53, and "on average, it is the subject of two publications per day." Meanwhile, there are unthinkable numbers of proteins left by the wayside, uncharacterized and unknown to the scientific community. So Juri decided to set up the Understudied Proteins Initiative to help. In this paper, he and his team outline how the initiative could lay a foundation for future detailed mechanistic studies into these proteins, with a specific focus on the use of MS-based methods.
June

Personalized serology. "How many immunoglobulins are there circulating in our blood?" This is the question Albert Heck posed at the beginning of his talk at ASMS on combining top-down and bottom-up analysis for the quantitative monitoring of individual clones in antibody repertoires. According to Heck, the numbers are staggering – around 1015 in total. "No one has really looked at how many antibodies are present in our blood because of the sheer number," he says. To overcome this challenge, he and his team developed a new antibody profiling method based on collecting Fab fragments and classifying them using LC-MS. "Our results show that in reality, only a few dozen clones exist for each individual, but that each IgG1 clonal repertoire is personalized to that individual." You can read more about the story in the related paper.
July

The wonderful wizards of MS. Data security is a hot topic these days and digital encryption keys have become commonplace. In recent years, molecular encryption strategies have emerged, with researchers using DNA chains and polymers to store and transport encryption keys. A team of US-based researchers encoded a 256-bit cipher key into the sequences of eight 10-monomer-long oligourethanes. The molecular-based key was embedded in the ink of a personal letter, mailed to a third party, recovered using the same sequential analysis method (which involved high-resolution LC-MS), and then used to successfully decrypt The Wonderful Wizard of Oz.

You are what you eat? Pieter Dorrestein's research team developed a new reference-data-driven method for untargeted metabolomics analysis that helps identify the many metabolites produced when we eat. "Untargeted mass spectrometry is a very sensitive technique that allows for the detection of hundreds to thousands of molecules that can now be used to create a diet profile of individuals," said Dorrestein in a press release. The approach is based on matching metabolomics tandem MS data to metadata-annotated source data to create a pseudo-MS/MS reference library. This is then applied to food data, increasing the MS/MS spectral usage 5.1-fold over conventional approaches. The hope is that this new and improved approach will enable researchers to better understand how what we eat has an impact on our health, linking diet to clinical outcomes.
August

Just how small can portable mass spectrometers get? Researchers from Taiyuan University of Science and Technology, China, got theirs down to just 5.2 kg in weight. To construct the handheld device, the team integrated three technologies: discontinuous atmospheric pressure interface, sinusoidal frequency scanning ion trap driving, and Faraday detection. The end result is a 21 by 21.6 by 12.3 cm mass spectrometer with a two-hour battery life. The researchers believe the device could be used for rapid analysis in a field hospital setting or in the emergency room. They also hinted at potential applications to chemical warfare agent analysis.

The pen is gentler than the sword. The MasSpec Pen, a portable MS device developed by Livia Eberlin, is most well known for its cancer-detecting capabilities. Eberlin and her colleagues branched out into a new and unexpected application area: poison frogs! Poison frogs are well-known for their ability to store alkaloids in their skin as chemical defense against predators, which can be difficult to sample without harming the frogs or causing a stress response and affecting the results. The team reported "rapid (<15 s), gentle, and consecutive molecular analysis without harm or undue stress to the animals."
September

Sniffing out a test for Parkinson's. A few years ago we reported on Joy Milne's unusual gift: her ability to smell Parkinson's disease. Perdita Barran set out to isolate the molecules that make up the distinctive odor. She's done that and more! Barran and her University of Manchester, UK, colleagues found that there are lipids of high molecular weight that are substantially more active in people with Parkinson's, and then developed a paper-spray-ionization-ion-mobility-MS-based diagnostic test, which can be performed in as little as three minutes.

Potential IVF outcome biomarkers. Polycystic ovary syndrome (PCOS) is the main cause of female infertility, but the dysmetabolism displayed is not completely understood. Aiming to find markers that would predict clinical outcomes of IVF treatment, researchers from Zhengzhou, China, analyzed the different metabolites and related metabolic pathways in follicular fluid and embryo culture fluid of PCOS and non-PCOS groups using UHPLC-QE-MS. They found 11 kinds of biomarkers associated with clinical outcomes. In particular, androsterone sulfate, glycerophosphocholine, and elaidic carnitine were strongly correlated with miscarriage rates in PCOS patients.
October

Proteomics-based long Covid test. Advances in our understanding of how to manage COVID-19, plus mutations to the virus, have – fortunately – reduced the chances of a hospitalization. But the prospect of developing "long Covid" remains a worry given how little we know about the condition. Researchers from University College London developed a proteomics- and machine-learning-based blood test, taken at the time of infection, that can predict a patient's chances of developing long Covid. "Our study shows that even mild or asymptomatic COVID-19 disrupts the profile of proteins in our blood plasma," said lead author Gaby Captur in the press release. "This means that even mild COVID-19 affects normal biological processes in a dramatic way, up to at least six weeks after infection."

Life on the margin. Graham Cooks made one of the most important discoveries of his long and illustrious career this week: water isn't wet – at least not everywhere. Let's take a step back – a big step back to the beginning of life itself. Scientists have theorized that life on Earth began in the oceans and involved amino acids delivered to earth by meteorites. But to form peptides, the chemistry requires the loss of a water molecule – unlikely in, well, water. Cooks and his Purdue colleagues generated aqueous droplets containing two amino acids using nano-electrospray ionization, which they monitored with mass spec. On the margins, where the water droplets meet the atmosphere, they found incredibly rapid peptide-forming reactions taking place. "This is essentially the chemistry behind the origin of life," said Cooks in the press release. "This is the first demonstration that primordial molecules, simple amino acids, spontaneously form peptides, the building blocks of life, in droplets of pure water. This is a dramatic discovery."
November

Targeting tau phosphorylation. Hyperphosphorylation of the protein tau is a major hallmark of Alzheimer's disease (AD), so any protein kinases that phosphorylate tau represent hot targets for new drugs. To aid the search, researchers from Purdue University, USA, have developed a novel proteomic strategy called fluorescence complementation mass spectrometry (FCMS), which helps identify novel tau-associated kinases. The evidently powerful method was able to detect 59 tau-associated kinases, including 23 known kinases and 36 candidate kinases.

Ready to explode. Because volcanic eruptions are difficult to predict, a team of researchers at the University of Tokyo decided to explore whether the ratio of atoms in specific gasses released from volcanoes can provide an indicator of what is happening to the magma deep below. Noble gas MS revealed that changes in the ratio of argon-40 and helium-3 can indicate magma frothiness – which in turn can signal the risk of different types of eruption. The authors are hoping to develop portable mass spec technology to provide on-site, real-time measurements for a 24/7 volcanic activity monitoring and early warning system.
December

Dog and bone. Wolf domestication may have occurred even earlier than we thought – at least in western Europe. A team from the University of the Basque Country, Spain, has analyzed a humerus bone that belonged to an animal that lived in the Paleolithic period – 17,000 years ago! Particle accelerator mass spectrometry confirmed the identification of this specimen as Canis lupus familiaris – also known as the domestic dog, making it the oldest known example.

METH mass spec. Methamphetamine (METH) is a commonly abused psychostimulant, and often has sex-specific effects on behavior – suggesting that different metabolic and neurotoxic mechanisms take place in males and females. In a recent study, researchers examined the serum metabolome of METH addicts using UHPLC-MS/MS – looking for sex-specific metabolic changes resulting from METH abuse. Results revealed distinct metabolomic profiles for METH addicts and controls – with almost 300 upregulated and 100 downregulated metabolites in addicts. The authors also noted that L-phenylalanine, L-tryptophan, L-histidine, xanthosine, and adenosine 5′-monophosphate exhibited clear changes in male METH users – while betaine, cortisol, 7,8-dihydrobiopterin and 4-hydroxybenzoic acid were specific to females. According to the authors, these results may facilitate accurate diagnosis and treatment for METH addicts of different genders.
Subscribe here to our weekly mass spec newsletter for more mass spec news!
Receive content, products, events as well as relevant industry updates from The Analytical Scientist and its sponsors.