Techniques & Tools
Sensors
Measuring the Storm
How a molybdenum disulfide diode-based biosensor detects elevated levels of TNF-alpha – a biomarker of cytokine storm risk
Georgia Hulme | | News
Overproduction of cytokines can lead to a "cytokine storm" – an extreme inflammatory reaction triggered by numerous health conditions, including COVID-19, cardiovascular disease, rheumatoid arthritis, and Alzheimer's disease. Detection of cytokine biomarkers at low concentrations can help diagnostic professionals to identify the risk earlier. And although existing methods – such as ELISA and mass spectroscopy – are extremely sensitive, they are expensive and time consuming. And that's why a group of Canadian researchers developed a rapid, label-free, molybdenum disulfide (MoS2) diode-based biosensor that detects one particular cytokine: TNF-alpha (1).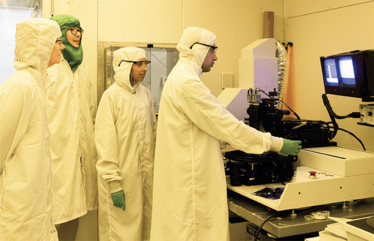 "The sensor we are developing is simple to use and portable so it could potentially be used in a doctor's office or in more remote areas where access to laboratories is limited," says Michael Adachi, the project's lead investigator. The biosensor consists of a 2D semiconductor – a multilayer MoS2 crystal flake on top of thermally-oxidized SiO2 contacted by two metal electrodes. "The advantage of the diode sensor is its simple electrical readout and fabrication process," explains Adachi.
The geometric asymmetry of the components behaved as a diode – making the sensor highly sensitive to any changes that occurred at the surface. Next, the sensor was functionalized with TNF-alpha binding aptamers. When a small volume of solution containing TNF-alpha comes into contact with the sensor, it interacts with the aptamers, causing an observable change in the electrical properties of the MoS2 crystal. By measuring the electrical signal output, the concentration of the biomarker protein can be assessed. "Biomarkers are indicators that can help determine if a person may have or be at risk of developing a disease," says Adachi.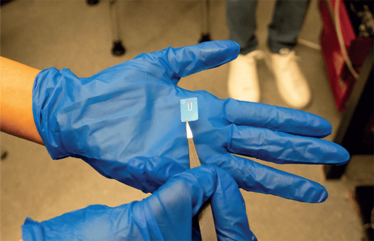 The team of researchers is also interested in the detection of other biomarker proteins that are specific to particular diseases, such as Alzheimer's disease. They are also trying to overcome the challenges of targeting one specific protein in a sea of interfering substances, including hormones and salts. Indeed the next phase of the current study will assess sensor performance using blood samples containing TNF-alpha rather than using a diluted buffer solution.
Receive content, products, events as well as relevant industry updates from The Analytical Scientist and its sponsors.
T De Silva et al., Nature Communications, 13 (2022). DOI: 10.1038/s41467-022-35278-2 PMID: 36535944