Techniques & Tools
Micro/Nano-scale,
Mass Spectrometry
Short Circuit
Submitted by John Rogers, University of Illinois, USA
Advanced electronic materials enable fabrication of integrated circuits, sensors and power supply systems that dissolve, completely and with controlled rates, in water or biofluids. Potential applications range from resorbable medical implants, to degradable environmental monitors, to compostable consumer devices.
The image shows one such device in a state of partial dissolution.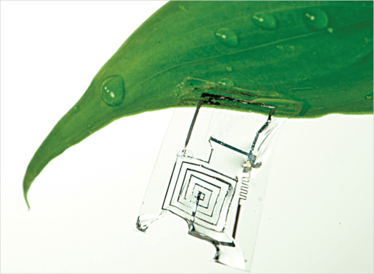 Detection in the Palm of Your Hand
Submitted by Sandia National Laboratories, USA
Sandia National Laboratories researcher Ron Manginell displays new miniature pulsed-discharge ionization detectors (mini-PDIDs) that he is developing with colleagues. The tiny detectors have broadened the scope of chemical targets for Sandia's microanalytical detection technology to toxic industrial chemicals, biological volatiles, greenhouse gases and more.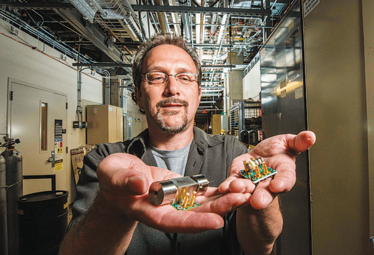 Low Voltage Plasma
Submitted by Gary Hieftje and the Hieftje Group, Indiana University, USA
The solution-cathode glow discharge (SCGD) is under investigation by the Hieftje group. Unlike most plasmas used for atomic-emission spectrometry, the SCGD requires no flowing gas, nebulizer, or spray chamber – and it only requires about 75W of power. Yet, it provides detection limits that rival those of inductively-coupled plasma. Work conducted by Steven Ray and Andrew Schwartz.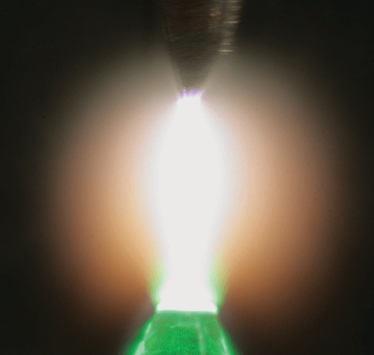 The Midas Touch
Submitted by Chuan Zhao and Christian Gunawan, The University of New South Wales, Australia
Micrograph of ionic liquid microarrays fabricated on a gold surface. Each square droplet has a 50 μm length and can serve as an individual sensing unit or microreactor, providing a promising platform for various analytical, sensing or microfluidic applications.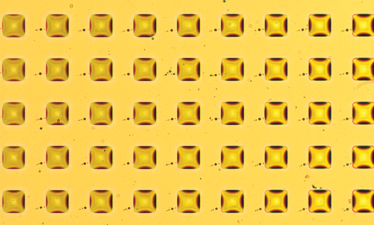 Space Dust Ionization
Submitted by NASA, USA.
Analyzing tiny samples of space dust is very challenging, so we used nanoelectrospray ionization (pictured) after nanoflow liquid chromatography to send molecules to a high-resolution mass spectrometer to measure meteorite organics.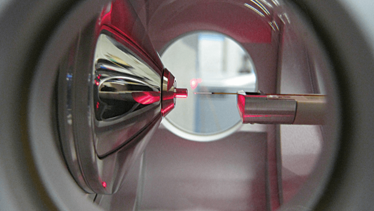 Nanotube Mass Spec
Submitted by Thalappil Pradeep, Indian Institute of Technology, Chennai, India, and R. Graham Cooks, Purdue University, USA
Ambient ionization: carbon nanotube-coated paper cut in triangular form and mounted on the positive terminal of a battery assembly.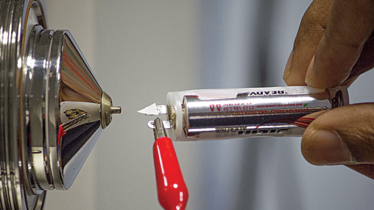 Portable Paleolithic Preview
Submitted by Ellery Frahm, University of Sheffield, UK
Just a few of the 20,000 obsidian artifacts, excavated from a 40,000-year-old Neanderthal site in Armenia, awaiting analysis by portable x-ray fluorescence (pXRF) in a field laboratory. The elemental composition of the artifacts can reveal which volcanoes produced the obsidian.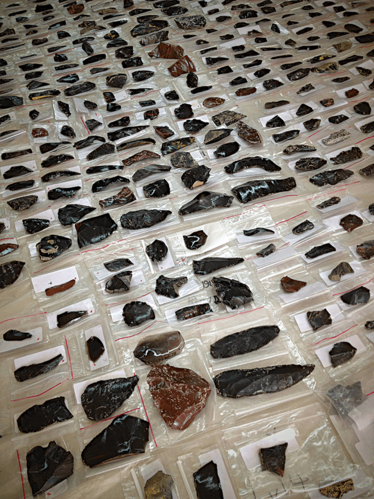 Click the links below for more Art of Analysis:
Data Visualization & Infographics
Receive content, products, events as well as relevant industry updates from The Analytical Scientist and its sponsors.