Techniques & Tools
Spectroscopy,
Technology,
Pharma & Biopharma
MRR on the Up
Could chiral tagging be the springboard for molecular rotational resonance spectroscopy's rise to fame? We spoke to Justin Neill, Chief Technology Officer at BrightSpec – the company hoping to bring MRR into the spotlight.
Frank van Geel, Joanna Cummings |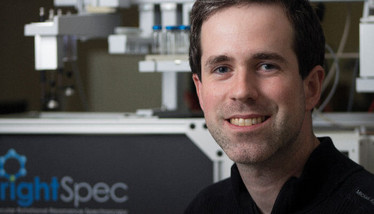 What does MRR bring to the table?
What's long been recognized about microwave spectroscopy is its capability to resolve different compounds – particularly isomers in a mixture – without having to separate components. MRR is unique among spectroscopy techniques; different isomers have different moments of inertia, but with MRR we can resolve them and actually do computational work to determine the pattern of each isomer in the spectra – allowing us to identify it unambiguously. In terms of specificity, there are also amazing advantages to the technique over other methods, especially in the spectroscopy realm – and sample preparation centers on volatilizing the sample.
What advantages does MRR have over chromatography?
MRR identifies and quantifies molecules on the basis of their unique 3D structures, through microwave and millimeter wave spectroscopy. Because of the high selectivity and resolution, pure reference standards of each component of interest are not needed – components can be identified directly in mixtures. This eases a major burden in chromatographic method development. MRR is extremely sensitive to small changes in structure, including diastereomers, regioisomers, and enantiomers, which are often difficult separations. Because of the fast measurement times and method development, MRR is particularly advantageous in reaction monitoring; for example to monitor the yield and specificity of small-molecule continuous flow syntheses.

MRR has never really met with commercial success – what has changed?
HP (Hewlett-Packard) tried in the early 1970s. The major developments in the past few years that enabled BrightSpec to commercialize the technology arise from the availability of high speed electronics, new micro- and millimeter wave components, and dramatic advances in computational chemistry. The most recent breakthrough is the ability to resolve between enantiomers – which in the pharmaceutical industry is crucial. Along the way, researchers around the world have made a steady stream of improvements that enable fast, high-resolution spectroscopy results in a <15-minute cycle time for a new sample.
How are enantiomers resolved?
Similar to chiral solvating reagents used in NMR, enantiomers can be converted into diastereomeric complexes by introducing a small chiral molecule with known stereochemistry. Because of the sensitivity of MRR to small changes in molecular structure, these diastereomer complexes have distinct MRR spectra that can be used to accurately determine the enantiomeric excess of each individual component directly in a mixture, without the need for separation. It's all in the gas phase, there's no sample preparation and you can do it all in one measurement. We've developed an instrument for chiral analysis that comes in two configurations; the first is for use in a large central lab where the nature of the problem will change from one month to the next. The follow on targeted instrument is intended for a production setting.
What impact could this have on the pharmaceutical industry?
The current application we see is in pharmaceutical development and process control. Analyzing chiral purity in a short timescale is an unmet need. For pharma, one of the biggest challenges is characterizing all the possible impurities that can come out of a sample. In an R&D context, MRR eliminates the need for the synthesis of all these impurities for calibration standards. The ability of MRR to identify and quantify based on structure opens up fast new analyses that are not otherwise possible.
Is it already being used?
Yes – we have instruments in the US and Europe at present. In one example, an academic pharmaceutical research lab is using it to re-engineer the process chemistry for flow synthesis of a set of existing drugs that are of global health importance. In this instance, MRR was used for critical analysis of an anti-malarial compound, artemisinin (or DHAA), and for an anti-HIV drug antiretroviral. This has been at core of our recent work. A number of applications for other pharma/ chemical compounds arose out of these two drugs, which were good analogs for a whole series of other analytical challenges with other molecules in development. Of course, it's important to remember that the foundations for this work have been established by over 110 different research groups around the world, who have long been using this technique in fundamental research. We just happen to be the first to commercialize it.
Justin Neill is Chief Technology Officer at BrightSpec, Charlottesville, Virginia, USA.
Receive content, products, events as well as relevant industry updates from The Analytical Scientist and its sponsors.
---