Techniques & Tools
Technology,
Pharma & Biopharma
Nipping Nitrosamines in the Bud
Nitrosamines are carcinogenic at low concentrations, able to form in medicines over time, and difficult to detect affordably and with high throughput using conventional techniques. Fortunately, there is a quick, reliable, sensitive, cost-effective screening method that identifies at-risk samples containing nitrites and nitrates: The Automated Total Nitrosamine Analyser.
Jonathan Angove | | 5 min read
sponsored by Ellutia
Nitrosamines are carcinogenic compounds that demand close monitoring in a number of industries, including food, brewing, rubber, tobacco products and, of course, the pharmaceutical industry. There are a wide range of products with the potential to form nitrosamines – some of which are commonly prescribed. Indeed, the recent global withdrawal of ranitidine (a widely-prescribed antacid medication) showcases the negative fallout of detecting the presence of nitrosamines – in this case, NDMA.
The main challenge for pharmaceutical companies stems from the carcinogenic nature of nitrosamines even at very low concentrations. The FDA and EU have listed a number of nitrosamines and their maximum permissible daily exposure limits; NDMA has a daily intake limit of 96 ng, but other nitrosamines drop to as low as 8 ng.
Another challenge is that nitrosamines can form over time, so pharmaceutical companies have the difficult task of predicting the nitrosamine concentration that could exist by the expiration date of the product; notably, the rate of nitrosamine formation increases at elevated temperatures or under acidic conditions. In the presence of a source of nitration, any amine-based active pharmaceutical ingredient (API) is at risk of nitrosamine formation, which brings us to the focus on nitrites and nitrates.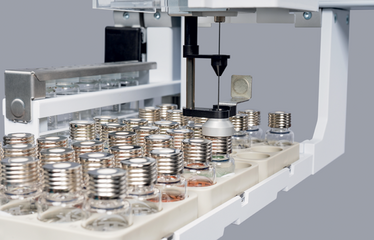 Nitrites and nitrates can be found in excipients – the substances used alongside the API in solid drug formulations to add bulk or boost stability. When the API and excipient are mixed together and pressed into tablets or placed within capsules, we create an excellent recipe for nitrosamines – especially in a product with a designated shelf life of several years. Because nitrites are less stable than nitrates, they are considered to have a higher risk of forming nitrosamines.
There are several techniques used to detect nitrosamines, including GC-MS/MS and LC-MS/MS, but throughput is low, MS/MS instruments are typically expensive, and standards are required for every nitrosamine that has the potential to form. Moreover, because MS/MS methods rely on fully resolving analytes, the detection of an ion of interest through the first set of quadrupoles and the commencement of daughter/grand-daughter ion experiments, may result in the first quadrupole missing subsequent nitrosamines. For example, if the first analyte detected is a contaminant and not a nitrosamine, the system could generate a false negative – arguably the worst outcome for a pharmaceutical company.
ICP-MS can also be used to detect nitrites and nitrates with high throughput, but again the equipment is expensive. GC Thermal Energy Analyser (TEA) can be used to detect volatile nitrosamines with high specificity, but throughput is low.
In short, mainstream technologies tend to be expensive, do not test for the presence of nitrites, nitrates, and nitrosamines, or have low throughput, so screening of incoming ingredients and excipients is not feasible.
A total solution

Fortunately, technological advances present a solution. For several years, Ellutia has sold a system that uses a chemical reaction to screen for the total presence of nitrites, nitrates, and nitrosamines. The system uses Ellutia's TEA as the detector, but it is configured for non-speciated detection because it is not connected to a GC. In fact, there is no chromatography performed at all. A chemical reaction cleaves NO (the nitrosyl radical) from any nitrite, nitrate, or nitrosamine molecule in the sample. The NO is injected into Ellutia's TEA Inlet, where it passes into the reaction chamber. Here, the NO reacts with ozone to form an excited state of NO2, which then releases a photon of light, which can be detected.
This process has now been further developed and automated in the form of the Automated Total Nitrosamine Analyser (or ATNA for short). The same chemical reaction is used, but the throughput is six samples per hour. The system has a typical capacity of 120 standards, blanks, and samples, resulting in 20 hours of unattended use. ATNA is capable of analyzing NDMA standards to a concentration of 1 ppb (1 ng/mL) to meet the legislative requirements for sensitivity, but because the TEA is a molar detector for the nitrosamine molecule, any nitrosamine standard may be used to calibrate the system.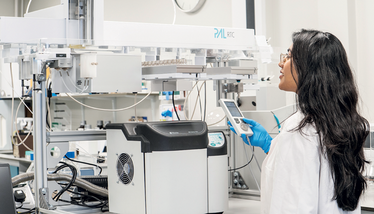 The main benefits are speed, cost, and versatility, which facilitates the screening of incoming ingredients and excipients for the presence of nitrites, nitrates, and nitrosamines. Of course, it is possible to only screen the finished product for nitrosamines, but a positive result here would mean the wastage of an entire batch of medication. Equally, if a company has no control or knowledge of the nitrite or nitrate concentration within a given excipient, nitrosamines may form at concentrations that exceed regulatory limits down the line, resulting in product recalls and fines in the millions of dollars.
Screening excipients also allows pharmaceutical companies to selectively use any excipients with high concentrations of nitrites or nitrates with APIs that do not contain an amine.
The ATNA system has a low cost per sample, high throughput (therefore a quick return on investment), a low limit of detection, and is simple enough for screening purposes. Indeed, it has been successfully implemented in food, brewing, rubber, tobacco, cosmetics, and pharmaceutical companies for many years.
No screening method will replace the need for qualitative identification of the nitrosamine present to ensure that the concentration is within regulated limits. However, a proactive approach to nitrite, nitrate, and nitrosamine screening that identifies "at-risk" samples, reduces waste and costs, while boosting product safety.
Receive content, products, events as well as relevant industry updates from The Analytical Scientist and its sponsors.