Techniques & Tools
Forensics,
Sensors,
Mass Spectrometry
Paw of the Law
New MS technology could help canines become better "chemical sensors" for explosive detection
Joanna Cummings |
When it comes to the detection of explosives, canine teams are still considered the gold standard (1). However, detecting explosives in the ambient air can be challenging for man's best friend (as well as instrumentation) – especially because national security measures necessitate real-time and high sensitivity detection of a large range of chemical classes and concentrations. "Like any thorough scientist, canine trainers would like to validate vapor presentation to the canine," says Ta-Hsuan Ong, lead researcher of a recent MIT study into canine bomb detection (1). So how can we teach these dogs some new tricks?
"Knowledge gained about the vapor environment can help with choosing the right training aids. Our new vapor-analysis mass spectrometry method provides trainers with additional information on vapor presence, concentration, and identity," says Ong. "Our goal is to iteratively improve canine training best practices by combining the experience of canine teams with knowledge of instrument vapor analysis. By validating vapor presentation and learning more about the canine training vapor environment, we can improve how efficiently canine teams are maintained at their optimal performance."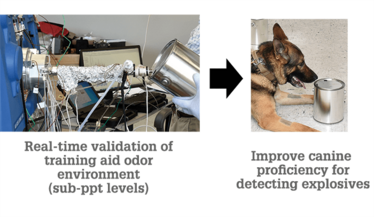 Ong and his team from MIT coupled a commercially available mass spec (SCIEX QTRAP) to a custom ionization source able to switch between secondary electrospray ionization (SESI) and dielectric barrier discharge ionization (DBDI), both of which offer detection limits of nine explosives (2,4-dinitrotoluene [2,4-DNT], 2,6-dinitrotoluene [2,6-DNT], 2,4,6-trinitrotoluene [TNT], nitroglycerin, 1,3,5-trinitroperhydro-1,3,5-triazine [RDX], pentaerythritol tetranitrate [PETN], triacetone triperoxide [TATP], hexamethylene triperoxide diamine [HMTD], and cyclohexanone) down to the parts-per-trillion to parts-per-quadrillion range by volume – comparable with or better than canines.
The custom source and MS combo was commissioned by the Department of Homeland Security (DHS) Science and Technology Directorate's (S&T) Detection Canine Program and developed over several years. "We examined different stages of vapor transfer and ionization from the environment into the mass spectrometer, using a combination of fluid dynamic simulations and experimental measurements," Ong says. "Method development was additionally driven by conversing with canine trainers about what material they were interested in detecting."
The MIT Lincoln Laboratory (LL) has been developing technology in support of national security since the 1950s, according to Ong. "With the threat from improvised explosive devices (IEDs) increasing over the past 10–15 years, MIT LL has been begun to develop a wide range of technologies to minimize the threats they pose," he explains.
The team are now working with Don Roberts, who leads the DHS S&T Canine Program, to work out how best to use the system to help the trainers and their four-legged companions successfully sniff out explosives.
Receive content, products, events as well as relevant industry updates from The Analytical Scientist and its sponsors.
T-H Ong et al., "Use of mass spectrometric vapor analysis to improve canine explosive detection efficiency", Anal Chem, 89, 6482–6490 (2017).