Techniques & Tools
Forensics,
Technology
Protect and Serve
Sitting Down With… Michael Breadmore, Professor, Australian Centre for Research on Separation Science (ACROSS), School of Physical Science, University of Tasmania, Australia.
Michael Breadmore | | Interview
You are perhaps best known for your work on detecting explosives...
Our explosives detection system – GreyScan – is now in production through a technology translation company called Grey Innovation.
The ability to rapidly analyze solid samples isn't only useful for airport security. We are already working on adapting the technology to detect bacterial contamination in meat processing facilities. And we have had discussions on how it could be used for identifying houses formerly used for illicit drug manufacture (for example, meth labs), where the resulting drug residues could have ongoing health impacts. Many think that it will eventually become a requirement for houses to be tested before sale.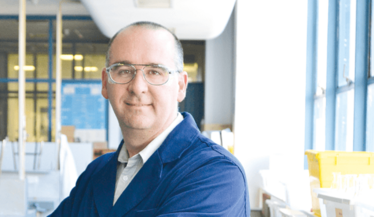 Was it a challenge to get the technology commercialized?
We had funding from both Australian and US national security organizations for the initial development, but once we were ready to move to the next phase, the funding dried up. Luckily, a company who were involved in fabricating parts of the instrumentation saw the potential and offered to license and commercialize it. Our priority was getting the instrument into airports as soon as possible, so it was the ideal solution for us, and I believe if we had spun it out and tried to do it on our own, we would still be working on it. Ultimately, we hope the technology will go global. I may not get rich but I will smile every time I go through an airport and get scanned with our technology!
You've had first-hand experience of an explosion…
Yes. I was filling up my car at a gas station when I heard a huge bang and felt a shockwave. I saw that the truck at the next pump was on fire, and found the presence of mind to carefully replace the nozzle and walk away from the flames. People were trying to talk to me but I couldn't hear them – the explosion had temporarily deafened me. I later found out that I was just two car-widths from the explosion and police at the scene couldn't believe I had walked away with just bruising. If the shrapnel had hit my head instead of my leg – or if it had been sharp enough to pierce the skin – I could have died. I consider myself incredibly lucky. Forty-eight hours later I was in Amsterdam, presenting our work on explosives detection at a major conference!
What are the overarching themes of your research?
Most of my work revolves around making analytical technology and methods portable, whether for on-site analysis or remote collection of samples. We look at everything from one measurement at a single time point, through to continuous, autonomous measurements in field-deployed systems. When you are developing new technology in the lab, it is easy to lose sight of the end user's needs. For example, if you develop a technique that performs separations in a few milliseconds, but it takes three hours to extract the molecules, it's not of much practical use. We are trying to integrate and streamline entire workflows – not just one small part.
We try to span the whole range, from focused solutions right down to fundamental chemistry. If we want to continue to make new scientific advances, we have to be willing to ask different questions. For example, we have known about electrophoresis in liquids for over 100 years, and in gases for 50 years. Recently my lab has been trying to establish whether we can do the same in solids. It's taken three years but we think the answer is yes. I'll admit there's no practical application right now, but who knows what it could be used for in future?!
You have strong views on education – what needs to change?
As an Australian Research Council Research Fellow for 14 years, I was not required to teach, but I did, because I enjoy engaging with students. However, I think there needs to be an overhaul of university teaching. Methods of communication have moved on and we must move with them – why spend hours memorizing things that you could look up in 30 seconds online? And if all we are offering is lectures that you could just as easily watch online, why attend university at all? To me, lectures are an old-fashioned way of learning and it's time we moved on to newer and better teaching methods. I hope to implement the "flipped classroom" concept in my teaching, and replace lectures with labs. I'd also like to move away from written exams and toward practical skills assessments. I think we'd get a better idea of students' capabilities in analytical science by giving them 10 compounds and challenging them to separate, identify and/or quantify them, rather than setting 10 exam questions.
You have appeared twice on The Power List. What response did you receive from the analytical science community?
The University was thrilled when Emily Hilder and I were both recognized, and I got a lot of congratulatory messages. The article was also posted to the Australian Research Council website, and people from all over the country left comments saying how pleased they were to see Australian researchers being recognized internationally. It was humbling to receive so many well wishes from strangers.
What is your greatest motivator?
Ultimately, I want to make a difference – to my students, my field or society as a whole, whether that involves keeping airports safe, developing a new blood test, or protecting the environment.
Receive content, products, events as well as relevant industry updates from The Analytical Scientist and its sponsors.