Techniques & Tools
Mass Spectrometry
PTR3: The Innovator Behind the Innovation
Catching up with PTR3 inventor Martin Breitenlechner
James Strachan | | Interview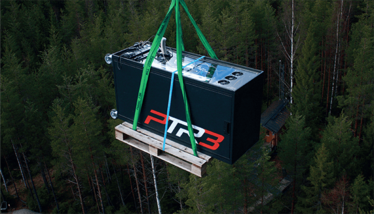 In 2020, Ionicon's PTR3-ToF 10K, a high-performance PTR-TOF for detecting highly oxygenated organic molecules, was featured in The Analytical Scientist's Innovation Awards. The fundamental invention behind PTR3 is the decoupling of ion-molecule reaction chemistry from the axial transport of reagent and analyte ions, increasing reaction time and boosting instrument sensitivity.

PTR3 was the brainchild of Martin Breitenlechner, who was working as a postdoctoral researcher at University of Innsbruck when inspiration struck. He patented the underlying technology behind PTR3 – a multiphase-multipole device to heat ions homogeneously. Ionicon was soon spun out of the University of Innsbruck and, as the leading PTR-MS manufacturer at the time, the company exclusively licensed and commercialized the technology.

We caught up with Breitenlechner, now a researcher at the USA's National Oceanic and Atmospheric Administration, to find out what it takes to come with a new analytical instrument.
Did you always want to be an "inventor?"

I always wanted to know how and why things work, so science became my passion – I wanted to be a scientist more than an inventor. But, because observation is the foundation of scientific discovery, I became an inventor incidentally by developing new scientific instruments and trying to contribute to the advancement of atmospheric science.
Do you think your physics background gives you a unique perspective?

It's not unique in the sense that most people working in our field of atmospheric science are either physicists with some knowledge of chemistry or chemists with an understanding of physics. Mass spectrometry is an interesting hybrid of disciplines – the workings of a mass spectrometer are a physics problem, its application is chemistry, and the ion chemistry in the ionization process is in between the two. It's a really interesting field.
How did you get involved in the development of PTR3?

PTR-MS (proton transfer reaction mass spectrometry) is a well-established technology for observing gas-phase organic molecules in complex samples such as ambient air. It was developed in the mid-1990s by scientists at the University of Innsbruck, Austria, in whose research group I happened to do my PhD. But these instruments were not sensitive enough to apply PTR-MS to atmospheric science – they could not detect many organic compounds in the atmosphere – so I became interested in improving existing methods. One day, I pitched a new ion source design to my PhD advisor, hoping we could increase the sensitivity by an order of magnitude – but we only achieved a factor of two, not really a big enough step forward to justify the increased complexity. I came to the realization that a radically new design of the reaction chamber between the ion source and the mass spectrometer was necessary to make a significant step forward.
Did you have a "eureka" moment?

Absolutely. I was simulating various geometries and concepts of reaction chambers. In PTR-MS, it's vital that ions experience a homogeneous electric field during their journey through the reaction chamber. That is usually achieved by applying a voltage gradient over a stacked ring electrode configuration, with the caveat that ions move through the chamber very quickly, limiting the reaction time and therefore the sensitivity. One of the first ideas was to generate a cylindrical geometry surrounded by a double-helix ion RF ion guide. It almost worked; ions moved through the chamber 100 times slower, thereby increasing sensitivity. However, though the electric field was spatially homogeneous, it was not temporally so; it oscillated between zero and a maximum value, as in any two-phase ion guide. The eureka moment was the realization that a three-phase tripole had the desired properties – it generates an electric field vector in its center that is constant in magnitude. That was the key to the development of the PTR3 and also the origin of its name.
What gets you out of bed in the morning?

I work at the Chemical Sciences Laboratory in the National Oceanic and Atmospheric Administration (NOAA) in Boulder, Colorado. NOAA is leading a multi-year research project to advance our understanding of processes in the stratosphere that impact the climate system. Chemical processes in the stratosphere are inherently difficult to study, because the concentrations of trace gases involved are minute. However, the sensitivities of chemical ionization mass spectrometers have greatly improved over the last decade to the point where we can now increase our understanding of stratospheric chemistry by deploying a chemical ionization mass spectrometer on board a high-altitude research aircraft. At NOAA, we modified an off-the-shelf instrument for that mission so that it could be operated completely autonomously onboard NASA's WB-57 aircraft. After successful technical test flights earlier this year, we are currently preparing the instrument for its first science mission, scheduled for February 2023. We are very excited; it is without a doubt the most exciting project I've been involved in during my career.
What is the biggest challenge in your field today?

Today, the most sensitive instruments already have detection limits in the parts per quadrillion range, which is close to being low enough to detect anything that can – from a kinetic point of view – be relevant to the climate system. So I think, in atmospheric science, we will see a shift in focus away from new developments that further improve sensitivity and toward improvements in instruments' analytical capabilities.

Which new technologies, instrument advances, or software solutions will shake up this year's Innovation Awards? To be in with a shot, simply fill in the form here.
Receive content, products, events as well as relevant industry updates from The Analytical Scientist and its sponsors.