Techniques & Tools
Technology
The Innovation Awards 2020: Harder, Better, Faster, Stronger
Celebrating the most impressive analytical technologies of the last 12 months
Matt Hallam | | Longer Read
The Innovation Awards are back again for 2020! Once again, we encouraged nominations for the analytical technologies and solutions most like to make waves. Our judging panel, made up of select experts from across the analytical community, were then tasked with reviewing the submissions and ranking the Top 15.

Welcome to the 2020 edition of this long-standing tradition – and congratulations to those who made the cut! Think you know who the winners might be? Don't dally – see for yourself!
15. Polychromator System for an Atomic Spectrometer

A polychromator design that improves the analytical performance of an atomic spectrometer.

Produced by Agilent Technologies, Inc.
The redesigned polychromator has reduced detection limits by approximately 40 percent, improving spectral resolution. Thus, lower concentrations of elements can be measured using ICP-OES, and the incidence of spectral overlap is reduced. The design changes have also reduced the focal length of the polychromator by 40 percent – a reduction that results in a smaller instrument, reducing both electricity and gas consumption.

Potential impact
Recent patent-pending polychromator design changes have improved the analytical performance of ICP-OES. These improvements were achieved through redesign of the collimating mirror and inclusion of an aperture mask. Traditionally, the mirror had a spherical or parabolic concave surface that limited light focusing onto the detector. By changing the mirror surface to be freeform, the effects of optical aberrations have been significantly reduced, vastly improving focusing.
A serrated mask was also added to the polychromator aperture to reduce erroneous background signal, which can impact instrument sensitivity. The first instruments to include this new polychromator design were the Agilent 5800 and 5900 ICP-OES, released in November 2019.

What the judges say...

It is impressive to see how a change from traditional to freeform optics can have a large impact on instrument size and resource consumption.

14. Analytical Module for an Electronic Lab Notebook

Automates instrument data collection and enables data access almost simultaneously to analysis.

Produced by Arxspan, a Bruker company.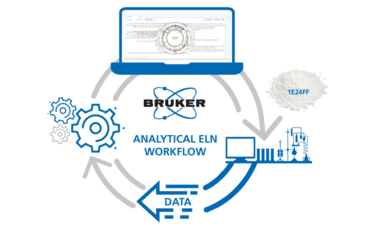 Data management is a major efficiency challenge for analytical labs. For the first time, the user-friendly, cloud-based module for an electronic lab notebook enables scientists to automatically capture, analyze, centralize, and share instrumentation data and results. It is broadly suited for use with analytical techniques that generate multitudes of spectral analysis and other types of QC data, such as MS and NMR. The centralized data acts as a reference database for synthesized compounds and impurities.

Potential impact

Put simply, the product aims to increase efficiency in the analytical lab. The module removes redundant manual steps, such as copying and pasting data from instruments to shared drives. Automated data retrieval then reduces bottlenecks and significantly reduces the amount of time invested by researchers in data management, while also reducing the risk of transcription errors.

13. Laser CryoSTUCK Labels

Laser-printable cryogenic labels that stick to frozen vials.

Produced by GA International.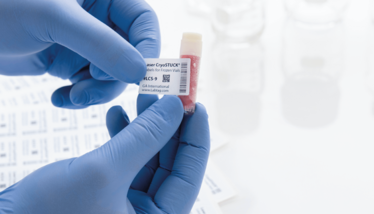 CryoSTUCK was originally designed for thermal-transfer printers in roll formats. After overwhelming demand from our customers, a laser-printable version of CryoSTUCK in sheet format is now available for desktop laser printers. These labels are intended for the labeling and relabeling of tubes and vials already stored in liquid nitrogen or low-temperature freezers.

Potential impact

With an adhesive designed for frozen surfaces, the CryoSTUCK labels can be applied to containers with a temperature as low as -80°C; there is no longer a need to thaw samples before relabeling. Once affixed, they can be immediately re-stored in cryogenic conditions (in temperatures as low as -196°C).

What the judges say...

A significant time saver...

12. The Massbox

Approachable organic and inorganic quantification where you need it.

Produced by Exum Instruments Inc.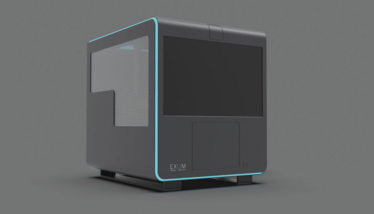 The Massbox offers a step change in solid sample characterization. As the first commercial instrument combining both laser ablation and laser ionization under vacuum in the same analytical session, it improves the ease and quality of analysis. As a result, the end user requires fewer instruments to assess a larger range of elements and organic compounds – all without the need for difficult and time-consuming sample preparation. The simplified analytical process means that anyone on the team can run the tool quickly and easily, spending less time collecting the data and more time solving problems.

Potential impact

The impact is the reason for the Massbox's development. Jeff Williams, Exum Instrument's CEO and Founder, left academia to build this tool because of his frustration with the present state of analytical equipment. The Massbox has dramatically reduced many barriers to entry – including cost, ease of use, reliability, and instrument size – for several industries. Whether you are a cannabis producer, metal fabricator, or battery developer, you can now quickly assess your materials and shorten the development and quality control cycles of any solid material on site.

11. WITec alpha300 apyron

A Raman microscope capable of self-optimization and remote operation.
Produced by WITec GmbH.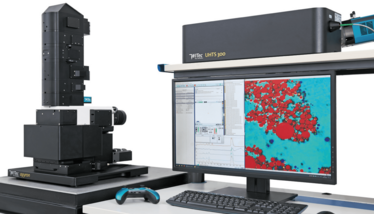 Advanced Raman imaging experiments often include many optical elements in their beam paths. The fully automated alpha300 apyron Raman microscope features motorized opto-mechanical components controlled by an integrated software suite that can optimize their alignment with algorithm-driven routines. Remote operation is also possible, and modularity of the components allows system reconfiguration as experiments evolve. These innovations make the technique more accessible than ever before, while enhancing performance by accelerating setup for increased sample turnover rates and ensuring the consistency and repeatability of results. Researcher workloads are also substantially reduced as less input is required and sources of error are minimized.

Potential impact

Raman microscopy is a routine analysis tool. Automation has been key to broadening the technique's appeal, and the alpha300 apyron promises to accelerate this trend. How? By automating optical alignment and enabling operation from home offices or in enclosures, such as glove boxes. Only the mounting of the sample on the microscope stage requires physical interaction. Remote operation is particularly useful for researching materials grown under very controlled conditions or when dealing with potentially hazardous biological samples.

What the judges say...

Full automation and self-optimization of the Raman imaging process allows even unexperienced researchers to get the best possible results.

10. IONICON PTR3-TOF 10K

High-performance PTR-TOF for detecting highly oxygenated organic molecules.

Produced by Ionicon.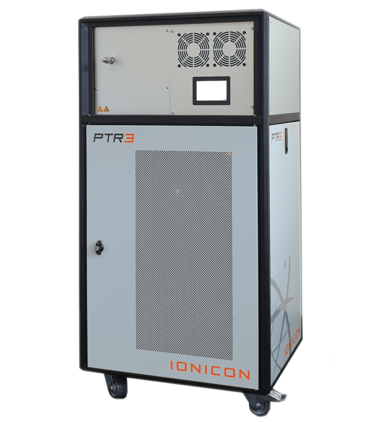 The PTR3-TOF 10K represents a new generation of PTR-TOF systems optimized for the detection of highly oxygenated organic molecules and RO2 radicals. The fundamental invention behind PTR3 is the decoupling of ion-molecule reaction chemistry from the axial transport of reagent and analyte ions. This decoupling significantly increases the reaction time and boosts instrument sensitivity up to more than 50000 cps/ppbv. The instrument comprises a triple ion source for seamlessly selecting different reagent ions and an advanced inlet system for virtually contact-free sample introduction. The result: minimized sampling losses for reactive organic molecules.

Potential impact

The PTR3 facilitates quantitative detection of volatile organic compounds and their oxidation products, including highly oxygenated organic molecules – down to ppqv levels. The new concept of contact-free sampling allows the detection of organics of virtually all volatility classes. The performance of the PTR3 even enables RO2 radical quantification as well as the study of compositions and concentrations of secondary organic aerosols. These molecules are known to play a vital role in cloud formation and are central to advanced climate research efforts.

What the judges say...

The Ionicon PTR-MS technology is the "gold-standard" in real-time measurement of volatile organic compounds in many application areas.

9. MET ONE 3400+

Fully automated and portable air particle counter optimized for environmental monitoring workflow improvement.

Produced by Beckman Coulter Life Sciences.
The MET ONE 3400+ enables automated routine environmental monitoring, reducing human error and improving data integrity. How? By automating the user's SOP inside the counter and including an interactive SOP sampling map on the portable counter screen. The technician simply taps sample locations on the interactive map; the counter does everything else. It configures itself in accordance with the SOP, takes the air sample, and creates an electronic record right there and then, eliminating many of the manual steps involved in environmental monitoring. The MET ONE 3400+ can also use a barcode scanner to scan the active air and settle plate IDs deployed at each location for inclusion in the electronic record. Microbial colony-forming unit counts and species can be added to the electronic record once the plates have been incubated.

Potential impact

MET ONE automates the sampling process. It removes the risk of manual errors and speeds up workflows. It has made printing reports a thing of the past. Once sampling locations have been determined, all the user has to do is upload the map showing sample locations into the counter to create an on-screen, interactive sampling map; you only need to do this once. Thereafter, it simply becomes an electronic, on-screen, interactive guide every time sample monitoring takes place.

What the judges say...

Elimination of human error by automating the sampling process and data analysis should be routine workflow!

8. iMScope QT Imaging Mass Microscope

An imaging mass microscope that combines qTOF MS with optical microscopy.

Produced by Shimadzu.
The Shimadzu iMScope QT platform combines the visualization of optical microscopy images with compound distribution and identification information from MS, allowing target compound distributions in microscopic regions to be visualized and characterized. For example, when looking at a cancer tissue sample with a microscope, the application of quantitative information about anti-cancer drugs from MS makes it possible to study drug delivery and efficacy. Notably, the mass spectrometer and microscope units can be easily uncoupled, allowing for the connection of an LC system, if needed.

Potential impact

Global demand for fast, high-precision mass imaging technology has extended from a core of pharmaceutical and medical applications to diverse fields, including agriculture and food science. The iMScope QT was engineered to meet those new expectations – while still offering exciting opportunities in clinical pathology, tissue imaging, biomarker discovery, and functional metabolomics.

What the judges say...

A big benefit of the iMScope QT Imaging Mass Microscope is that it can be used in the imaging mode as well as in LC-MS mode, allowing for use in a wide range of applications.

7. Thermo Scientific Vanquish Core HPLC Systems

An advanced LC system for optimized routine testing workflows.

Produced by Thermo Fisher Scientific.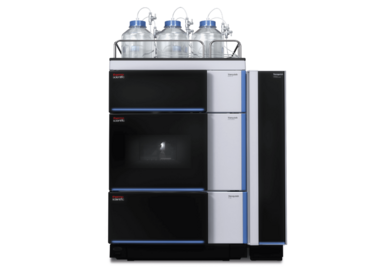 The Thermo Fisher Scientific Vanquish Core HPLC Systems provide pharmaceutical, food, and industrial laboratories with improved productivity, precision, and compliance in their analytical workflows. The instrument's ability to automatically monitor and determine solvent and waste levels and continuously monitor system health minimizes downtime and reduces delays. These benefits are of significant benefit in laboratories performing routine analyses, where the high throughput of accurate results is paramount to success.

To further streamline analytical processes, method transfer is simplified through custom injection programs, tunable gradient delay volume, and a choice of temperature regulation technique. These innovative features allow simple method transfer across instruments while ensuring consistent results. The Vanquish Core HPLC Systems also provide an intuitive user interface that facilitates precise result delivery (regardless of operator experience) and offers simple integration with all major CDS software.

Potential impact

Routine testing and quality control workflows are essential in product development and manufacturing. The timely delivery of accurate analytical results ensures that global supply chains are not disrupted and people have access to the food and drugs they need. Through its focus on the provision of consistently dependable results at a high throughput and streamlined processes, the Vanquish Core HPLC Systems allow greater analytical productivity that meets increasing global demands without increasing pressure on operators.

6. NanoDis System

Provides formulation scientists with accurate drug release profiles of nanomedicines.

Produced by Agilent Technologies, Inc.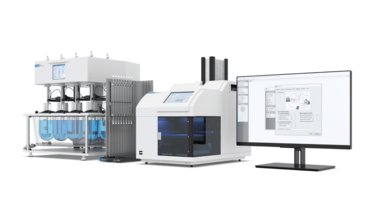 Current testing techniques present formulation chemists with significant challenges when measuring accurate release profiles of drug-loaded nanoparticles – a critical step in drug development and manufacturing. Nanoparticles can block or even rupture the filters and membranes used in the testing process, resulting in erroneous drug release profiles with dire consequences.

NanoDis is a simple, effective solution that uses cross-flow filtration, rather than traditional "dead end" filtration. This concept, traditionally used in industrial process chemistry, has been combined with conventional USP compliant dissolution apparatus. Plus, the whole workflow is automated, using established software already used in environments requiring 21 CFR part 11 compliance. Think of it as a go-to solution for compliant nanoparticle dissolution testing.

Potential impact

Nanoparticle drug dosage forms are essential to improve patient lives (by reducing drug side effects) and patient outcomes (by improving drug solubility and bioavailability), especially in oncology and cardiology. Dissolution testing is a critical regulatory requirement for the development of medical drug dosage forms as well as the manufacturing and QC testing before release to market. The NanoDis System enables R&D formulation chemists to get their best new drugs into manufacturing faster, and the manufacturing teams to deliver consistent batches of QC-passed drug products for the market – all in an automated and complaint manner.

5. Thermo Scientific Orbitrap Exploris 240 mass spectrometer

A new-generation high-resolution mass spectrometer for research and high-throughput analyses.

Produced by Thermo Fisher Scientific.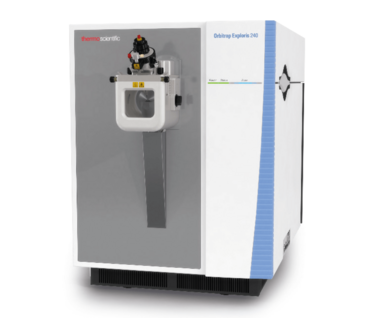 The Thermo Scientific Orbitrap Exploris 240 MS helps drive discovery and identification with increased accuracy, allowing researchers to confidently accelerate the translation of discoveries into clinical applications. The system delivers mass accuracy, precision, sensitivity and resolving power across a wide dynamic range for research and high-throughput proteomics, metabolomics, biopharmaceutical characterization, and small molecule analyses.

With new-generation architecture and powerful control software functionality, the Orbitrap Exploris 240 MS provides simple yet optimal data acquisition and processing capabilities, addressing the most demanding analytical challenges. Furthermore, the system's operational simplicity and fast scan capability help streamline time to results. Importantly, the system offers positive/negative mode switching for comprehensive sample coverage, while the built-in Thermo Scientific AcquireX intelligent data acquisition workflow enables greater automation for structural identification and characterization of small molecules. The Orbitrap Exploris 240 MS is also fully compatible with the Thermo Scientific FAIMS Pro interface, achieving enhanced identification of proteins and peptides.

Potential impact

Proteomics, metabolomics, biopharmaceutical characterization, and small-molecule scientists are seeking technologies that can streamline and speed proteomics studies to clinical applications, reduce time to market for candidate biotherapeutics, and address the growing challenge of characterizing novel chemical entities in small-molecule studies. The Orbitrap Exploris 240 MS delivers the high performance and versatility needed to meet these needs and drive productivity enhancements. The system also delivers high reproducibility in mass accuracy and peak integrated area over several sample batches and several days of acquisition, enabling minimum post-acquisition data manipulation to yield high-quality results – a must in large-scale metabolomics projects.

4. Culpeo QCL-IR Liquid Analyzer

Laser-based mid-infrared liquid analyzer for real-time biophysical characterization.

Produced by DRS Daylight Solutions.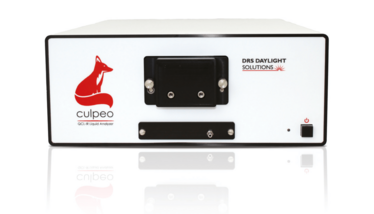 The advent of quantum cascade laser (QCL) technology enables real-time biophysical characterization in the mid-infrared fingerprint region for the first time. With a spectral brightness that far exceeds traditional light sources – even synchrotron – our QCL-based liquid analyzer provides transmission measurements at path lengths far exceeding those achieved by FTIR-ATR. This approach allows for multi-parametric, non-destructive characterization of samples in real-time and over broad concentration ranges, without the need to dilute the sample. By providing real-time information on concentration, higher order structure, and the ability to monitor bioconjugation reactions, the Culpeo analyzer enables industry to advance towards real-time release. With a purpose-built design that facilitates its use as a process analytical technology (PAT), the Culpeo paves the way to continuous manufacturing of biologic drug substances.

Potential impact

Traditionally, quantitative characterization of proteins and protein conjugates in aqueous environments has been an extreme challenge in the fingerprint region of the mid-infrared spectrum. Because of limited spectral brightness, most workhorse technologies using mid-infrared suffer from limited detection and long sampling times. Therefore, scientists have historically relied on off-line techniques for mid-infrared characterization of biological analytes in aqueous media. The laser-based Culpeo surpasses the limit of detection commonly experienced with traditional mid-infrared techniques and provides chemical information that is otherwise unobtainable via UV methods. Welcome to real-time, non-destructive analysis of biologics for in-line and at-line workflows.

3. HPIMS (High-Performance Ion Mobility Spectrometry) for Process Analytical Technology

HPIMS reduces analysis time from days to minutes, reducing cost and increasing efficiency.

Produced by Excellims Corporation.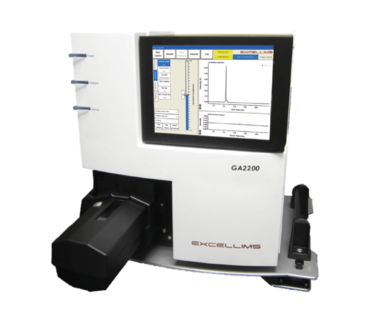 HPIMS brings the power of state-of-the-art ion mobility out of the lab, enabling high resolution and sensitive chemical detection at the point of need. Innovation comes in lots of shapes and sizes, but is meaningless if it cannot be applied. HPIMS makes the application of IMS easy and accessible.

Currently, users must purchase a mass spectrometer with integrated IMS to benefit from ion mobility. Along with high cost, traditional integrated instruments are operated under vacuum and are therefore tied to a lab bench. HPIMS liberates the technique from vacuum pressure, bringing the technique to the point of risk and into the hands of operators who need the highest quality chemical detection where it is needed most: at line.

Potential impact

The potential of HPIMS is huge: low-cost, high-performance, and agile chemical detection for everyone, everywhere.

There are three HPIMS-based instruments. The first provides IMS-based chemical detection at the point of risk in minutes. Particularly suited for applications such as cleaning validation on pharmaceutical production lines, the GA2200 is the only standalone HPIMS instrument designed for the GMP environment. Second is a rugged, portable, and integrated HPIMS-mass spectrometer (MC3100) that uses two-dimensional chemical detection to address unmet field detection challenges. The HPIMS also enables ion mobility to be added to a lab for six figures, rather than seven. The MA3100 is a standalone HPIMS that can be added to an existing mass spectrometer.

2. timsTOF flex MALDI-2

An enhanced MALDI technique linked to Bruker's timsTOF fleX instrument.

Produced by Bruker Daltonik GmbH.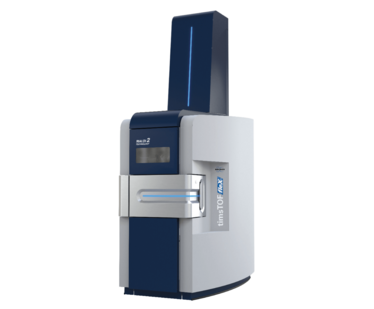 Originally developed by Klaus Dreisewerd and Jens Soltwisch at the University of Muenster in 2015, MALDI-2 uses laser-based post-ionization to enhance and enrich the MALDI experiment. The advance provides access to chemical classes typically opaque to MALDI – and at unprecedented sensitivity (2–3 orders of magnitude compared with traditional MALDI). Though post-ionization significantly boosts ion yields for many different analytes and reduces the ever-challenging ion suppression effects in MALDI imaging, it also results in increasingly complex spectra. MALDI-2 was implemented in the timsTOF fleX with a view to unravel these complex molecular compositions. Trapped ion mobility spectrometry (TIMS) unleashes the full potential of MALDI-2 by separating the complex mixture of masses by m/z and ion mobility (collisional cross section). By treating complex spectra with deconvoluted feature assignment, TIMS can find larger numbers of features and enable confident compound identification via comparisons with LC-PASEF data or database matches.

Potential impact

MALDI-2 overcomes several limitations of the original MALDI experiment. The greatest impact will potentially be found in pharma. For DMPK studies, where drug-dosed tissue needs to be analyzed, industry bodies can avoid "overdosing" animal models to explore physiological relevant concentrations and their effects on metabolism in vivo.

The chemical information obtained by MALDI-2 and TIMS also allows for detection of complex lipid profiles and their localization. The intense ion suppression effect of phosphatidylcholines in traditional MALDI is reduced with MALDI-2, which provides access to a wider range of compound classes. This will have a marked influence on clinical biomarker discovery.

1. NexION 5000 Multi-Quadrupole ICP-MS

The NexION 5000 is the industry's first four-quadrupole ICP-MS system.

Produced by PerkinElmer, Inc.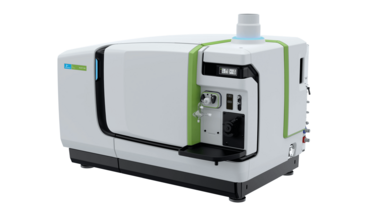 PerkinElmer's NexION 5000 Multi-Quadrupole ICP-MS is a four-quadrupole instrument designed to remove the most complex interferences and address the most challenging applications for trace elemental testing. It takes ICP-MS performance beyond high-resolution ICP-MS and traditional triple-quad technology to deliver part-per-trillion background equivalent concentrations (BECs).

Unlike triple-quad systems, the NexION 5000 ICP-MS delivers four stages of mass separation. A focused ion beam is introduced into the ion optics, enabling the user to control the fate of interferences as early in the process as the quadrupole ion deflector. Here, the ion beam is shaped and directed before mass is filtered in Q1. The ions then enter the quadrupole universal cell with dynamic bandpass tuning, which controls the reaction and eliminates reaction by-products before they have a chance to form new interferences. The resulting ions are mass separated in Q3 before detection.

Potential impact

By combining proprietary technologies, the NexION 5000 Multi-Quadrupole ICP-MS system can deliver less than 1 ppt BECs – even under hot plasma conditions – for alkali and alkali earth elements. When it comes to trace elemental testing in challenging application areas such as semiconductor device fabrication, instrumentation is required to be able to detect at the lowest possible concentrations to reduce field failures of semiconductor products. In the health sector – especially biomonitoring, where inaccurate results in complex matrices can make all the difference in a patient's diagnosis and treatment – the importance of such low limits of detection cannot be overestimated.

What our judges say...

The NexION 5000 Multi-Quadrupole ICP-MS delivers ultra-high sensitivity in challenging applications such as the analysis of ultra-pure water, trace elements in blood or air pollution monitoring.

Receive content, products, events as well as relevant industry updates from The Analytical Scientist and its sponsors.