Techniques & Tools
Spectroscopy,
Microscopy
Saving the Dollar
How a unique combination of microscopic and spectroscopic techniques unveiled Benjamin Franklin's innovative approach to printing paper money
Markella Loi | | News
Benjamin Franklin was a statesman, scientist, and inventor – best known for creating bifocals and the lightning rod. But Franklin also printed nearly 2,500,000 banknotes for the American Colonies using what scientists have now found to be innovative and original techniques to prevent counterfeiting (1).
Researchers from the University of Notre Dame's Nuclear Science Lab analyzed approximately 600 notes made by Franklin during the 18th century, using a combination of high-resolution transmission electron microscopy (TEM), Raman and electron energy loss spectroscopy, as well as other non destructive and micro-destructive methods.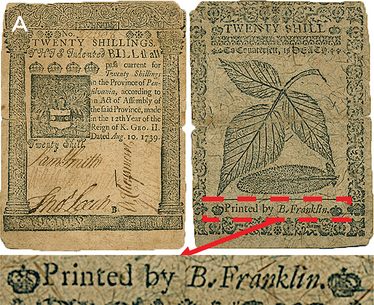 The team found that Franklin implemented sophisticated features – such as natural graphite pigments, colored fibers, translucent muscovite fillers, and his own unique designs of "nature-printed" patterns and paper watermarks – that could be used to distinguish original from counterfeit notes. "These features and inventions made early American paper currency an archetype for developing paper money for centuries to come," says first author Khachatur Manukyan.

Manukyan and his colleagues collaborated with chemists and historians to ensure the historical specimens remained intact. "There is always a challenge working with museum objects; due to the historic and artistic value of these objects, we face multiple technical difficulties to analyze them," says Manukyan. "We developed new imaging procedures to reduce electron irradiation damage – providing us with the best signal-to-noise ratio by combining several innovative imaging techniques. By monitoring and measuring the electron dose and incorporating additional images, we were able to achieve the necessary resolution for imaging light elements such as oxygen, aluminum, and silicon in low-dose conditions. This has allowed us to capture important information without damaging the tiny specimens."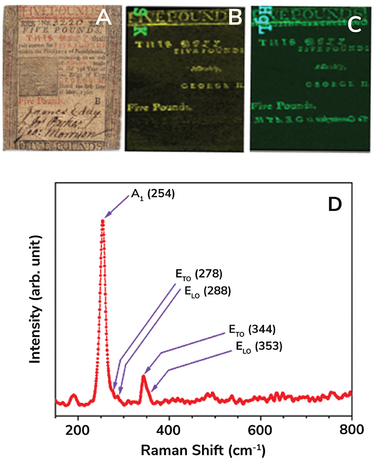 The team's approach could aid other researchers working across a number of disciplines, according to Manukyan: "The new methods and procedures developed here could be used in art conservation, preservation sciences, and the investigation of other sensitive materials."
In Article images - Credit: Khachatur Manukyan
Other images - Credit: Images sourced from Unsplash.com
Receive content, products, events as well as relevant industry updates from The Analytical Scientist and its sponsors.
K Manukyan et al., PNAS, 120, 30 (2023). DOI: 10.1073/pnas.230185612