Techniques & Tools
Mass Spectrometry
Ten Year Views: With Ron Heeren
Imaging mass spec in molecular pathology, high throughput metabolomics, the broad availability of high-performance tools… Ron Heeren discusses mass spec innovation over the past decade.
Margot Lespade | | 8 min read | Interview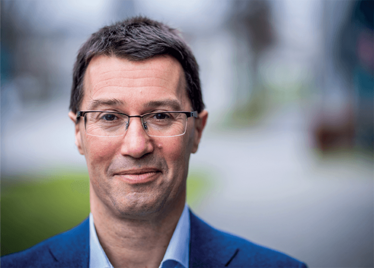 What has been the most significant development in analytical science over the past 10 years?

Looking back, one of the things that really stands out is the broad availability of high-performance analytical tools. Ten years ago, if you wanted to do something like high-resolution mass spectrometry analysis, you had to go to a specialized lab that had all this equipment – an FT-ICR, and maybe one or two Orbitraps – now it's commonly available. The ease of availability of these high-performance technologies has revolutionized analytical science as a whole.

It also means that we can now start to look at very different and detailed applications of analytical science. If I project that onto my own field – the field of molecular imaging based on mass spectrometry – it has become so easy to generate lots and lots of data, images, and mass spectra. Of course, this can pose new challenges (in data analysis, for example), but the technological developments have been tremendous and it is incredible to be part of that.
Which application areas have seen the biggest impact?

The biggest impact is clearly in healthcare. The COVID crisis is a perfect example – we could only do such a huge amount of screening because of the availability of high-end analytical technologies. Similarly, food sciences and material sciences have also benefited from these developments.

In my opinion, this is the strength of analytical science – but also its weakness. Analytical instrumentation research is often not recognized as a field in itself – it is seen as an enabler to other sciences. I think that is something that we really need to be aware of. We need to invest in talented analytical scientists that have the competences to build, modify, and change analytical instrumentation – the innovators of the future, so to speak. As an academic society, we also need to appreciate that we need to invest in the growth of technology, instrumentation, and method development – and not only in the application of these developments. The emphasis must be placed on curiosity-driven analytical instrumentation research.
Are there any specific mass spec innovations that stand out to you over the past 10 years?

Some innovations that stand out are molecular pathology with imaging mass spectrometry, high throughput metabolomics, lab-on-a-chip, the intelligent knife, and intraoperative diagnostics as a whole. There are many, many examples but this is the type of innovation I follow closely and continue to promote. These advances changed the world and they lead the next generation of analytical scientists.

High-resolution mass spectrometers are also up there (Orbitrap and MRMS technologies come to mind here). These mass spectrometers have revolutionized the way we do things and, as I noted above, the fact that they are now so readily available is amazing. The capabilities of the time-of-flight instruments in mass spectrometry really stand out to me; in fact, both time-of-flight and ion mobility spectrometry have come a long way the past 10 years, enabling such rapid analysis that we can now generate thousands of spectra a minute – which has really helped us to push the imaging field forward.

From a diagnostic perspective, the speed at which we can do these types of studies is just mind- boggling – and the best is yet to come. There are some major breakthroughs that are just beyond the horizon, and I can't wait to witness them!
Were there any surprises over the last 10 years?

Here, I'll focus on surprises in imaging mass spectrometry. Ten years ago, I would not have thought that we would now be capable of doing high-throughput, high-resolution, accurate mass analysis in a pathological setting. I estimated that it would take at least another five years, but we're doing it now! And we're doing so much more than I had expected. We've introduced ion mobility into imaging mass spectrometry, and completely new instruments that do rapid screening of tissues in pathological settings. Back in 2013, I never would have thought that this would be possible – let alone routinely! The imaging mass spectrometry field has progressed significantly faster than I initially gave it credit for.
Reflecting on the past 10 years, what is the most important lesson we should take forward?

We need to make sure that we don't rely on a single discipline. We need to get the end users together with the developers to ensure we are pursuing the right analytical tools to solve the right problem. It's all about team science – about bringing together the right team of analytical scientists with different perspectives on the same problem.
Did you learn any personal lessons over the past 10 years?

The number one lesson that I've learned – not just in the last 10 years but over my entire career – is transparency. Leadership is based on trust – and you can better invest in trust than in performance. It can really make the difference between a functional team and a dysfunctional team. I have compared and contrasted many different leadership styles throughout my career. In some cases, teams are very much focused on performance – and not so much on inter-human relationships. And I realized early on in my career, that that is not how I want to interact with my colleagues.

Another major lesson is to have fun! You have to create an environment in which people have fun doing their science. If you work with people who are not enjoying their work, it can lead to a very unpleasant work environment.
Are these lessons a sign of the times?

I think so, yes. The academic world is changing – it now requires leaders to be more open to individual needs of scientists to function properly in a team; 20 years ago, it was more about impact factors, how many papers, and how many patents. Now, we're focusing more on what type of scientists we deliver to society. Are they people that want to make an impact? And do they have an eye on the impact they have on society? This is a very positive thing.
How do you recognize leaders like those you have mentioned?

You recognize them by how their students, staff, and postdocs behave and how they interact with other people. Do they advertise their own careers or do they talk about what they've accomplished as a team? There's such a huge difference in how these people talk – which means there is probably somebody in their environment that coaches them to think in the bigger picture and makes them realize that science is not something that you do alone.
Any predictions for the next 10 years?

It is clear to me that, in the next 10 years, artificial intelligence (AI) will have a huge impact on how we move analytical science forward. For many researchers, the biggest challenge is not generating data, but how we deal with this incredible volume of data. Moreover, how do we link those data to the questions that we are looking to answer? We will have to invest in smarter tools to interpret that data – and AI will very much be at the top of my list of investments to move the field forwards.
Is there anything on the horizon that worries you?

I mentioned this briefly in a previous question, but I think the perception of analytical science is going to be really important going forward. I think that, as analytical scientists, we need to keep an eye on the image of analytical science and ensure that it is recognized as its own individual discipline – rather than one that enables others. The Analytical Scientist is a perfect example of how to do exactly this. I also think we need to educate the next generation of young scientists to ensure that they enthusiastically pursue a career in analytical sciences.

Another worry is the fact that we are producing more and more data – and we need to find ways to connect the dots. I think – and hope – that AI can be incredibly useful, but we will need better collaboration between bioinformaticians and analytical scientists. A great analytical scientist is not necessarily a great bioinformatician; and a great bioinformatician is not necessarily a great analytical scientist. We need to invest in teams.
What are you most excited about?

I'm most excited about our ability to see single cells in complex tissues – and understand how these cells metabolically interact with their environment. This capability can be turned to a number of questions, for example, studying immune cell communication, mindboggling and unbelievably exciting! I'll definitely be investing most of my time in this area in the next couple of years.
What's your favorite memory from the past 10 years?

I think one of my best personal memories is seeing my young colleagues shine. There's nothing better than seeing somebody give a lecture at a big international conference, and show off what they've picked up in the environment that we've created. Seeing my group at IMSC in Maastricht was truly amazing. It was extremely fulfilling to see how well they fit into the mass spectrometric landscape – and it really showed that we made an impact on so many people's lives. I also loved seeing what a great community we've created. It showed me how important human connections are in analytical science. We were devoid of those connections for two years (during the COVID-19 pandemic) and, when we reconnected, it was like a family coming back together again. That feeling was indescribable.

Science thrives on human interactions and we need to remember how important they are.
Receive content, products, events as well as relevant industry updates from The Analytical Scientist and its sponsors.