Techniques & Tools
Mass Spectrometry,
Gas Chromatography
The Aroma of Malaria Infection
Tracking the volatile chemical profile modifications that attract mosquitoes
Stephanie Sutton |
The ecology of malaria is complex, involving two different replication cycles of the parasite alternately in humans and mosquitoes, which propagates the disease. Researchers from ETH Zürich and the Pennsylvania State University wanted to discover how plasmodium parasites change the body odor of its host (in this case, a mouse) to attract further mosquitoes. Penn State's Mark Mescher, one of the authors of the new study (1), explains in more detail.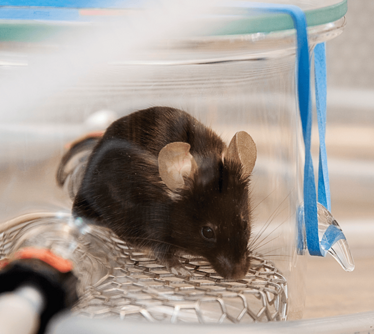 What kicked off your interest?
Our primary interest is in discovering how chemical cues mediate ecological interactions among organisms. We had already done work on understanding how pathogens influence the attractiveness of hosts to insect disease vectors – primarily in plant systems. We were also aware of previous work that suggested malaria-infected people were more attractive to mosquitoes (2), although the cues were not identified. When Andrew Read, who works with malaria in a mouse model, joined us at Penn State, we had the ideal opportunity to conduct detailed chemical analyses and behavioral studies.
We thought there was a good chance that we would see increased attraction of mosquitoes to infected mice, and that this might be related specifically to the presence of the transmissible stage of the malaria parasite (the gametocytes).
We were hoping that this attraction would correspond to clear differences in the volatile profiles of healthy and infected individuals that might even prove useful for diagnosis.
How did you go about the study?
We used a wind tunnel to present mosquitoes with a choice of odor sources to see which they preferred. We tested healthy mice versus infected mice, and we also tested the (extracted) odors of infected mice against the odors of the same mice that were collected before they became infected. Those experiments revealed that mosquitoes were preferentially attracted to infected mice, but only during a specific stage of infection: after the mice recovered from the acute symptoms of malaria but while they still harbored high levels of the transmissible stage of the malaria pathogen. This makes sense from the perspective of disease transmission, but it was not necessarily expected.
We also conducted chemical analyses, which involved placing infected mice (and healthy controls) into glass chambers and collecting volatiles for several hours each day over the course of infection (about six weeks). We analyzed the resulting samples by gas chromatography-mass spectrometry. We also took blood samples each day so that we could track levels of the malaria parasite present, and particularly the levels of malaria gametocytes, which is the stage of the pathogen that is transmitted to mosquitoes.
I would describe the work as logistically challenging!
What next?
I believe this work improves our understanding of the cues that guide mosquitoes to infected hosts and may inform efforts to develop lures and repellents. We also have some hope that the malaria parasite, and other pathogens that actively alter host odors in order to attract vectors, may create biomarkers that we can use to identify infected individuals. In particular, identifying and treating asymptomatic infections (people who don't become sick with malaria but can still transmit the disease) is an important goal to combat the spread of the disease.
Beyond that, actually using odor cues to diagnose disease is of interest. The question is whether you can identify a reliable signal of infection against the background noise of genetic and environmental variation. We have some hope that this will be easier to do for vector-borne diseases, like malaria, in which pathogens are actively changing host odors to attract disease vectors, creating a signal that humans may also be able to detect.
Receive content, products, events as well as relevant industry updates from The Analytical Scientist and its sponsors.
C. M. De Moraes et al., "Malaria-induced changes in host odors enhance mosquito attraction," PNAS, DOI: 10.1073/pnas.1405617111 (2014).
R. Lacroix et al., "Malaria Infection Increases Attractiveness of Humans to Mosquitoes," PNAS, DOI: 10.1371/journal.pbio.0030298 (2005).