Techniques & Tools
Mass Spectrometry,
Gas Chromatography
The Master and Macromolecules
LC-MS/MS identifies fingerprints on a 75-year-old manuscript
Joanna Cummings |
Mikhail Bulgakov's allegorical novel, The Master and Margarita, tells the story of a visit by the devil to 1930s Moscow, with a naked witch and gun-wielding cat in tow. It's a satirical portrayal of Stalinist Russia and one of the most celebrated novels of the twentieth century; now, a reanalysis of an original manuscript has helped scientists shed light on Bulgakov's final years...
The novel was finished four weeks before he died in 1940 but, because of its provocative themes, was not published until 1967. Some experts on Russian literature have speculated that fingerprints found on the margins of one particular foil belonged to the NKVD agents (Stalin's secret police) who sequestered Bulgakov's manuscript. However, an Israeli–Italian team has ascertained that the fingerprints belong to the author himself – by identifying the biomarkers of the disease that killed him and the medication he took to ease his pain (2).
"I was introduced to the novel in 1990 when, upon dissolution of the USSR, a few Russian scientists were housed in my lab in Milan. My co-author on this paper, Gleb Zilberstein, being Russian, knew this novel very well!" says Pier Giorgio Righetti (Politecnico di Milano, Italy). Knowing that Bulgakov suffered from renal disease in the months before his death, the team decided to undertake a two-part analysis. First, they probed the manuscript for traces of drug intake, using chromatographic beads and GC-MS, and found morphine in all the pages interrogated (1).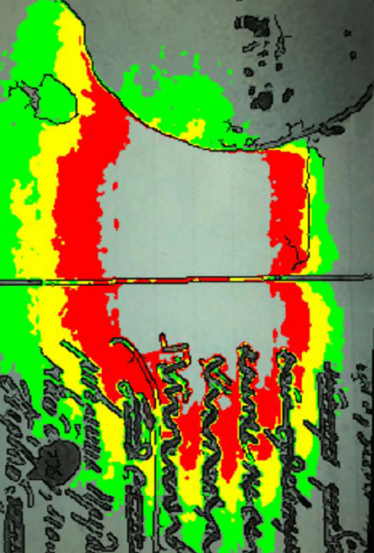 To prevent contamination or destruction of the delicate manuscript for the second part of their analysis, lead author Zilberstein (Spectrophon Ltd.) devised a novel film, in which two types of chromatographic beads were embedded on foils of ethylvinyl acetate (EVA). "The film works by capturing any analyte present in the work of art probed – metabolites as well as macromolecules," Righetti says. Using this method, they were able to harvest and identify 30 different proteins on the manuscript foils – mostly from Bulgakov's saliva – three of which were biomarkers of his renal pathology.
Righetti believes that the image (left), obtained by tracing the levels of morphine left by his thumbs on the margins of various foils, is as close as they could get to an actual fingerprint of Bulgakov – and notes, "Even Sherlock Holmes would have appreciated these findings!"
Receive content, products, events as well as relevant industry updates from The Analytical Scientist and its sponsors.
G Zilberstein et al., "Maestro, Marguerite, morphine: The last years in the life of Mikhail Bulgakov", J Proteomics, 131, 199–204 (2016).
G Zilberstein et al., "Unearthing Bulgakov's trace proteome from the Master I Margarita manuscript", J Proteomics, 152, 102–108 (2017).