Techniques & Tools
Proteomics,
Mass Spectrometry
The Old Guard
Sitting Down With Fred McLafferty, Professor Emeritus at Cornell University
Rich Whitworth |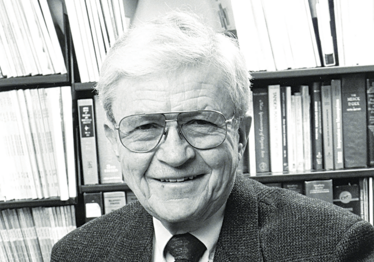 What was your first publication and can you pinpoint the highlight of your career?
I published my first independent paper on what's been called "the McLafferty rearrangement" in March 1956 when I was 32 years old. That's a long time ago! Yet I was at a chemistry seminar last week when the young visiting speaker said, "Oh! Fred McLafferty – the McLafferty rearrangement!" To tell you the truth, I'm so much more excited about what we've done many times since, it's kind of funny what is remembered. Not that I'm complaining.
I have a hard time pinpointing one particular highlight. Probably, it's the fact that I've had so much research freedom. I joke about the time when Dow Chemical Company had to shut down polystyrene production because it had black specks in it. Practically everyone was working on a solution. My mass spectrometer showed that 300 ppm carbon tetrachloride had gotten into the styrene monomer when transported in tank cars that hadn't been washed out. Boy! I was a total hero – even though seeing the mass spectrum of carbon tet was the easiest thing you could do by mass spec. The infrared lab was one of the best in the world at that time but they couldn't see it because carbon tetrachloride is transparent in the infrared. Soon after that episode, I needed a new mass spectrometer, and virtually got one thrown at me. In 1964 when I went to Purdue, it was just after Sputnik so, of course, I could get funded by the National Science Foundation and National Institutes of Health. I've always been lucky…
Before setting out on a career in science, you experienced combat in World War II. How did it help shape you?
The best way of answering your question is that, at the age of 21, it was a very maturing experience. I was in an infantry rifle company on the front line. And while I've won several medals, it had more to do with the fact that my particular company experienced very difficult and unusual battles and included great people that deserved recognition. I just happened to be there. Yes, I got a Purple Heart – that means I was wounded. But there are 193 men in a rifle company and we got 194 Purple Hearts. What it really means is that we saw a lot of action. The highest US award is the Medal of Honor – I think there were 384 given in World War II all told – and we had a guy in our company, Johnny Crews, who received one. I was just along for a nice picnic compared with what he did. We had 35 killed in action, so I was also very lucky. Those are the people that really deserve to be honored, of course.
Boy! I was a total hero – even though seeing the mass spectrum of carbon tet was the easiest thing you could do by mass spec.
That whole chapter of my life gave me confidence, commitment, and even a future excuse. I have a short fuse when it comes to people who don't pull their weight, quickly pointing out their "deficiencies", but I've been able to get away with it because people know I've seen tremendous achievements in times of adversity. The American Society for Mass Spectrometry recently helped me celebrate my 90th birthday, and it was nice to realize that those who spoke had forgiven me!
I wouldn't take a million dollars for my infantry experience, but I sure wouldn't do it again for a million dollars either.
You've had many honors bestowed upon you by the science community. How do you feel about those?
They are very nice to have, very flattering and good for confidence, but come with the danger of increasing one's ego too much. In science, confidence is essential. You've got to try new things and have the intuition to "get lucky". Such recognition is a great help with that, although I'm not sure how well I've controlled my ego.
Disagreements in science are wonderful for progress because they make us all work much harder. But get too carried away, and it can really hurt your whole career. Both confidence and perspective are important – as is not worrying too much about being wrong. I've published things that haven't turned out to be 100 percent correct – but my standard comment is: "Well, correcting this gave me two publications!" That's a lot easier to say with a little name recognition…
On reflection, one of the many nice things about having a wonderful wife and five children to bring up is that they are more than happy to point out my flaws. If you asked me about the most important thing in my life, it's certainly my family and what they've done for me.
How has analytical chemistry changed over the years?
I was at the Dow from 1950 to 1964, and I could see from the outside what a terrible time analytical chemistry was having in academia at that time. Most of the best chemistry departments turned their noses up at it. The reason I went to Purdue University from Dow is because my good friend "Buck" Rogers went there after being pushed out of the Massachusetts Institute of Technology (MIT). He was a good guy and did a great deal for analytical chemistry. I had a strong analytical chemistry heritage to back me up – but not many "good" universities wanted research on volumetric or gravimetric analysis. Still, I was always proud to call myself an analytical chemist.
Faced with such difficulties you might need a big ego…
Ha! The last I heard, 20 percent of the American Chemical Society's members were analytical chemists. And, with all due respect, the National Academy of Sciences has about two percent or less who call themselves analytical chemists. Some people get around the potential stigma by calling themselves something else… But I've always insisted that I'm an analytical chemist.
Sometimes it's our fault. We can get too involved in a color test that tells us about x, y and z in strange plants over 20 years of research, while forgetting that nobody really cares about x, y and z in strange plants any more. We have to keep in mind that our methods must help solve important problems. But it's a two way street: sometimes the problem isn't recognized, if there isn't a good analytical method to investigate it. On the other hand, a good analytical method isn't recognized, if it doesn't address an important problem.
What's your take on the situation now?
Today's analytical scientists have come a long way from the problem of being second-class citizens in academia.
The standing of analytical chemists and the interest in them from the best chemistry departments are both very refreshing. The trouble with these young analytical chemists is that they are too darn smart…
In science, confidence is essential. You've got to try new things and have the intuition to 'get lucky'.
The downturn in funding is difficult. But that's a cyclic complaint. I think the very best people always get funded, with more or less people dropping by the wayside as a result – it's a competitive world. If the funding situation is holding someone back, I have sympathy but also believe that determination is essential for an independent research career. I exhort them to work harder and ignore the worst problems – the people I meet are wonderfully talented and a certain number have simply got to become successful.
What's the most exciting area in MS today?
Probably top-down proteomics. Bottom- up proteomics involves breaking up the protein before analysis. I always want to do things differently. For styrene or carbon tetrachloride, what did we do? We put the whole molecule into the MS. We didn't break it up and waste all that connection information. So I've always put the whole protein in the MS and tried to separate protein molecular ions and then break them up to get their sequences separately, which is harder to do and you need a better MS. Or rather, the better MS you've got the better job you can do. Probably the loudest voice in top-down proteomics right now is Neil Kelleher at Northwestern University. He got his PhD from me, so I'm very proud of his achievements. We initially used FT-ICR-MS for top-down proteomics, which has sufficiently high resolution but is very expensive. It also uses a liquid helium-cooled superconducting magnet, which is an added expense and a real nuisance. In more recent years, while Thermo's Orbitrap doesn't have some of the performance of the FT-ICR-MS, its high resolution has been great for top-down proteomics, especially because so many more people can do it financially.
What, for you, have been the biggest mass spectrometry (MS) milestones?
I like to emphasize that up until the late 1940s, MS was all about isotopes and elements. Progress over the last 70 years has especially been in molecular MS. Over that time, we got very good at looking at small molecules. But our biggest limitation was that we couldn't look at molecules that didn't have some vapor pressure. Then electrospray ionization – and MALDI – came along so, simply from an increased application point of view, these have got to be the greatest advances.
Are you still active in the scientific community?
I still go to meetings and write papers. But my last coworker left over a year ago, so I miss him. Worse yet, he's my grandson (and now a graduate student with Neil Kelleher). Unfortunately, just because he's smarter than me, it doesn't mean he's guaranteed a good job. I have ten grandchildren in all, so it's nice that one of them is doing mass spectrometry.
Receive content, products, events as well as relevant industry updates from The Analytical Scientist and its sponsors.