Techniques & Tools
Mass Spectrometry,
Proteomics,
COVID-19
What's New in Mass Spec?
The latest in the world of MS, from the origins of silk to improved SARS-CoV-2 detection…
Lauren Robertson | | Quick Read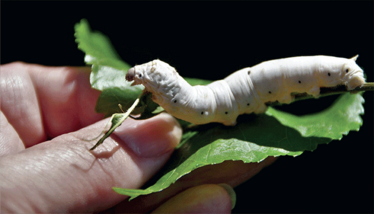 Origins of the silk road. Sericulture, or silk farming, has played a pivotal role in modern human history. As a luxurious commodity, silks can tell us a lot about ancient global trade, textile use, and technology developments. Though the mulberry silkworm, Bombyx mori, is the most commonly used species for silk production, a range of other region-specific moths appear to have been used throughout time – but classifying silks by species type has proven technically challenging. Now, researchers at The University of Oxford, UK, have developed an improved method for solubilizing and identifying silk fibroins using nano-flow liquid chromatography-tandem mass spectrometry (nanoLC-MS/MS). They then applied this to ancient Palmyran silks and found the first evidence of silk production and export using wild silk moths from India. Moving forward, the team wants to expand the protein database for silk moth fibroins and hope to apply their method to the study of engineered liquid silks for new applications in materials science. Link

All in on OrbiSIMS. With the volume of mass spectral data increasing all the time, interpretation of such datasets is proving increasingly difficult. Automated peak assignment based on molecular formula prediction (MFP) is widely used in other areas of MS, but has not yet been applied to secondary ion mass spectrometry. Enter Max Edney and a team from the University of Nottingham, UK. Using a combination of MFP and double bond equivalence measures, the team was able to chemically filter 3D OrbiSIMS datasets from a series of increasingly complex samples. Though largely a success, the team also highlighted a number of limitations still to be overcome, including the high number of possible protein peak assignments. Link

PCR or MALDI-TOF? To overcome some of the limitations with RT-PCR diagnosis, a group of researchers from the National Institute of Health Sciences in Japan has developed a MALDI-TOF MS-based method for direct detection of SARS-CoV-2 in nasopharyngeal swabs. Seven peptides derived from the viral nucleocapsid phosphoprotein (NP) were chosen as targets for the clinical specimens, and a purification method for eluting and extracting the NP was developed. Though less sensitive than RT-PCR, the MALDI-TOF method offers advantages in operability, time, and cost – and could help identify contagious patients for isolation. Link
Where is structural proteomics headed? In a review of the latest developments in structural proteomics, two researchers from Skoltech and McGill University highlighted the increasing availability of high-resolution, high-sensitivity instruments enabling advances in protein structure characterization – especially in cells and tissues. The authors are anticipating further development of MS-based technology, including improvements in top-down analysis, new fragmentation techniques, new reagents for cross-linking and gas-phase reactions, and more user-friendly software programs and servers – perhaps even the integration of machine-learning algorithms. Link
Also in the news...

Want to contribute to a space mission and get your hands on $15,000? NASA is looking for someone to build a model to analyze MS data collected for Mars exploration. Link
A proof-of-concept study shows promise for on-chip MS detection of malaria using a 3D microfluidic paper-based device. Link
Researchers develop an ultra-high throughput IR-MALDESI sampling approach capable of analyzing 22.7 samples per second. Link
The 2022 ASMS Biemann Medal has been awarded to Erin Baker for her contribution to the development and application of IMS-MS technologies and her involvement in establishing the Females in Mass Spectrometry group. Link
Original images from Pixabay
Receive content, products, events as well as relevant industry updates from The Analytical Scientist and its sponsors.