Techniques & Tools
Mass Spectrometry
What's New in Mass Spec?
March's top mass spectrometry news: pinpointing Candida auris, identifying proteins essential for mosquito reproduction, and how wastewater monitoring could provide early warning for the next epidemic.
Margot Lespade | | 3 min read | News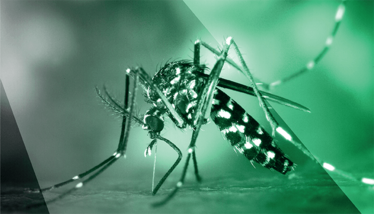 Superfast muscles. Using a combination of MSI and LC-MS, researchers have recently discovered a type of "superfast" muscle fibers, which are known for their ultra-high speed and endurance, and are usually found in human eyes or hummingbird wings – but have never been documented in a mammalian limb before. According to the authors, although clinical applications are a long way off, these findings are particularly exciting for regenerative medicine in neuromuscular diseases.

Pinpointing Candida auris. You may have heard about Candida auris in the news recently – with outbreaks occurring in hospitals and care homes across the world. Unfortunately, identification of newly emerging lineages of this fungus remains a diagnostic challenge, and often results in the improper identification of yeast pathogens. And that's why researchers have recently developed a method using HRMS to rapidly and accurately identify C. auris. They examined 102 strains from all five clades and were able to correctly identify all C. auris strains with an identification accuracy of 99.6 percent. This method also provided a faster turnaround time compared with current technology – making it an attractive alternative to conventional methods.

There must be something in the water. Researchers have recently completed the first large-scale wastewater-based epidemiology study in the UK. Using multiple mass spectrometry-based methods, they analyzed wastewater from 10 cities for both chemical and biological markers of health – including pesticides, pharmaceuticals, and disease-causing viruses. Among other things, results indicated localized outbreaks of norovirus, COVID-19, and influenza – along with spikes in usage of over-the-counter painkillers. According to the authors, routine monitoring of wastewater could provide early warning for the next epidemic.

Mosquito shutdown. Researchers from the University of California, Riverside, US, have mapped the sperm proteome of Culex pipiens – or the common house mosquito – to identify elements essential for mosquito reproduction. Mature sperm from Culex pipiens were isolated and analyzed by mass spectrometry – revealing the mechanisms that activate and maintain sperm motility, and identifying specific proteins that maintain sperm quality and activate them to swim. This study has important implications for population control of Culex pipiens and may help slow transmission of brain-swelling encephalitis and West Nile Virus – the team also hopes that these findings will apply to other species of mosquitoes, particularly those that carry malaria.
Also in the news...

Machine learning-based diagnostic tool shows promise in detecting tuberculosis and drug-resistant tuberculosis using nanoparticle-enhanced laser desorption/ionization mass spectrometry (NPELDI MS). Link

Lipidomic analyses by LC-MS/MS pinpoint biomarkers linked with atopic dermatitis (AD) and may help us identify asymptomatic children at risk of future AD development. Link

Preliminary results of UHPLC/MS/MS analyses suggest that chronic generalized inflammation caused by immuno-metabolomic changes drives headaches in long COVID patients. Link

Micro liquid chromatography-electrospray ionization high-resolution tandem-mass spectrometry (μLC-ESI MS/HR MS) detects tyrosine and lysine in human hair exposed to organophosphorus nerve agents. Link

According to international panel of scientists, spectroscopy and mass spec technology on Mars may lack the necessary sensitivity to detect life. Link

Proton transfer reaction-mass spectrometry (PTR-MS) successfully detects volatile organic compounds (VOCs) from the urine of type 2 diabetes patients – revealing new, non-invasive and rapid diagnostic method. Link

Fragmentation followed by deep fractionation with LC-MS-MS allows detection of protein isoforms in human proteome, generating comprehensive catalog of human protein diversity. Link

Chemical analysis of ladybird footprints by GC-MS demonstrates their importance for inter-species recognition, predation, and competition. Link
For the latest mass spec research delivered to your inbox every week, sign up to the Mass Spec Newsletter here.
Receive content, products, events as well as relevant industry updates from The Analytical Scientist and its sponsors.