Techniques & Tools
Mass Spectrometry
What's New in Mass Spec?
Imaging proteoforms in the brain, how CE could aid single-cell analysis, and MS-based Alzheimer's screening
Lauren Robertson | | 4 min read | News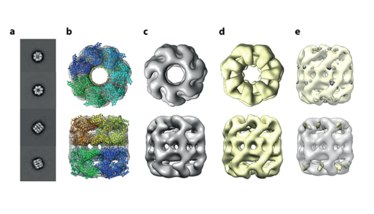 A foodie's heaven

Recent years have seen a large growth in the untargeted metabolomics data available to researchers in the food space. But this brings its own challenges, such as correctly identifying the many MS signals present in a sample. Now, Pieter Dorrestein and his team at The University of California San Diego, have created foodMASST: a mass spectrometry search tool combined with a reference database of food metabolite data that is capable of unpicking the complicated molecular landscape of foods and beverages. Though similar tools exist, foodMASST is the only one able to match spectra from both known and unknown molecules in single ingredient and complex foods and beverages.
Cell Fat(e)

Though we have a pretty good understanding (and extensive literature) on the external signals contributing to cell-fate decisions, we know less about the molecular basis of cell-autonomous signals – such as the lipidome. To determine the role of lipidome dynamics in cell identity, a team of scientists led by Gioele La Manno and Giovanni D'Angelo at EPFL's School of Life Sciences coupled HRMS imaging with single-cell mRNA sequencing to resolve the lipidomes and transcriptomes of individual dermal fibroblasts. What did they find? Chiefly, sphingolipids are major markers of so-called "lipotypes" and that acquisition of these different lipid compositional states plays a role in the determination of cell states.
Probing the proteome

In this week's top paper, Julia Laskin and Neil Kelleher have teamed up to provide better insight into the differential expression of proteoforms in the brain. How? By using top-down proteomics and nanospray desorption electrospray ionization MS imaging (nano-DESI MSI) to directly image proteoforms in rat brain tissue. Overall, they managed to create spatial maps of forty proteoforms of nineteen distinct proteins. This is, in fact, the first paper to show differential proteoform expression in different regions of a brain. The hope is that as the technology continues to advance, we might soon be able to analyze proteoforms in human tissues and explore their use as disease biomarkers.
It's a single-cell world

In other proteomics news, Peter Nemes and his team have explored the potential of capillary electrophoresis (CE) to aid nanoLC-based single-cell proteomics. And their findings are exciting. This proof-of-concept study used capillary microsampling CE-ESI-HRMS to analyze both frog cells and mouse neurons, showing around 20-times higher sensitivity than nanoLC alone (and all in less time). Importantly, they were also able to show that their results were scalable to cells measuring 35-350 µm in diameter, which, as the authors note themselves, opens "new possibilities in cell biology and neuroscience."
PrecivityAD

It looks like MS-based Alzheimer's screening could be here sooner than previously thought. JAMA Network Open has just published the combined results of two independent studies looking at the performance of Precivity AD – an MS-based blood test for Alzheimer's. Specifically, the method uses high resolution MS measures the plasma amyloid β 42:40 ratio in blood to detect brain amyloidosis in patients with cognitive impairment. In total, 686 patients took part in the clinical study. A clinical diagnostic score was developed for the test, which the authors call the Amyloid Probability Score (APS). The results suggest that the APS could aid physicians in more accurately diagnosing their patients, improving access to care.
A match made in heaven?

Native mass spec and cryo-electron microscopy (EM) – together at last! In the latest offering from Josh Coon's lab, a modified Orbitrap MS system is shown to be capable of depositing a native MS ion beam onto EM grids. In their paper, the team obtains a 3D reconstruction of a 800kDa protein complex - GroEL - from gas-phase deposited ions, finally providing evidence that protein complexes do in fact retain their structure in the gas phase. Their "matrix-landing" method could eventually allow direct coupling of cryo-EM to MS, expanding the scope of this technology and opening new avenues in the field of analysis.
Also in the News…

High-resolution imaging MS enables spatial metabolomics profiling of 362 gastric cancer patients, providing tumor-specific subtypes to aid treatment approaches. Link

A boon for biotherapeutic discovery: IMS-MS approach elucidates higher order structures of monoclonal antibodies. Link

New Python application programming interface, DEIMoS, enables improved processing of high-dimensional MS data. Link

Post-acquisition computational method for DESI-MSI datasets reduces observed mass drift by 60ppm. Link

Vacuum ultraviolet Kr lamp method shows promise for chemical ionization MS analysis of atmospheric ammonia. Link

LC-IM-MS method enables multidimensional separation of 16 glucocorticoids in three-dimensions; promising results in favor of its use in clinical settings. Link
Receive content, products, events as well as relevant industry updates from The Analytical Scientist and its sponsors.