Techniques & Tools
Mass Spectrometry
What's New in Mass Spec?
July's top mass spectrometry news: from untargeted metabolomics and cancer proteomics, to zooarcheology and mosquito control
Lauren Robertson, James Strachan | | 3 min read | News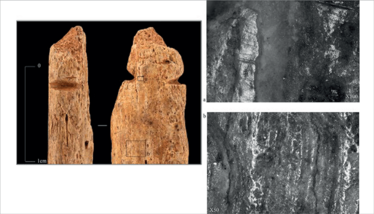 Bone of contention

In our top pick of the papers this month, researchers have used Zooarcheology by mass spectrometry (ZooMS) to uncover the origins of some Mesolithic pendants – and the results are somewhat surprising. Previously, it was assumed all of the pendants were made from animal bones – even though a few of them appeared to be a little different to the rest. Now, thanks to the ability of ZooMS to distinguish the bones based on their peptides, Kristiina Mannermaa and her team have discovered that 12 of the 37 samples were human in origin. This is the first evidence of the use of human bone for making pendants in Northeast Europe.
The researchers note that there is no reason to believe this is evidence of cannibalism, and instead focus on the fact that there seems to be no distinction between the human bones and animal bones use. "The fact that the use of human bones was not emphasised in any way and that the objects are indistinguishable and similar to objects made of animal bones may indicate the intertwining of animals and humans in the Stone Age worldview," said Mannermaa.
You are what you eat?

Pieter Dorrestein's research team have developed a new reference-data-driven method for untargeted metabolomics analysis that helps identify the many metabolites produced when we eat. "Untargeted mass spectrometry is a very sensitive technique that allows for the detection of hundreds to thousands of molecules that can now be used to create a diet profile of individuals," said Dorrestein in a press release. The approach is based on matching metabolomics tandem MS data to metadata-annotated source data to create a pseudo-MS/MS reference library. This is then applied to food data, increasing the MS/MS spectral usage 5.1-fold over conventional approaches.
The hope is that this new and improved approach will enable researchers to better understand how what we eat has an impact on our health, linking diet to clinical outcomes. "It is now possible to link molecules in diet to health outcomes not one at a time but all at once, which has not been possible before," adds Dorrestein.
Probing the pan-cancer proteome

Using data-independent acquisition MS, researchers have analyzed the proteomes of 949 cancer cell lines across 28 tissue types and created a monster of a resource: the ProCan-DepMapSanger pan-cancer proteomic map. With 8,498 proteins analyzed, the map captures a large amount of data about cell-type and post-transcriptional modifications. Some of their findings include single-cell origins of cell lines, drivers of protein expression patterns, and potential drug sensitivities. As the authors state, "this dataset represents a major resource for the scientific community, for biomarker discovery and for the study of fundamental aspects of protein regulation that are not evident from existing molecular datasets."
Also in the news… 

MALDI-TOF MS approach shows potential for rapid detection of SARS-CoV-2 virus and its variants from wide ranging sources. Link
Zoltan Takats and his team show how desorption electro-flow focusing ionization (DEFFI) can be used to overcome some of the shortcomings of current DESI approaches for MS imaging of biological tissues. Link
GC-MS analysis of essential oils reveals new targets for safe and effective mosquito control. Link
New ion trajectory software, SimELIT, provides simulations from the ion source to the detector to improve understanding of ion dynamics and instrument development. Link
Nikolai Slavov and colleagues propose best practices, quality controls, and data reporting guidelines to assist adoption of reliable quantitative workflows for single-cell proteomics using tandem MS. Link
Researchers from Luxembourg combine magnetic sector secondary ion mass spectrometry (SIMS) with focused ion beam (FIB)–scanning electron microscopy (SEM) instruments for nanoscale chemical imaging. Link
For the latest mass spec research delivered to your inbox every week, sign up to the Mass Spec Newsletter here
Receive content, products, events as well as relevant industry updates from The Analytical Scientist and its sponsors.
---