Techniques & Tools
Mass Spectrometry
What's New in Mass Spec?
September's top mass spectrometry news: "sniff-inspired" Parkinson's test clinic-ready, introducing the Omnitrap, and our oxidation "aura"
James Strachan | | 3 min read | News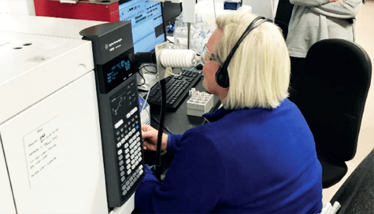 Sniffing Out a Test for Parkinson's

A few years ago we reported on Joy Milne's unusual gift: her ability to smell Parkinson's disease. Perdita Barran set out to isolate the molecules that make up the distinctive odor. She's done that and more! Barran and her University of Manchester, UK, colleagues found that there are lipids of high molecular weight that are substantially more active in people with Parkinson's, and then developed a paper-spray-ionization-ion-mobility-MS-based diagnostic test, which can be performed in as little as three minutes. "We are tremendously excited by these results which take us closer to making a diagnostic test for PD that could be used in the clinic," said Barran.
Introducing the Omnitrap

When it comes to mass spec innovation, we often hear about sensitivity gains and miniaturization – but what about consolidation? The Omnitrap is the first attempt to integrate the entire fragmentation toolbox into a single unit, while also alleviating limitations for processing ions in the gas phase. Dimitris Papanastasiou, Roman Zubarev, and the rest of the team at Fasmatech – plus collaborators at Thermo Fisher Scientific, including Orbitrap inventor Alexander Makarov – have published their latest developments.
The authors hope the Omnitrap will open doors in biomolecule characterization by top-down MS. And based on some of the #TeamMassSpec chatter, it seems a number of groups are looking forward to testing out the new instrument later in the year.
Our oxidation aura

Many of us spend most of our time indoors, in enclosed spaces, where we are exposed to all sorts of chemicals. Outside, hydroxyl (OH) radicals, formed when UV light from the sun interacts with ozone and water vapor, are largely responsible for "cleaning" the air. But what about indoors? Should we be worried? It turns out that we humans generate our own oxidation field and change the indoor air chemistry around ourselves – according to a study involving proton-transfer-reaction-MS and fast GC-MS systems.
But we can't rest on our auras: "We need to rethink indoor chemistry in occupied spaces because the oxidation field we create will transform many of the chemicals in our immediate vicinity," said project leader Jonathan Williams. The press release points out that oxidation processes can lead to the generation of respiratory irritants and small particles in the immediate vicinity of the respiratory tract, which can have adverse effects especially in children and the infirm.
MXenes breakthrough enabled by SIMS

MXenes, discovered in 2011 by Drexel University researchers, are two-dimensional inorganic materials with some unique properties, such as hydrophilicity combined with the conductivity of transition metals. Now, researchers have found a new way to study the atoms that make up MXenes and their precursor materials, MAX phases, using secondary-ion mass spectrometry (SIMS). Pawel Michalowski from Poland's Institute of Microelectronics and Photonics made a number of improvements to the technique allowing the team to view the sample with an atom-level resolution that had not been previously possible.
"With this new approach, we have better guidance on where to look for new materials and applications," said Yury Gogotsi, who was of the original team that discovered MXenes. Potential applications (according to the press release) include antennas for 5G and 6G wireless communication, shields for electromagnetic interference, filters for hydrogen production, storage and separation, and wearable kidneys for dialysis patients.
Also in the News…

Researchers from Uppsala University, Sweden, develop "direct infusion probe" for rapid metabolomics of low-volume samples. Link
How soft is secondary electrospray ionization (SESI)? Softer than electrospray ionization, say Renato Zenobi and colleagues; but proper soft tuning of instrument is essential to fully benefit from SESI. Link
Max Planck Institute researchers present a cryogenic MS protocol with ability to detect peptides in attomole dilution range from ice films. Link
Karen Butler and Erin Baker describe high-throughput drift-tube ion-mobility spectrometry coupled with MS screening method for opioid profiling. Link
Microfluidic chip combines microdialysis and MS for in vivo monitoring of nanomedicine pharmacokinetics in real time. Link
For the latest mass spec research delivered to your inbox every week, sign up to the Mass Spec Newsletter here.
Receive content, products, events as well as relevant industry updates from The Analytical Scientist and its sponsors.