Techniques & Tools
Mass Spectrometry
What's New in Mass Spec?
October's top mass spectrometry news: a proteomics-based long Covid test, speedy spectrometry, and Jonathan Sweedler on single-cell metabolomics
James Strachan | | News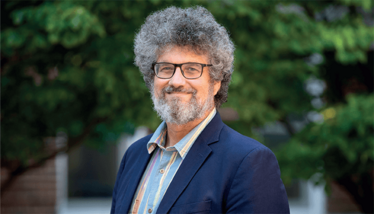 Proteomics-based long Covid test

Advances in our understanding of how to manage COVID-19, plus mutations to the virus, have – fortunately – reduced the chances of a hospitalization. But the prospect of developing "long Covid" remains a worry given how little we know about the condition. Now, researchers from University College London have developed a proteomics- and machine-learning-based blood test, taken at the time of infection, that can predict a patient's chances of developing long Covid.
"Our study shows that even mild or asymptomatic COVID-19 disrupts the profile of proteins in our blood plasma," said lead author Gaby Captur in the press release. "This means that even mild COVID-19 affects normal biological processes in a dramatic way, up to at least six weeks after infection."
Speedy spectrometry

Mass spec imaging has faced ongoing technical challenges – particularly finding the balance between spatial resolution and throughput without compromising one for the other. Researchers from The Netherlands have devised a new, continuous-acquisition method to combat these constraints by combining a secondary ion mass MS microscope with a Timepix3 detector. The method, aptly termed fast mass spectroscopy, achieves 2–3 orders of magnitude higher throughput than any microprobe-mode MSI whilst retaining high spatial resolving power. Gigapixel images of fingerprints and rat tissue were collected in just 33.3 minutes.
Life on Europa?

NASA has published details of their Ocean World's Life Surveyor (OWLS), which in the future could be used to land on and sample ice from the surfaces of Europa and Enceladus. How are they planning to detect the organic molecules produced by potential alien life? Capillary electrophoresis coupled with MS (CE-MS). As it happens, we recently published an article by Gerard Rozing discussing the gains in sensitivity of CE-MS, which he says enabled many pharma applications. And if that wasn't enough CE-MS for you, Agilent (where Rozing worked for over three decades) has signed a co-marketing agreement with CMP Scientific to "provide an integrated CE-MS solution to life science and pharmaceutical industry."
Jonathan Sweedler on single-cell metabolomics

What is currently possible with state-of-the-art single-cell metabolomics? That is the question last year's Power Lister winner Jonathan Sweedler – plus an international team of collaborators – set out to answer. "Several of the major approaches covered here include downscaling separations via capillary electrophoresis mass spectrometry, direct single cell mass spectrometry, and mass spectrometry imaging at the single cell level," wrote the authors. And, in addition to technical developments to increase sensitivity and reliability of identification and quantification, the authors hope metabolic information will soon be integrated with protein and gene expression data to complement the information available from metabolomics studies.
Also in the News...

Continuing with COVID-19 (and proteomics), two researchers from Boston University School of Medicine highlight use of mass spec to profile SARS-CoV-2 proteome from nasopharyngeal swab samples. Link

Researchers combine two-dimensional gas chromatography-mass spectrometry/olfactometry and human sensory evaluation to understand how that "new car smell" decays over time. Link

Drift tube ion mobility spectrometry-mass spectrometry (DTIMS-MS) paired with solid phase extraction platform enables rapid screening of urine samples for opioids, with marked improvements on traditional methods. Link

Novel miniature mass spectrometer with continuous atmospheric pressure interface offers robust, repeatable, and rapid MS analysis. Link

Collagen fingerprinting of Nombe rockshelter in Papua New Guinea using zooarchaeology by mass spec (ZooMS) leaves open the possibility of extended coexistence between some now-extinct megafaunal species and people. Link
Receive content, products, events as well as relevant industry updates from The Analytical Scientist and its sponsors.