Techniques & Tools
Mass Spectrometry
What's New in Mass Spec?
January's top mass spectrometry news: a mini Orbitrap, a new way to study DNA methylation, and Jonathan Sweedler links up with Fan Lam to study Alzheimer's
Margot Lespade | | 3 min read | News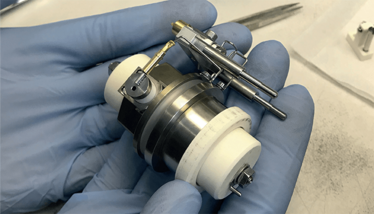 Space spec. Researchers from the University of Maryland, US, have unveiled a new miniaturized version of the Orbitrap analyzer – specifically tailored to the needs of NASA space missions. They paired this miniaturized technology with laser desorption mass spectrometry (LDMS), enabling in situ characterization of organic content and chemical composition of planetary materials without requiring extensive sample processing. This combination could aid astrobiology missions – particularly those focused on life detection objectives and progressive exploration of the lunar surface. According to the press release, this new device "boasts the same benefits as its larger predecessors but is streamlined for space exploration and onsite planetary material analysis."

The power of iDEMS. In an effort to study DNA methylation in more detail, researchers developed a new, highly sensitive mass spectrometry-based method – dubbed iDEMS (thankfully shortened from "isolation of DNA by 5-ethynyl-deoxyuridine labeling for mass spectrometry"). The method revealed that DNA methylation levels increase steadily after replication – outpacing cell division – and that hydroxymethylation is perpetually asymmetric between sister strands in favor of the parental strand. These findings offer a step towards answering long-standing questions about DNA modification propagation. According to the press release, the authors hope that iDEMS can be used for "profiling methylation and hydroxymethylation dynamics in different cellular contexts" – including aging and cancer evolution.

Deep breath. Pulmonary arterial hypertension (PAH) – a rare disease of the lung arteries – can result in excess scar tissue and thickening of lung blood vessels. In an effort to explore the origins of the resulting increased biomass, researchers used multi-isotope imaging mass spectrometry (MIMS) to examine the key contributors. MIMS is a new imaging modality that merges in vivo stable isotope tracer methodology with nanoscale secondary ion mass spectrometry – and this is the first time it has been used in the study of lung disease. The results? "Closer investigation of proline and glucose in human PAH may uncover opportunities to inhibit biomass formation, prevent obstruction of lung arteries, and decrease the chance of heart failure for PAH patients," said first author Bradley Wertheim in a press release.

Mass spec collab for Alzheimer's. Thanks to a US$3 million grant from the US National Institute of Health, magnetic resonance imaging (MRI) and mass spectrometry imaging (MSI) are about to be combined on a scale that's not been seen before. Jonathan Sweedler and Fan Lam will use this unique combination to capture a wide range of images in animal models of Alzheimer's disease. According to a recent press release, one overarching goal is: "to understand what happens at the molecular level in a mouse model of Alzheimer's disease as a function of age and disease stage." On a related note, we sat down with Jonathan Sweedler in 2021; he discussed his career, combining different perspectives, and shared the biggest breakthroughs in his field (maybe this could be one of them?).
Also in the News...

UHPLC-MS/MS reveals 10 biomarkers of non-small cell lung cancer that could aid clinical detection – especially at early stage. Link

Bruker takes majority stake in proteomics mass spectrometry-based biotech company Biognosys. Link

Combination of electrospray ionization-mass spectrometry (PESI-MS) and machine learning shows promise in pancreatic tumor diagnosis. Link

Laser-based plasma mass spectrometry used to assess strontium-calcium ratio in teeth of Homo erectus – revealing dietary strategies. Link

Rapid evaporative ionization mass spectrometry (REIMS) accurately identifies mosquitoes age and species – with important implications for public health and risk of pathogen transmission. Link
For the latest mass spec research delivered to your inbox every week, sign up to the Mass Spec Newsletter here.
Receive content, products, events as well as relevant industry updates from The Analytical Scientist and its sponsors.