Techniques & Tools
Technology,
Spectroscopy
What's Trending in Spectroscopy?
Which key trend, emerging technology, or killer application is set to most transform spectroscopy over the next 5–10 years? We present answers from six SciX speakers.
| 5 min read | Discussion
Want to know what our speakers said about the single biggest challenge facing spectroscopists in 2023? Find the answers.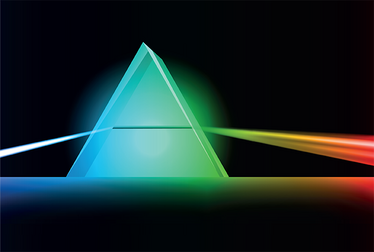 Alexis Weber: For me, it's the downsizing of spectrometers. When applying for grant or fellowship funding, I have noted that most solicitations have a large focus on the need for developing methods and technologies that are applicable in the field. This is not restrictive to a specific agency, but all scientific solicitations I have reviewed within the last couple of years. This trend will have a large impact on the spectroscopy field as a whole as more novel applications are able to be developed due to the smaller size but increased capabilities of spectrometers.

John Wasylyk: Advances in machine learning should greatly enhance the way we evaluate and apply spectroscopy-based analyses. We currently have an array of commercially available tools that search spectral files and help predict spectra of new compounds. Applying machine learning to kinetic studies, including kinetics of side reactions, will provide a new level of prediction and control, ultimately reducing excess testing and advancing process knowledge in early development cycles.

Sian Sloan-Dennison: I believe the next killer application is the SERS analysis of lateral flow devices with portable spectrometers, which would create a point-of-care platform that will provide rapid, sensitive, and quantitative data on a plethora of clinically relevant biomarkers. In the next 5–10 years, we should expect to see portable automated systems thatl read lateral flow devices, relate SERS intensities to biomarker concentrations, and translate this into an easy-to-interpret result for the end user in emergency departments – leading to improved patient stratification. If SERS analysis can prove itself as a gold-standard analytical technique, it can finally move out of the lab and into real world scenarios.

Xiaoyun (Shawn) Chen: Democratization of spectroscopy is coming – as more people get smartphones that have more computing power than the NASA computers used to send astronauts to the moon, they can now combine them with innovative accessories that can turn their devices into portable spectrometers ready to measure everything around them on the go. This allows users to use spectroscopy to authenticate their purchases, judge the quality of produce at their local market, and even combine the spectral measurements with BlockChain technology. The sky's the limit and the spectroscopy community should be prepared to welcome more citizen scientists and help them maximize the utilization of their handheld spectrometers.

Roy Goodacre: I agree with Shawn. Science is funded by the people and thus for the people, and I think democratization of science – or spectroscopy – is important and will be the future.

If we cast our minds back a few years (!) during the pandemic, people were regularly testing themselves. In other words, there was no need for them to visit some experts to have a test done. And I think this will continue. With the rise of wearable technologies people are used to having themselves continually monitored for personal activities, heart rate, and so on. It's therefore compelling that spectroscopy can be used for personalized medicine or personalized healthcare – this is certainly a future killer application (and, I believe, not that far away).

As Shawn said, we all carry mobile phones, and therefore a potential spectrometer. It might be relatively straightforward to design something that hijacks this technology to allow for measurements to be done. In addition, we all have toilets in our home and there's been a great deal of discussion of the intelligent toilet; when you urinate or defecate into it, the toilet makes measurements and reports them to you and/or a physician. I think spectroscopy could play a role here as well.

Is this too far-fetched? I don't think so! If we look in other areas, the killer application for chemical sensing has been automatic diabetes checks with under the skin sensors that are linked to your mobile phone. I'm not suggesting that spectroscopy will replace a glucose monitor, but spectroscopy could be used to assess a plethora of other biomarkers so that we can monitor our health and spot disease earlier than we otherwise would have. The earlier the better!

C. Derrick Quarles Jr: Over the last 10 years, there has been an increase in single particle- or single cell-ICP-MS based applications. I would expect that this trend continues and we see instruments continue to reduce in size and become faster and more sensitive, leading to the ability to detect smaller and smaller particles (for example, <5 µm).
Meet the Speakers
Alexis Weber is a PhD student within the Chemistry Department at the University at Albany, SUNY, where she focuses on the spectroscopic analysis of biological fluids and trace evidence in forensics. Alexis is also COO of SupreMEtric LLC. She is a SciX session chair for contemporary issues in analytical science and early career researchers.

John Wasylyk is Associate Scientific Director at Bristol Myers Squibb. At SciX, he spoke about spectroscopic applications for pharmaceutical development. John's presentation will cover a range of studies spanning in-line and off-line polymorph transformations as well as reagent stability studies, both of which are key to driving sustainability in analytical analyses.

Sian Sloan-Dennison is a Research Associate for Pure and Applied Chemistry at the University of Strathclyde, UK. She specializes in SERS and point-of-care. She is a SciX session chair for Raman spectroscopy.

Xiaoyun (Shawn) Chen is a senior research scientist at Dow Chemical Company, where he focuses on vibrational spectroscopy – especially for in-situ reaction monitoring. He is a SciX session chair for process analytical technology.

Roy Goodacre is a Professor of Biological Chemistry at University of Liverpool, UK. Roy's research interests include mass spectrometry-based metabolomics and developing Raman spectroscopy approaches for bioanalysis.

C. Derrick Quarles Jr. is a Sr. Scientist working for Elemental Scientific in the areas of automation for ICP and ICP-MS, elemental speciation (LC-ICP-MS and LC-ICP), and laser ablation (LA-ICP-MS). He is a SciX session chair for Atomic spectroscopy.
SciX took place on October 8–13 in Sparks, Nevada, USA. For more information about the conference, visit: scixconference.org/scix2023
Receive content, products, events as well as relevant industry updates from The Analytical Scientist and its sponsors.