Business & Education
Business,
Pharma & Biopharma,
Technology,
Gas Chromatography,
Genomics & DNA Analysis,
Spectroscopy
Business in Brief
A roundup of this month's business news – from partnerships to product launches, including a new in-line spectrometer for bioprocess control
Markella Loi | | 2 min read | News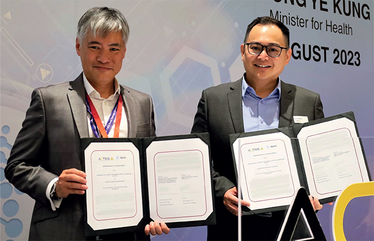 908 Devices has launched a Raman spectroscopy-based handheld device – Maverick – for in-line, real-time bioprocess monitoring and control. Maverick's de novo models automatically process Raman spectra data to direct process control actions, while the hub can monitor up to six bioreactor modules simultaneously, with independent analog/digital control of feed systems for each.

Leica Microsystems has partnered with the Department of Biochemistry at The University of Oxford to launch a new Centre of Excellence for cutting-edge microscopy. The Centre, which will be hosted by Oxford's Micron Bioimaging Facility, will provide a place for experts to share knowledge through workshops and seminars. "We aim to accelerate scientific discoveries and inspire the next generation of scientists," said Darin Stell, Senior VP Global Commercial Operations at Leica Microsystems during the press release.

Shimadzu has released a new gas chromatography instrument, the Brevis GC-2050. The 2050 uses the same techniques for sample injection and detection and gas control as its predecessor, the 2030, but in a smaller package. The GC-2050 also allows users to simultaneously analyze two lines with standard capillary columns, and comes with a touchscreen display.

The Advanced Cell Therapy and Research Institute, Singapore (ACTRIS) will install and operate Agilent's xCELLigence real-time cell analyzer and Seahorse XF technology in its largest cell and gene therapy bioprocessing facility, as part of a three-year collaboration. "Our collaboration with ACTRIS aims to augment the nation's role as a leading cell and gene therapy manufacturer and clinical services through enabling translational research and development," said Chow Woai Sheng, Singapore General Manager and Vice President of Global Instrument Manufacturing at Agilent, in a press release.

Agilent are also partnering with the National Cancer Centre Singapore (NCCS). The Agilent Magnis Next-Generation Sequencing (NGS) Preparation System is set for installation at Singapore's Cancer Discovery Hub (CDH) to help investigate Asian-prevalent cancer cohorts. Original press release here.

Curio Bioscience has announced Curio Seeker 10x10 – a high-resolution, whole transcriptome spatial mapping kit. The model enables tissue imaging up to one square centimeter by detection and mapping of RNA molecules using next-generation sequencers.

Hamamatsu Photonics have introduced their upgraded software tool, TOKUSPEC 1.3.0, designed specifically for their miniature spectrometers. New features include an upgrade to the .NET Framework 4.8 and an improved speed and memory consumption for XLSX export.

Following the recent HUPO 2023 World Congress, Bruker Corporation has introduced several new products – including the scalable, AI-powered TIMSquant™ for label-free quantification and new MetaboScape software designed for 4D multiomic research.

Waters have updated their bioprocessing walk-up solutions for improved and easier sample preparation and analysis, including a coupling of the BioAccord™ liquid chromatography-mass spectrometry (LC-MS) system with the Waters Andrew+™ robot.
Receive content, products, events as well as relevant industry updates from The Analytical Scientist and its sponsors.