Business & Education
Education
Emily Hilder: Meet the Editorial Advisory Board
Chief Maritime Division, Defence Science and Technology Group (DSTG), Department of Defence, Australia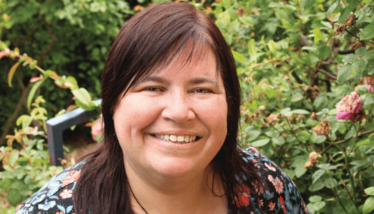 Tell us about yourself and your research!

Previously the Director of the Future Industries Institute of the University of South Australia, I've recently moved to a new role within DSTG, the Australian government's lead agency responsible for applying science and technology to safeguard Australia and its national interests. I lead ~300 scientists and engineers across Australia, covering research in acoustic and non-acoustic signature management, materials science, sensors, systems integration, human performance, corrosion and more – all supporting Australia's maritime defence capability. Though there is plenty I can't discuss, I can say that I love the role so far.
What makes you tick?

I'm definitely driven by the clarity of purpose in my role and this is something that has driven me throughout my career. I'm most happy when I can support providing solutions to real-world problems. An example: how do we provide and sustain the best technology to enhance the safety of the people who need to use it, especially in a contested environment? Providing clarity for my team in such uncertain times also keeps me ticking.
What keeps you up at night?

In honesty, I usually sleep perfectly well. One concern I do have, however, is how early-career scientists are coping right now. COVID aside, many careers – for example, those in academia – are arguably more difficult than they used to be. Luck can play a big role (despite the extraordinary work people are doing) in success and progression, and that's stressful. In a year that's challenged many peoples' mental health, this could have a very negative effect.
Do you have any personal (or general) milestones from 2020 you'd like to share?

The chaos of last year made me re-evaluate what's really important in life. I'd say that's a pretty big milestone! More generally, the speed with which our field has focused on COVID-19 is unbelievable. An example: the rapid development and application of methods for COVID monitoring in wastewater, which have been used to identify and manage outbreaks (especially in Australia). We have developed technology at a rate we previously thought impossible!
Top paper of 2020

I'd say "Rapid High-Resolution Visible Light 3D Printing" (1). It addresses a really exciting "what if?" and allows many new possibilities for 3D printing. The potential for visible light photocuring changes the rules for what materials can be used and should lead to new applications both in 3D printing and beyond (for example: coatings, adhesives, lithography).
Receive content, products, events as well as relevant industry updates from The Analytical Scientist and its sponsors.
D Ahn et al., "Rapid High-Resolution Visible Light 3D Printing," ACS Cent Sci, 6, 1555 (2020). DOI: 10.1021/acscentsci.0c00929