Business & Education
Technology,
Professional Development
Hack Attack
Cross-border "Hackathon" encourages young scientists to get entrepreneurial
Joanna Cummings |
The event? A programming and prototyping marathon. The participants? A group of students from France and Japan. The goal? To encourage creativity and entrepreneurship – as well as strengthen collaborative links between two institutions: École Polytechnique and the University of Tokyo. For this "Hackathon", teams of five students designed prototypes for lab equipment of the future, including a connected necklace to send and receive messages in a clean room, and a mini-robot to carry out mundane lab tasks or warn of impending danger. Representatives from École Polytechnique and event sponsor HORIBA tell us more about the bi-continental event.
How did the Hackathon come about?
École Polytechnique: The Hackathon took place during a two-week exchange at the École Polytechnique for students from the University of Tokyo. One of the activities was a 48-hour intercultural experience, mixing 10 students from Tokyo and 10 students from École Polytechnique. Hosted in our new building, fully dedicated to entrepreneurship and innovation, it was an opportunity for students from different cultures to collaborate.
HORIBA: Our headquarters in Japan has strong academic collaborations with top Japanese universities, and the HORIBA Europe Research Center has long-standing relationships with leading academic institutions, such as École Polytechnique. It seemed natural for us to become a partner in such an exciting educational event.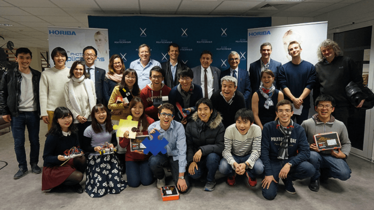 Why target the younger generation?
EP: For the students, it was an excellent opportunity to try working in a multicultural team towards a common and real goal. It was the first time many had faced a situation like this, which occurs frequently in real life – and is even more likely in an increasingly internationalized world.
H: HORIBA's scientific mission is to support R&D with cutting-edge technology products – so to work with younger scientists made sense to us. The challenge we proposed – to design "a device that you would like to have for future lab or fablab (digital fabrication laboratory) activities" – provided some clear messages: the value of gamification, the importance of a building a healthy and happy life, and teambuilding through sport, services to humanity and social activities.
How did the students respond?
H: They really enjoyed this experience – both because of cultural relations and because they had the chance to get familiar with some high-tech tools, including 3D prototyping, rapid electronic prototyping, and fast programming.
EP: All were impressed by what they had accomplished in 48 hours. It demonstrated to them the power of working as a team, rather than as individuals. All of them were praised by the jury.
What were the highlights for you?
H: For us, it was fantastic to see that in less than three days, students were able to produce prototypes of lab accessories and services supporting their vision.
EP: The highlight was seeing the extraordinary achievements made possible by people from different cultures and backgrounds working together. That is the way to foster innovation and creativity within an organization.
Will there be more Hackathons?
EP: Based on the success of the first Hackathon, yes! We would need to identify another theme that is as inspiring and has a potentially high impact.
H: To perform in a global market, innovation is a must – and for an international group, it is important to have a young vision that projects us into the future. This Hackathon fits within the ecosystem of the HORIBA group, which aims to create value through innovation. We are now considering a similar event with PhD students, to give them an initial experience of laboratory life.
Receive content, products, events as well as relevant industry updates from The Analytical Scientist and its sponsors.