Business & Education
Spectroscopy,
Business,
Professional Development
Venture Vanguard
Sitting Down With… Andrew Whitley, Vice President of Sales and Business Development, HORIBA Scientific, Piscataway, New Jersey, US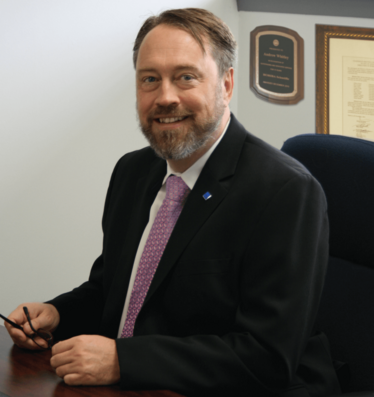 You are a classically trained scientist with a PhD in analytical chemistry, but it was business development that ultimately captured your attention. Why did you pursue this career path?

My PhD at the University of Durham (sponsored by Shell) involved looking at some interesting applications of Raman and infrared spectroscopy to study the viscosity of model lubricants as a function of inter and intramolecular interactions. I found I was really drawn to the instrumentation side of things and I was good at it – the ideal combination.

After my PhD, I didn't want to get stuck on a bench, focusing on one area of research, so I decided to broaden my skill set by applying for a customer-facing role at Bruker. It turned out to be a good fit. It wasn't just regurgitating brochures, as I had feared – Bruker really focused on the science behind their instrumentation. FT-Raman was really starting to take off, so I had an exciting three years. I really enjoyed interacting with people and helping them with their research. And that's still the best part of my job.
And how did you end up in your current role?

After Bruker, I joined Renishaw to help set up their global sales network for Raman microscopes. They then asked me to head up Raman for them in the US in 1995. My job was to grow the business from out of California and into the rest of the States.
In 1999, HORIBA headhunted me for a job in New Jersey and I've been here ever since! I started off as the North American Raman product line manager at the time when dispersive Raman microscopy was starting to really take off. FT-Raman had acted as the catalyst for a renewed interest in Raman, but FT-Raman microscopy was not sensitive enough for most applications. Because of the early success of these systems, I later became VP of Sales and, eventually, VP of Sales and Business Development.
What's a day in your role like?

I'm moving more and more into the business development side of things. I currently focus a lot on the life sciences, where I'm building a new business development team. My team supports all products, but most commonly our fluorescence spectroscopy, Raman spectroscopy and particle characterization product lines.

We have three key development activities. The first, and most short-term effort, is to help the sales and marketing teams to communicate effectively with our industrial customers, helping to package our scientific instruments across multiple product lines to address key industrial applications needs. The second is to look at our existing technologies and discuss with mainly industry, but also key academic and government institutes, how these can be further developed to overcome challenges in their processes. This necessitates adaptation of our systems in an appropriate way to meet specific applications needs in terms of software, sampling and problem solving. We therefore make it easier for big clients like biopharma companies to apply our systems to applications like screening and QA/QC. One of our most successful areas at the moment for this is quality control of vaccines for real-time product release.

Finally, the longer-term goals are about collaborating with industry and academia to look for things on the distant horizon. Two interesting areas at the moment are using Raman for cell sorting applications and cancer theranostics (diagnostics and therapy combined). In these longer term areas the roadmap to success could be ten years or longer but the prize at the end, both commercially and for the good of humankind would be enormous.
The other aspects of my job… there are a lot of meetings! In addition to many internal meetings, I also meet with our collaborators. There are many business trips to check that everything is running as it should be, and to ensure that we fully understand our customers' needs. I work hard to maintain a balance between customer meetings vs internal meetings – I feel the number of each should be about the same, or preferably more meetings with customers. Otherwise I would not feel like I was doing my job, which after all is about listening to the market. There is, of course, also the HR side of my role, I take mentoring employees very seriously.
I also spend a fair amount of time supporting the Society for Applied Spectroscopy (SAS) for which I have been the marketing chair for the last 2.5 years. Starting next year I will be the President Elect, which means I will be President of SAS in 2022. This year I was also elected to be SciX General Chair for 2023.
What are you most excited about in the field?

We're working on a relatively new technology called A-TEEM (Absorbance – Transmission Excitation Emission Matrices). It utilizes fluorescence EEM's spectroscopy combined with simultaneous absorbance spectroscopy. You vary the fluorescence excitation frequency, measure the emission at different frequencies, and then use this to get information about the concentration of the different molecules and the molecular environment. The absorbance spectrum allows the software to correct for self-absorption of the fluorescence, also known as the inner filter effect, by the sample.

EEM's have been around for quite a while but it was a slow, limited concentration range technique. We added CCD detectors to the system and included the simultaneous absorbance measurement, making it over a hundred times faster and more applicable to higher concentration solutions. Until this technology came along, Raman was my big spectroscopy passion, now I have two!
Until [A-TEEM] came along, Raman was my big spectroscopy passion, now I have two!
There are lots of interesting applications for this technique. We're heavily focused on biopharmaceuticals at the moment; this technology can be used for cell media applications to help pharmaceutical companies show they have good quality raw materials and the right drug product throughout and at the end of their process. However, we've even used EEM's to forecast the quality of wine from the juice and the final product, and predict how it is going to perform over a number of years based on phenolic content and other parameters. Of course, this can also be applied to other liquids such as olive oil, whiskey, or for dissolved organic matter in water.
Another huge area at the moment is particle analysis for Raman – for example microplastics and pharma particulate analysis – because unlike FTIR, Raman can go down to sub-micron levels relatively easily. Microplastics is an area I've been heavily involved with in recent years, helping develop sampling and analysis methods to address environmental monitoring challenges. However, I am also interested in the transport mechanisms in the body – how micro and nanoparticles get from one area of the body to the next and what the dangerous size ranges are in terms of nanotoxicology. Another really interesting area where we are pushing Raman to the limits is AFM/Raman – using tip-enhanced Raman (TERS) by combining Raman with AFM to defeat the diffraction limit of Raman and allow a spatial resolution less than 10nm. Some scientists have even used this to sequence RNA.
Have you seen any differences in terms of innovation across the world?

When I first joined the industry, the approach to innovation was based on the adage, "If you build it, they will come." Engineers were focused on first improving the instrumentation, then finding applications for it. Now, it's more like, "This application needs this technology, so how can we change and improve our instrumentation to suit market needs?"
In the US and Europe, there's more of a desire (and an established process) to involve multiple industrial companies and universities in the business development process. This enables a truly global, multi-customer marketing input on what a product needs to be. In Asia, especially in Japan, there has been a different approach. Traditionally, innovation is driven by the needs of a big client, which can be risky as it means developing applications or a product that might only have relevance to one customer. That's why my passion is focused on the marketing side of things – to ensure we're developing something that meets the broadest need.
What do you like to do outside work?

It wouldn't be me if I didn't tell you this – I do like to have a drink! Having grown up in the UK, I love going to pubs and often go into New York for beer and/or food. There are a few great bars that serve Boddington's on tap, some of these are amongst the oldest bars in New York. I love going there because the history of some of these buildings is amazing; one of my favorites was a brothel at one point and, before that, it was a hotel for fishermen and seaport workers. It's so interesting!
I also go into New York to watch football. I'm a big Nottingham Forest fan. The New York City Supporters club of Nottingham Forest meets in the Smithfield Hall pub (or used to pre-COVID) to watch the games. There are about 20 of us in the core group, but a lot of people come visit when they are over on vacation because they've heard about us. I now also play a lot of fantasy football (soccer to my American friends), which I enjoy because it takes my mind off work.
If you had a time machine, where would you go?

I love music, especially alternative music, so I'd probably use it to watch some of the greatest concerts. Specifically, I'd love to see Queen perform their Live Aid concert and I'd probably go to Woodstock, and go see the Beatles as well. I'd also go to some key sporting events – I love sports history and, since coming to the US, I've grown to love baseball and all the statistics behind it. Before I die, I'd love to see a perfect game.
What's your advice to people starting out in the field?

I always advise people to take risks when they are young – I don't know if I did that enough when I was younger. I would tell them: be an entrepreneur or work for a startup company when you find something you're passionate about that you can contribute to. Take that risk when you're young, because you'll feel less able to when you're older and have more responsibilities. If you fail, you can always look back and say, "At least I tried" – and that experience will undoubtedly help you later in life.
What are you most proud of?

I'm proud of my four kids. My oldest son, George, lives in the UK, and I'm extremely proud of him because he's doing what he's passionate about – teaching. We had a lot of conversations about whether it was the right choice for him, but he's found a job close to where he lives which he not only absolutely loves, but is very good at.
Within my work team, I have a very high retention rate. I always hire people I know can be better than I am – you should never be scared of someone overtaking you in a company. So I'm proud that people are happy in my team. I have a photo of my early Raman team at HORIBA from about 18 years ago and I'm proud to say that every single one of them is still working within the Raman team today.
At HORIBA, Masao Horiba's number one work philosophy was "Joy and Fun," which we still try to practice more than 60 years later. Basically it means that if you're not happy in your role, you should look for another within the company. If you're still not happy, then you should look for another job. That's unusual for companies in Japan to say because most people in Japan stay at one company for life. Even before I came to Horiba, this was also my belief – I strongly believe we have a responsibility to our employees, to help and encourage them to enjoy their job. You have to enjoy what you do – it takes up so much of your time that, if you don't enjoy it, what's the point?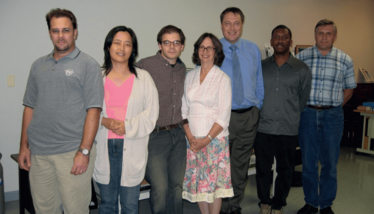 Receive content, products, events as well as relevant industry updates from The Analytical Scientist and its sponsors.