Business & Education
Education,
Professional Development,
Gas Chromatography,
COVID-19
Where Are They Now? Episode 3: Katelynn Perrault
We're catching up with the analytical scientists featured on the 2018 Top 40 Under 40 Power List; here, Katelynn Perrault discusses pandemic networking, her work profiling the Pacific Island beverage known as kava, and the evolution of separation science
Margot Lespade | | Interview
In 2018, Katelynn Perrault – whose career was described as a "tour de force" by one nominator – told us how she was aiming to become an internationally recognized expert in her field, aspiring to "advance alongside the cutting-edge developments in separation science so I can continue to advocate for new technology implementation in the forensic science community." Perrault has been an active contributor to The Analytical Scientist over the past four years, most recently describing how to take GCxGC to the next level. So, what else has she been up to?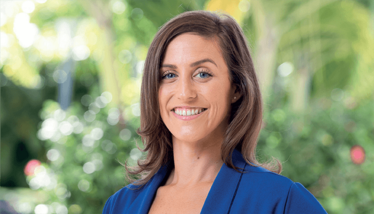 Broadly, how has your career progressed over the past four years?

The past four years have been a time of extreme growth and development for me as a researcher, educator, and human being. I am finding lately that I spend a great deal of time soul searching to rank my priorities as a scientist, as we can often be pulled in what feels like infinite directions. I am always trying to focus on specific priorities to put more depth in research projects, have more meaningful relationships as a mentor, and develop class teaching materials that have high impact for our students.

On top of this, I think a significant challenge over the past few years has been maintaining and building professional networks, especially being located in Hawaii where we have limited access to meeting with colleagues in person for genuine collaboration. I have been trying to find ways to stay connected, such as being involved in conference committees and the American Chemical Society's Subdivision of Chromatography and Separations Chemistry (SCSC), which have all been incredibly fulfilling. I am very much looking forward to this year as I will start to do more travel for conferences and other professional opportunities.

Over the past four years, my highlights include receiving the John B. Phillips Award at the 18th GC×GC Symposium in 2021 and building relationships with the Search and Rescue community in Hawaii, using my field of research to support their operations. Seeing many undergraduate students graduate in spite of the adversity brought forth during the pandemic has also been extremely heartening.
What exciting projects are you working on?

The project that excites me most is work we did on profiling the volatile organic compounds from a Pacific Island beverage known as kava, alongside Jonathan Baker at Chaminade University of Honolulu. Kava is a plant endemic to the Pacific Islands. The powdered or macerated roots are used to prepare a beverage consumed in social gatherings and ceremonies, as well as being used as a traditional medicine. The demand for kava has slowly increased outside Oceania as a social beverage and proposed anti-anxiety treatment.

Our use of comprehensive two-dimensional gas chromatography (GC×GC) afforded a detailed characterization of the chemical profile of kava, allowing an improved understanding of the secondary metabolome. This project has been a great way for me to learn more about the rich culture of the Pacific region. My students have also been having fun learning to use GC×GC in our instrumental analysis class where they have been injecting the samples for this research. I love it when projects allow me to unite my passion for teaching and research simultaneously, and this is something I enjoy greatly in my current role.
Any advice for young people entering analytical science?

The field of separation science is ever evolving. There are things happening now that I never anticipated I would see in my lifetime. The development we have seen in the field of GC×GC has certainly been exciting to watch over the past decade, and I'm excited to see what the future holds. My advice to those who are looking to go into the field of analytical chemistry is to gather knowledge outside traditional chemistry courses. Understanding a wide breadth of topics outside of analytical chemistry is becoming more important than ever – biology, environmental science, medicine, food science, data science, statistics, communication, and so. Our view of what it means to be a "chemist" is expanding – and that is something to celebrate!
Receive content, products, events as well as relevant industry updates from The Analytical Scientist and its sponsors.