Fields & Applications
Mass Spectrometry,
Spectroscopy,
Forensics
A Treacherous Tale
Analysis of a black smudge casts new light on the final hours of an (in)famous Danish Expedition
Lauren Robertson | | Quick Read
In 1907, three polar explorers set out to survey north-east Greenland as part of a grand geopolitical expedition – the Denmark Expedition. Their mission was to determine whether Peary Land was an island – in which case the USA would have claimed it as their territory – or whether it was a peninsula and would remain part of the Danish kingdom. Sadly, none of these men would return home. Over a hundred years later, a team of researchers has cast light on the final hours of Jørgen Brønlund – the last man alive – by analyzing a black spot from his diary.
"The black spot is, so to speak, the right sample at the crucial point in space and time," says Kaare Rasmussen, lead author of the study. The diary was recovered from the site of Brønlund's death and kept in the Danish Royal Library. In 1993, a reader (illegally) removed a small spot from the final page, and it was later submitted for analysis at the National Museum of Denmark. At that time, the composition of the sample eluded researchers – but Rasmussen and his team were going to leave no analytical stone unturned.
Using a combination of ICP-MS, Micro-X-ray fluorescence (μ-XRF), synchrotron radiation powder X-ray diffraction (SR-PXRD), pyrolysis GC-MS, and Raman spectroscopy, the team analyzed the spot for a second time. "The results presented a puzzle of information that allowed us to piece a picture together," says Rasmussen. SR-PXRD showed that the inorganic compounds present included calcite (CaCO3), rutile (TiO2), and zincite (ZnO); well-known "accelerators" used in 19th century rubber production. The color of the sample and its morphology further suggested it was burnt material, with Raman spectroscopy confirming the presence of carbon black.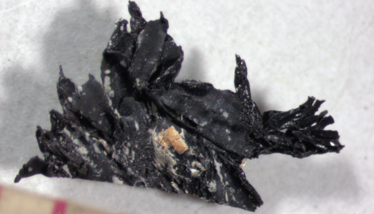 Pyrolysis GC-MS uncovered the organic chemistry composition of the sample: petroleum derivatives, oils (vegetable oil, animal fat, and fish or whale oil), and fecal matter. Together, these results allowed the team to speculate about how this black spot came about: "The petroleum likely originated from the rubber gasket of a Lux burner, while the oils could originate from Brønlund's various desperate attempts to pre-heat the Lux," suggests Rasmussen. The presence of certain markers often associated with fecal matter gives a further bleak view of the explorer's final hours.
The study's multifaceted reanalysis reminds us that, though history stands still, our ability to understand the details of the past may lie in the analytical technologies of the future. As Rasmussen puts it: "Our findings cast a rare flicker of light into a small, dark cave in the Arctic where a brave man died in the attempt to do great things."
Receive content, products, events as well as relevant industry updates from The Analytical Scientist and its sponsors.
KL Rasmussen et al., Archaeometry (2020). DOI: 10.1111/arcm.12641