Fields & Applications
Mass Spectrometry,
Gas Chromatography,
Food, Beverage & Agriculture
Alcoholic and Nutritious?
Analysis of pottery shards from Teotihuacan reveals ancient alcohol experimentation
Stephanie Sutton |
Organic residue analysis of artefacts from the Teotihuacan ruins in Mexico has revealed the first direct chemical evidence of alcohol production in Prehispanic Mesoamerica. The researchers focused on pulque, a milky alcoholic beverage made from the fermented sap of maguey plants, which has long been thought to be the liquor of choice for Teotihuacan people. A study led by Richard Evershed, a professor at the University of Bristol, sought to identify the elusive pulque using a biomarker approach, which could potentially be used to detect other alcohols (1). Evershed is a master of biogeochemical analysis and previously gave us insights into the diets of the ancient Egyptians by looking at meat mummies (http://tas.txp.to/1114/mummy).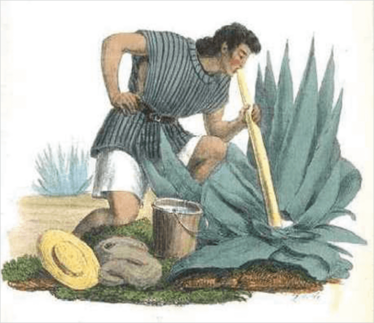 "Whenever we're trying to detect a new material, we first explore the basis of the production and the chemistry," says Evershed. "We found that pulque is based on a bacterial fermentation rather than the yeast fermentation of most alcohols. The bacteria involved (Zymomonas mobilis) produces high concentrations of lipids – bacteriohopanoids – in its membrane, offering a characteristic method of detection. Lipids are much better preserved than normal alcohol components, so it's a new way of looking at the material."
Teotihuacan, founded around 150 BC, was considered an important political, economic and cultural power up until 650 AD, but it was also located in a high-risk area for cultivating crops. The diet of the prehistoric civilization is thought to have been predominantly comprised of mainly maize and beans. Murals and other artefacts have suggested that pulque may have also been important. The maguey plant is quite hardy compared with maize, so it could have offered good insurance against failed crops. It's also high in nutrients and calories so Evershed describes it as an "interesting supplement" to the main diet.
Evershed's student, Marisol Correa-Ascencio, examined hundreds of different pottery shards and was at first interested in food residues; however, she also found several residues that had resinous compounds as the major components and discovered the presence of bacteriohopanoids. Coating pottery with resin is a well-known practice for waterproofing unglazed pottery and the bacterial compounds were only found in the resin-coated vessels. GC-MS with selected ion monitoring was used for targeted compound analysis. Of around 300 potshards, 14 revealed the characteristic bacteriohopanoid distributions.
"The bacterial compounds actually occur naturally as quite highly functionalized compounds, but it's been observed that they defunctionalize quite readily even at low temperatures," says Evershed. "We performed an ageing experiment with pulque and replica pottery to see if we could generate the same distribution of compounds. To be honest, I'm not a fan of artificial aging experiments […] there's the worry of introducing reaction pathways that might not have taken place. But the bottom line is that when Marisol extracted the pot she found exactly the same hopanoid hydrocarbons that she saw in the pulque vessels, which was fantastic."
Evershed adds that the bacteria examined are also involved in the fermentation of other alcoholic beverages, including beer, wine and cider, so the biomarker could be applied when examining other ancient alcohol residues.
Receive content, products, events as well as relevant industry updates from The Analytical Scientist and its sponsors.
Marisol Correa-Ascencio et al., "Pulque Production from Fermented Agave Sap as a Dietary Supplement in Prehispanic Meso america", PNAS 111 (39), 14223-14228 (2014).