Fields & Applications
Chemical,
Liquid Chromatography,
Pharma & Biopharma
Casting Monoliths in a Molecular Foundry
Sitting Down With Frantisek Svec, Facility Director, Organic and Macromolecular Synthesis Facility, Lawrence Berkeley National Laboratory
Richard Gallagher |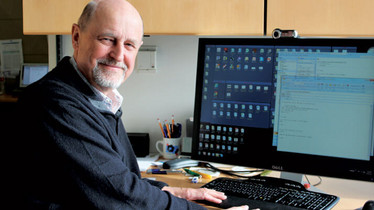 When did you become interested in chemistry?
When I was in the fifth or sixth grade, my mother bought me a very basic book on chemistry for kids, called "The Secrets of Chemistry", in Czech, obviously. I loved reading it and started my own lab in our bathroom. It went well until I got a little permanganate into the laundry and stained everything, at which point I was exiled to the basement. But that was the beginning of my chemistry career.
Your training and early career were spent in Cold War Czechoslovakia. How did research opportunities and conditions compare with institutes in the West?
I was lucky to get a position at the Institute of Macromolecular Chemistry in Prague, which was relatively rich from licensing the technology for soft contact lenses. We performed research at a level that was competitive with our friends and colleagues abroad – in many ways better than the institute in Germany where I did a one-year postdoc. Our one big problem was that it could take several months to get particular chemicals, so we all kept large stores and indulged in horse-trading to get what we needed.
When and why did you move to the US?
In 1992. I made the move for two reasons: one, for a new challenge; and two, more prosaically, to enhance my collaboration with Jean Fréchet at Cornell University. Jean and I had been working together since the early 1980s but the cooperation was a little slow because of the distance. I'd visited Ithaca a couple of times since the Iron Curtain came down, and had even been awarded a grant by NIH to buy new equipment and hire a few people when I arrived.
While I was prepared for the scientific part of my new life, I wasn't raised here and found myself stumped by a number of things that even small kids know – new rules and new customs. In addition, I'd never had a credit card before, and it was very difficult to get one, because I had no history. Imagine life in the US without credit! It took me some time to adjust, but I am still here and still happy.
How did your interest in separation science come about?
I started out as a polymer chemist – it featured in both my BSc and PhD. From the early 1970s onwards I was working with particles prepared by suspension polymerization in a variety of applications, such as catalysis, enzyme immobilization, and adsorption of metal ions. A dozen or so years later, we suddenly realized that the particles would be good stationary phases for liquid chromatography. It happened because I had a young chromatographer from the Soviet Union, Tatyana Tennikova, join my group for a year. She learned how to make the beads and in return taught me the tricks of chromatography. That was in the second half of the 1980s.
And not long afterwards you came up with the monolith…
It was my 'sternstunde' (great moment). Tatyana's boss, Professor Belenkii, had come up with a theory that, in ion-exchange and reverse phase chromatography of large molecules, the length of the column was not crucial. But he didn't have the means to demonstrate it experimentally, since making short packed columns is close to impossible because you always have some channelling. We had done some work with macroporous layers – membranes – that don't have channelling problems and could contain glycidyl methacrylate, which is a reactive monomer. So, we could prepare all the derivatives he was dreaming about. It worked like a charm. We then enlarged the number of chemistries available for these separations – ion exchange, reverse phase and so on. It was a completely new approach. In fact, when we submitted a manuscript to Journal of Chromatography in 1989, it was rejected because "no-one would be interested in such materials". Eventually, we did get it published, in the Journal of Liquid Chromatography.
When did monoliths take off?
When I spoke with another two pioneers in this area, they'd had similar experiences. One was Stellan Hjertén: when he tried to publish his paper, he had a similar problem with the reviewers, but because of his stature in analytical chemistry he got it published. The other was Nobuo Tanaka. He came up with the idea of making monolith from silica and submitted a paper to Analytical Chemistry in 1993-94, which was rejected. Despite also being well-known, he didn't get published until 1995. So, it was not easy to break through the barrier of the "old guys" who were defending the typical packed columns, but eventually it happened. Now, everybody understands that monoliths are an option that chromatographers have available, and the number of papers is growing rapidly.
Can you describe the Molecular Foundry? How does it work and what is your role in it? How does it impact on your personal research?
The Molecular Foundry is a US Department of Energy (DoE)-funded initiative, one of five research institutions devoted to nanotechnologies. It is a purpose-built six-floor facility, with each floor dedicated to a different area of nanoscience. Mine, the sixth, is devoted to organic and macromolecular synthesis.
A feature of the institute is that 50 percent of our time is spent on our own research, and 50 percent on working with guest users. People from all over the world submit proposals on what they want to do here and we select the best projects which we carry out with the users. It is very rewarding to have a constant stream of new ideas and projects, and it's always fun to work with new people.
In my own research, I incorporate my background in polymer chemistry into the development of monolithic materials. We are experimenting with various applications, such as enzyme immobilization – I've never seen immobilized enzymes working that fast – and the rapid separation of large molecules, unique in chromatography. For some years we have also worked on combining monoliths with nanoparticles. Well, we are a nano facility! Now, we are also experimenting in new shapes or formats. Thin layer chromatography is showing a lot of promise. It's cheap, simple, doesn't need high pressure or expensive equipment, and you can do it at home. We think it can be used for separations, and are using it in reverse phase, in ion exchange, and in hydrophilic interaction mode. We are also making thin layers for separation in two dimensions, and starting to think about three dimensions.
The monoliths have been commercialized, by BIA Separations, a company in Slovenia. They sell monoliths in a variety of shapes and sizes, with radial flow columns up to 8 litres in size for use in biotech applications.
You also have a couple of major commitments outside of the Molecular Foundry.
I have been Editor-in-Chief of the Journal of Separation Science since 2004. I enjoy it and scan all submissions, several per day. We are currently publishing about 400 papers per year, that's 4000 pages in 24 issues. And we reject over 60 percent of the manuscripts received. The average time to first decision is 26 days, which authors appreciate. To achieve this I have 10 editors and am increasing this number to 12 as I speak, to cope with the workload. I handle some manuscripts, especially those on monoliths – that's my weakness.
CASSS, an international separation science society, is my other big undertaking. I have served as president since 2003. In fact, I am only the fourth president in its 40 year-plus history. It started out as the California Separation Science Society, and the previous president Bill Hancock, got it to the level that it became well known in the separation world. We've built on that and become genuinely international. Now, CASSS runs 10-12 symposia per year, some larger (600-700 people), some smaller (100 people). One of the most popular is WCBP, a symposium on the interface of regulatory and analytical sciences for biotechnology health products, held in Washington, DC. Some of our meetings are so popular that we now organize sister events in Europe and Asia on the same topic, again bringing together the biotechnology industry and regulatory agencies. CASSS has around 6000 members and is free to join. We are in good shape, ideologically and financially.
That makes about 150% time commitment… do you have any spare time?
To fit it all in, I get to work at 6 am. But I do have hobbies too. I collect coins. I have all the coins of Czechoslovakia, the Czech Republic and Slovakia, since the country was created in 1918, which I am very proud of. It's quite an expensive hobby, but since I am essentially exchanging one type of money for another I figure that I shouldn't lose too much. I also enjoy skiing and the gym, and like to spend time with my wife, my daughters, and grandchildren.
Receive content, products, events as well as relevant industry updates from The Analytical Scientist and its sponsors.