Fields & Applications
Food, Beverage & Agriculture
Cheers to TEA!
Simon Nelms considers advances in trace elemental analysis and their impact on the beverage industry's three main tenets: safety, quality and productivity.
Simon Nelms |
sponsored by Thermo Fisher Scientific
I joined Thermo Fisher Scientific immediately after completing my PhD back in 1996 and became fully immersed in the world of trace elemental analysis, specifically using inductively coupled plasma-mass spectrometry (ICP-MS). After gaining two years' experience, I took a couple of years out as a postdoctoral researcher at the Institute for Reference Materials and Measurements (IRMM) in Belgium, where I conducted isotope dilution analysis for IRMM's IMEP-16 program (lead in red wine), using quadrupole and magnetic sector multi-collector ICP-MS systems.
I returned to Thermo Fisher Scientific in 2000 and have been focusing on ICP-MS and ICP-optical emission spectrometry (OES) ever since.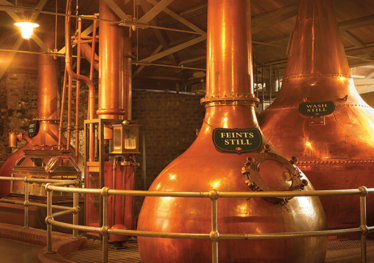 Safer juice
Speciation is a key application of trace elemental analysis in the beverage industry, with perhaps the most well-publicized example being arsenic in apple juice. Interest in arsenic in apple juice was sparked by concerns over the potentially large quantities of juice being consumed by young children. Notably, arsenic species vary significantly in their toxicity, with the inorganic forms – As (III) and As (V) – giving the most cause for concern.
Historically, speciation has been subject to a number of challenges – attaining sufficiently good chromatography and pushing detector sensitivity being the prime areas of focus. Over the years, the technologies – and the coupling between them – have improved to the point where legislators have been able to put forward very low target levels. Instead of results being in the noise, beverage producers can more clearly see what species are present and gain a lot more insight into the safety and quality of a
given product.
Arsenic species concentrations in food and beverages are usually very low, with the added challenge that polyatomic species, such as 40Ar35Cl, can interfere with ICP-MS detection, potentially resulting in a serious false positive. The Thermo Scientific™ iCAP™ RQ ICP-MS benefits from the use of a helium pressurized QCell in kinetic energy discrimination (KED) mode that boosts selectivity and efficiently reduces such polyatomic interferences in all sample types, including fruit juices (1).
Finer whisky
Standard trace elemental analysis is also very important in the beverage industry for both quality and safety. A good example comes from the whisky industry, where ICP-OES can be used to determine trace element contamination. Copper is commonly used in the whisky distillation process because of its high heat conductivity and ability to neutralize unwanted sulfur compounds. However, in some cases, arsenic can leach from copper equipment, reaching potentially toxic levels if low quality equipment has been used. Other trace elements contaminants – manganese, zinc, lead or cadmium, for example – can also enter the process via raw ingredients, such as water and grain. By using an instrument like the Thermo Scientific™ iCAP™ 7600 ICP-OES Duo, you can not only determine levels of trace toxic metals, but also report major nutrient components, such as sodium, potassium and calcium, at very low detection limits (single μg/l) and with excellent accuracy (2).
Towards easier ICP-MS and ICP-OES
As mentioned, increasingly low limits of quantitation have historically been a key driver of trace elemental analysis tools – and several developments have contributed to the exquisite sensitivity of modern systems, such as advances in collision cell technology in ICP-MS. However, today's cutting-edge instruments should really be recognized for innovations in both hardware and software that have simplified analysis and made workflows more streamlined. After all, in busy routine laboratories, 'right first time' is a key mantra – and robustness must go hand-in-hand with ease of operation, especially given that many labs are reliant on automated (and unattended) sampling – 24/7.
The beverage industry will always want to maximize three key aspects: safety, quality and productivity. And I can safely say that modern ICP-MS and ICP-OES technology is now able to tick all three boxes with confidence.
Receive content, products, events as well as relevant industry updates from The Analytical Scientist and its sponsors.
Thermo Scientific Application Note 43099 (https://tools.thermofisher.com/content/sfs/brochures/IC-ICP-MS-speciation-analysis-of-As-in-apple-juice-using-the-iCAP-Q-ICP-MS.pdf)
Thermo Scientific Application Note 43373 (https://tools.thermofisher.com/content/sfs/brochures/AN-43373-ICP-OES-Trace-Elements-Whisky-AN43373-EN.pdf)