Fields & Applications
Mass Spectrometry,
Environmental
Dating the Big Tree
How a new approach to radiocarbon dating has helped elucidate the age of Africa's "tree of life"
Lauren Robertson |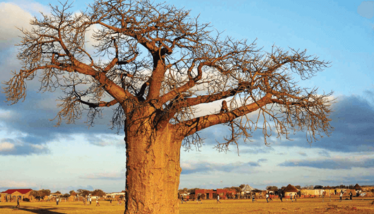 Adansonia, or baobab trees, are among the longest-living (and largest) plants on Earth. Despite their extraordinary longevity, nine of the 13 largest trees and five of the six oldest have died since 2005 – a phenomenon scientists have linked to climate change. Understanding the age and growth of these plants has never been more important.
In a recent paper, a team of researchers used accelerator MS to radiocarbon date the historic Big Tree at Victoria Falls, Zimbabwe. Until now, this famous African baobab, which is over 25 meters high, has outwitted scientists who have attempted to determine its age. This is mostly because baobabs form a different number of tree rings each year, making traditional ring-counting methods obsolete.
The researchers' results indicate that there are three generations present in the Big Tree, with the oldest stem around 1,150 years old. In the future, this AMS-based approach to radiocarbon dating could help scientists date other trees with complicated growth or architecture.
Receive content, products, events as well as relevant industry updates from The Analytical Scientist and its sponsors.
A Patrut et al., Dendrochronologia, 70, 125898 (2021). DOI: 10.1016/j.dendro.2021.125898.