Fields & Applications
Pharma & Biopharma
Getting Lipid Nanoparticle Production Right
The rise of mRNA-based vaccines for COVID-19 has thrust lipid nanoparticles (LNPs) into the limelight. We talked to KNAUER's Matthias Luebbert to learn about the company's recent move into this exciting space...
sponsored by Knauer
Meet Matthias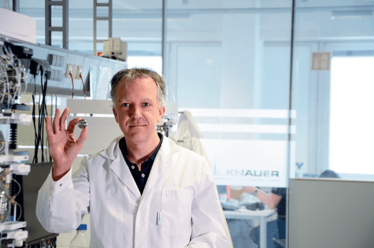 After studying chemical engineering and gaining a PhD focused on supercritical fluid chromatography, Matthias Luebbert joined KNAUER in 2005 as a product specialist for preparative and simulated moving bed chromatography. Since then, he's held various roles with associated product and project responsibility, but currently works within the business development group.
Since early 2020, Matthias has been the project manager for lipid nanoparticle (LNP) customer projects, which includes system definition, technical documentation, and regular discussions with clients.
Tell us a bit about lipid nanoparticles (LNPs) and how they relate to current COVID-19 vaccine development…

LNPs – nanoparticles with an outer shell of lipids – have been increasingly used as a novel drug delivery system for the last few years, where their ability to encapsulate and protect a range of active ingredients, including mRNA, and deliver it to target cells in the human body is highly valuable. LNPs have been used in several of the COVID-19 vaccines that have already been rolled out or are in development, representing the first large-scale application of this platform technology.
What are some of the challenges associated with the production of LNPs?

LNPs are a relatively new technology for everyone – including the pharma companies and the companies providing the relevant systems; one clear challenge is that there is no pre-configured production equipment available on the market. And that means companies have had to not only find suppliers that are capable of designing a suitable hardware solution, but also software that is compliant with pharmaceutical production guidelines. On one hand, the industry needs time to properly implement this new technology and work through the challenges, but on the other hand we simply don't have the luxury of time – the world is waiting on these vaccines!
Why did KNAUER decide to move into this area?

Going back to spring 2020, there was significant uncertainty about the economic impact of the pandemic. We started looking for new application areas, and LNP production became part of our strategy. High pressure metering pumps and valves for liquids have been core development competencies of KNAUER for decades, and individual system engineering has always been something we offer. We also have a lot of experience around high pressure dosing and laboratory systems engineering. When a vaccine manufacturer contacted us, we were able to quickly and efficiently come to them with a proposal by building on our relevant experience; after all, many aspects of fluid systems are similar; for example, choice of piping, control systems, fluid contact materials, and so on... And I'd add that our experience in managing customer projects of a comparable size was particularly helpful. With that first project underway and some solid lessons learned, our activity in LNP production quickly blossomed!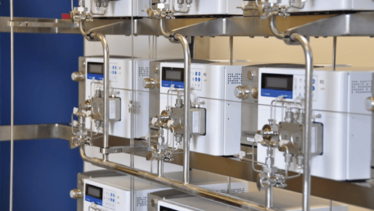 How do you approach each project?

As you may know, KNAUER offers a whole range of equipment – from small accessories for flexible laboratory setups to cleanroom compatible production skids – and though there are some core aspects of these systems that remain the same, each application is a little different. And so the real focus is working closely with customers to fully tailor the solution to the need. Starting from a general "sketch," we have regular phone and web meetings to discuss every single aspect of the project in detail. Finally, we propose a solution for the customer's particular application that seamlessly aligns with their plant design, control system, cleaning procedures, and space constraints.
Who should consider your services?

Who shouldn't?! Our range of systems spans the spectrum from small laboratory set ups for academia and industrial R&D to production facilities for the mass production of vaccines. We are able to supply everyone active in LNP research and production with a system optimized for their individual application.
It's a high-pressure area to be involved in right now

I'll freely admit the workload is quite high! While consulting with customers on optimization and maintenance for first-generation systems, we are manufacturing the second generation and designing the third generation. There are obviously very high expectations around quick delivery, but further stress comes from the need to ensure our partners are able to supply us with all the materials we need for manufacturing in a timely manner. Supply chain pressure comes from both ends!
Despite the high pressure and the hard work, contributing something very real to the pandemic response makes us all feel extremely proud. Seeing the vaccine now being rolled out – well, there really is no better reward for all the effort over the past months. To all my fellow colleagues and partners working on the pandemic response: you're doing a great job! Let us continue with the same strength and conviction moving forward.
Receive content, products, events as well as relevant industry updates from The Analytical Scientist and its sponsors.