Fields & Applications
Spectroscopy,
Materials
Image of the Month: Mural Mysteries
How multispectral imaging is revealing artists' technical secrets and aiding cultural heritage conservation
Lauren Robertson | | Quick Read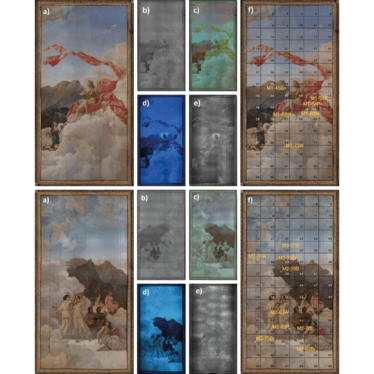 Researchers at the University of Costa Rica have developed two new software-based multispectral imaging techniques to aid in artwork conservation studies. In the first ever study on Musas I and Musas II (above), by Carlo Ferrario, the new techniques were not only able to reveal details about the artist's creative process and color palette, but also able to assess the conservation state of the paintings and seek signs of possible biodeterioration. In the image above, we can see six different views of the paintings, spanning visible light, infrared, infrared false color, UV fluorescence and UV reflectance. The final images show locations where samples were taken. Importantly, this work could help conservation efforts in tropical climates and provide important information to help slow down decay in these regions.
We spoke to Melissa Barrantes-Madrigal and Óscar Herrera-Sancho, two of the researchers involved in the project, to find out more.
What inspired you to study these paintings?
Óscar: Ever since I was a child, I have always liked the National Theatre of Costa Rica because it is a very different building in the middle of a busy capital. I still remember when I begged my mother to take me in there. Unfortunately, I never had a chance at that time. When I came back from studying abroad, I decided I wanted to give something back to the Costa Rican people – and something that was, from my perspective, unique. My main inspiration for this project was to reveal the secrets behind our national cultural heritage to future generations and enable them to see – from different perspectives – just some of the beautiful artistic offerings of this country. Breaking down the complexity of pictorial artworks into their smallest parts gives me the opportunity to tell a unique story that I can transmit to society in general.
Execution of RegionOfInterest software. The user zooms in on a region of interest and selects an area for analysis and the program generates a "Counts vs Intensity" histogram indicating pixel intensity distribution. In the second stage, pixels in the full image that fall within a chosen intensity range are displayed in a new colour image (f), and a second intensity histogram is generated.
Stratigraphy of a 120-year-old large-format painting. (a) Panoramic Optical Microscopy (OM) image of sample (b) Detail of the sample showing the main layers (c) Fluorescence Microscopy view (d) SEM showing the area analyzed by SEM-EDX using the mapping tool. (e) The main elements in each layer.
Why is your research so important?
Melissa: Our study of paintings at the National Theater of Costa Rica allows us to obtain a comprehensive description of the conservation state of these works. This has been possible through a multi-analytical study that integrates analytical techniques in conjunction with new software tools developed by our group. The study of the conservation state of a heritage object, such as Musas I and Musas II, is one of the first stages to establish conservation measures and design the best restoration strategies for those objects. This contribution will also lay the foundations for generating public conservation policies in the country. In addition, we hope that, by sharing our work, the software tools will be used by other groups – in museums, theaters, galleries, or universities – around the world for the study of pictorial works.
How did you use spectroscopic techniques in your study?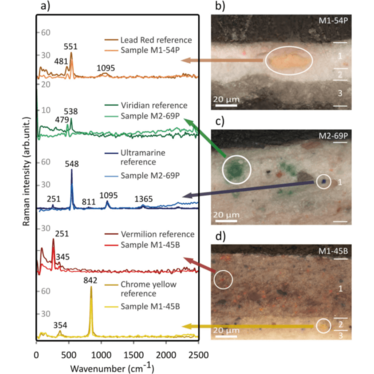 Melissa: In the area of conservation sciences, analytical techniques are essential for studying the underlying materials in a rigorous and accurate manner. In particular, the spectroscopic techniques applied in this study (infrared, energy dispersive X-ray, and Raman Spectroscopy), provide complementary information to identify the materials present in the artworks. This information is valuable to recognize the strengths and vulnerabilities of the paintings and to apply actions that reduce the expected deterioration processes in those materials. Knowing the materials present in the artworks is also necessary to establish which materials would be compatible with this complex system in future restoration processes.
What are your next steps?
Óscar: We strongly believe there is a need for more and better (analytical) tools to support artwork conservation. Therefore, our group is actually expanding the project to develop additional tools and innovative methods that allow better pigment characterization and detection along with its deterioration process as a function of time.
It is important to note our location in Central America. When examining these paintings that have been imported into Latin America, we must remember that they were not designed to withstand the effects of the climate and humidity of the tropics. We are currently preparing samples with the materials that we already characterized (ground layers, paint layers, pigments, canvas, and so on) to understand their interaction and behavior with temperature, humidity, radiation, fungal spores in the air, and contaminant microorganisms.
Receive content, products, events as well as relevant industry updates from The Analytical Scientist and its sponsors.
M D Barrantes-Madrigal et al., Scientific Reports, 11, 8560 (2021). DOI : 10.1038/s41598-021-88066-1