Fields & Applications
Translational Science,
Technology,
Materials
Image of the Month: Simply the BEE-ST
How a new fluorescence-based system monitors teeth and bone development in real time, with implications for advances in tissue engineering and bone healing
Jessica Allerton | | 2 min read | News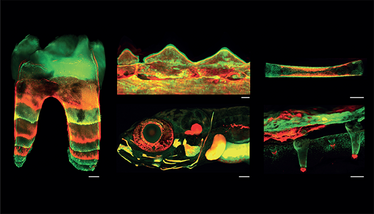 Improving our understanding of mineralized tissues could open opportunities for bone healing and disease monitoring, but researchers have been unable to monitor calcified hard tissue in bones and teeth in real time – holding the field back. Now, an international team of researchers have developed the Bones and Teeth Spatio-Temporal growth monitoring (BEE-ST) system, which precisely quantifies the development, regeneration, remodeling, and healing of calcified hard tissue across multiple species in space and time.

With a long-term interest in dental development and regeneration in stem cells, the team decided to explore the possibilities of precisely measuring the pace of rodent teeth growth and development. Taking advantage of fluorescent dyes administered and incorporated at precise time points into bones and teeth, followed by three-dimensional confocal imaging, allowed researchers to observe the structure of hard tissue, the morphology of soft tissue, and the final state of tooth root development in various vertebrates (including mice, frogs, fish, chameleons, and chicken).

"We originally planned to use a full spectrum of fluorescent dyes with the ability to incorporate into newly formed hard tissues, but they provided substantially weaker signals than our chosen calcein green and alizarin red, and a differing activity duration as well," says Jan Krivanek, corresponding author and Associate Professor at Masaryk University, Czech Republic. "We gradually learned that 'less is more' and adapted our process with step-by-step solutions."

The team sequentially administered harmless red and green dyes (or both together to obtain an additional color – orange) into living organisms. To ensure the preservation of deposited fluorescent signals, samples were optically cleared to become fully transparent without previous decalcification. Once the method had been finely-tuned, the researchers followed the dynamics of tooth development at micrometer scales in time and space. After a further two years of method development with a larger team of experts, the researchers were able to use BEE-ST to monitor bone and teeth development in various species of mammals, reptiles, fish, birds, and amphibians.

"This is the first instance of an imaging system that enables us to follow the dynamics of hard tissue development or healing at multiple timepoints within an individual organism," says Krivanek. "With BEE-ST, we have proven that monitoring at an accurate and dynamic level is possible – and there's still room for improvement!"

By adapting and improving the BEE-ST method, the team hopes to open doors for monitoring congenital developmental defects of the skeletal system or teeth, and in tissue engineering. "The great advantage of this method is its versatility for virtually anything calcium-based as well as its relative simplicity," says Krivanek.

"We're now working with several teams to implement this method into their labs and we'd love to hear from others to push BEE-ST as far as we can – please don't be afraid to get in touch for collaboration!"
Receive content, products, events as well as relevant industry updates from The Analytical Scientist and its sponsors.
MG Lopez et al., "Spatiotemporal monitoring of hard tissue development reveals unknown features of tooth and bone development," Sci Adv, 9, 31 (2023). DOI: 10.1126/sciadv.adi0482.