Fields & Applications
Food, Beverage & Agriculture,
Materials
Inside the Honey Pot
How lipid residue analysis is revealing our ancient connections with honeybee exploitation
Lauren Robertson | | Quick Read
Medicine, sustenance, preservative, cosmetic, sweetener – honey has played many different roles in human history. Today, this amber nectar is still vital to our economy, with around 1.6 million tons produced annually. However, aside from some Paleolithic rock art depicting bees and honeycombs, there is little evidence of humans' exploitation of the honeybee.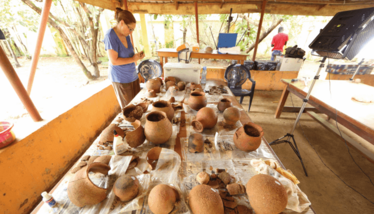 Excavated Nok vessels are cleaned and photographed at the Janjala research station, shown in the picture: Dr Gabriele Franke, Goethe University. (Photo: Peter Breunig)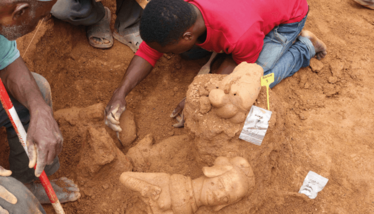 Excavating Nok terracotta figurines at Ifana 3 site. (Photo: Peter Breunig)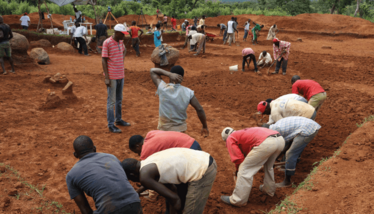 Excavation work at the Ifana site (Photo: Peter Breunig)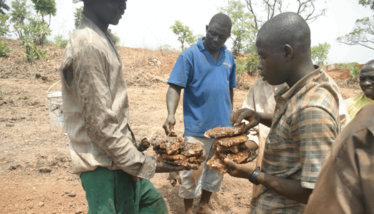 Local forager bringing freshly collected honeybee comb to the archaeological dig at Ifana (Photo: Peter Breunig)
Recent lipid residue analysis has revealed the presence of beeswax in Neolithic vessels from Europe (1), but less is known about other areas of the world – for instance Africa, where collecting honeybee hive products (including honey, beeswax and pollen) is still crucial to the cultures and livelihoods of local communities. Now, researchers from the University of Bristol and Goethe University have discovered direct chemical evidence of ancient honey hunting by analyzing prehistoric pottery fragments from West Africa dating back some 3,500 years (2).
The team initially set out to study general diet and subsistence among the Nok people of West Africa – a culture known for their large-scale terracotta figurines and early iron production – through excavation. However, acidic soils meant organic material was hard to come by, so they instead turned to lipid residue analysis of the excavated potsherds. This involved grinding up small pieces of pottery and analyzing the lipid biomarkers via GC-MS.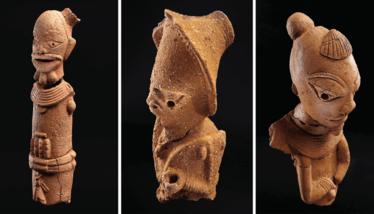 They expected to find evidence of common foodstuffs, such as meat and dairy. "Imagine our surprise when our analyses revealed that one-third of Nok vessels (over half in the Early Nok phase) contained a complex series of lipid biomarkers comprising n-alkanes, n-alkanoic acids, and fatty acyl wax esters that denote the presence of beeswax," says lead author Julie Dunne. The researchers believe the beeswax residue could be a proxy for the cooking or storage of honey or could come from the heating of wax combs used for other purposes. Some pots even showed the presence of both meat and honey, suggesting its use as a preservative in some instances.
"Our work has revealed the antiquity of honeybee product exploitation in the Nok culture, an area where we know very little about what foods the people were eating," says Dunne. "There is lots of potential for future research, and we'd like to further investigate human exploitation of honeybee hive products in Africa and its geographical extent."
Receive content, products, events as well as relevant industry updates from The Analytical Scientist and its sponsors.
M Roffet-Salque et al., Nature, 527, 226 (2015). DOI : 10.1038/nature15757
J Dunne et al., Nat Comms, 12, 2227 (2021). DOI: 10.1038/s41467-021-22425-4.