Fields & Applications
Sample Preparation,
Mass Spectrometry,
Environmental
Keeping Afloat in Modern Water Analysis
Ashley Sage, Senior Manager, Applied Markets Development (EMEAI) at SCIEX, considers the trends, challenges – and solutions – that are driving the future of water analysis.
Ashley Sage |
sponsored by SCIEX
We recently surveyed the readers of The Analytical Scientist to uncover some of the challenges that keep water analysts up at night – and some of their expectations and hopes for the future. Here, I offer my thoughts on the findings.
Biggest concerns
First of all – proving that water analysis isn't as straightforward as it first seems – it's interesting to note that only four percent of respondents felt that they faced no challenges in water analysis (and I'm not sure what their respective line managers would say about that!). On the other hand, 40 percent of respondents faced three or more challenges and 56 percent of respondents faced at least one or two challenges.
When I've spoken with customers in water analysis, it's clear that keeping pace with regulations lies at the heart of many of the main challenges – and almost half of our respondents note the regulatory burden directly. But, as with many other analytical fields, detecting more compounds at lower concentrations – and the emergence of new contaminants – are major concerns in water analysis. In short, the number of samples is increasing (and likely to continue increasing) – and, more worryingly, the analytical challenge is not always met by the required level of instrument sophistication or the necessary skill level within the laboratories that need to do the work.
Water analysis laboratories are not alone in needing the right tools to do the job – and instrument manufacturers have to step up and take the lead by offering not only the right solutions but also the right level of support.
I believe that today's instruments and methods can certainly meet regulatory requirements, so the barrier is actually the adoption of potentially transformative technology in these routine laboratories. But resistance can only last so long in the face of increasing regulatory scrutiny... Simpler instrumentation and fast, foolproof methods (for emerging and unknown contaminants, for example) enable an easier transition, as can the level of support on offer. Education and training is part of that support network, and so SCIEXUniversity was set up to offer free training programs and a large database of online self-paced eLearning courses.
Daily workflow challenges
It's interesting to see sample preparation and budget constraints stand out from the crowd when it comes to major workflow challenges. Sample preparation is still a critical throughput-limiting step in many routine laboratories, and one possible solution is direct analysis. However, direct analysis (after sample dilution to remove matrix interferences) demands higher performance instruments, which unfortunately conflicts with the other major challenge – budget constraints; after all, higher performance instruments cost more to develop and manufacture. That said, many customers are less constrained when it comes to capital expenditure – so purchasing an instrument is relatively easy; overall operational costs are more of a concern. Clearly, we are trying to develop instruments that are smaller, faster and cheaper (through more streamlined manufacture), but I've found that the key attribute for most lab managers is whether instruments are 'fit for purpose' – and that's something we are very focused on across all of our platforms.
What is crucial for success?
Almost half of respondents consider "quick and efficient confirmatory analysis" as being crucial to the success of their laboratory – and that echoes the conversations I've had with customers. When it comes to municipal water companies, in particular, the laboratories are run almost like factories, so speed and efficiency are essential – as is reliable and robust instrumentation. And because of the sheer number of samples, the ability to perform multiplexed analysis and different assays (for example, trizenes and acid herbicides) on the same instrumental set up is key.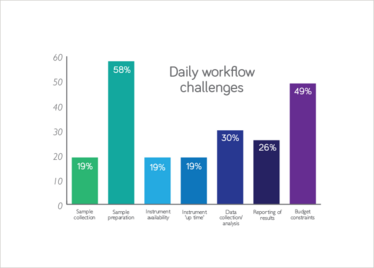 Given that water analysis is driven by safety but under resource pressures, it's no surprise that reducing false negatives and false positives is also high on the agenda.
Non-targeted analysis is a trend across several application areas. In water analysis, there is a regulated list of compounds that must be adhered to – but that doesn't account for new and emerging contaminants. What's in the water that we don't know about? Water companies increasingly have to prove that they have the analytical capability to perform non-targeted analysis and, once again, though the technology (accurate mass QTOF instrumentation alongside SWATH acquisition, for example) and methods are available, data interpretation can be particularly challenging – especially at high-throughput. And the reality is that there are very few trained mass spectrometrists in these highly routine laboratories. In short, routine labs can only benefit from more intuitive data interpretation solutions.
SCIEX has certainly invested (and will continue to invest) a great deal of resources in software development to enable seamless data interpretation in more routine applications – but we also understand the growing interest in open source software. In fact, we've collaborated with enviMass, which is an open source code structure that can import our high-resolution MS data and perform trend detection, isotope grouping and homologue detection – to help with data deconvolution. I believe the mass spectrometry community still has a long way to go when it comes to software – and it's likely that continued investment alongside collaborative efforts offer us all the fastest route forward.
Sage and SCIEX
I've been in the analytical science world for over 20 years. I did my PhD in analytical chemistry (with a focus on environmental pollutants) followed by a postdoctoral fellowship at the University of Leeds, before working my way through a number of roles at several big analytical instrument manufacturers. I joined the senior management team at SCIEX in 2013, and today try to keep a keen ear to the ground to listen to what our customers want and need in several key markets, including environmental analysis. I believe SCIEX is well known in the pharmaceutical, clinical and food application areas, but people may be less familiar with the solutions and new technology that we've developed to support the environmental space.
Receive content, products, events as well as relevant industry updates from The Analytical Scientist and its sponsors.