Fields & Applications
Mass Spectrometry,
Forensics
More Secrets of the Mary Rose
Henry VIII's prized flagship had a multi-ethnic crew, according to multi-isotope analysis of teeth
Lauren Robertson | | Quick Read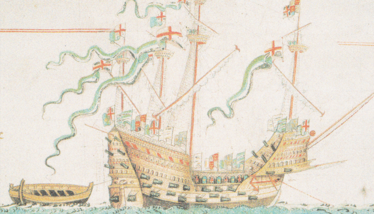 The Mary Rose has produced a wealth of fascinating knowledge – powered by analytical science – ever since it was raised from the Solent seabed in 1982. For example, we've previously looked at how the XMaS beamline facility was used to study chainmail fragments recovered from the site. And now, multi-isotope analysis has offered insight into the true diversity of Tudor England (1) (2); specifically, the researchers combined strontium (87Sr/86Sr), oxygen (δ18O), sulfur (δ34S), carbon (δ13C) and nitrogen (δ15N) isotope analysis of dental samples to reconstruct childhood diet and origins of eight crew members.
There has been little isotope analysis performed on post-medieval remains in Britain, and so it is interesting that the provenance isotope data presented suggests that up to three crew members were from warmer climes than Britain.
First author Jessica Scorrer, MSc graduate at Cardiff University's School of History, Archaeology and Religion, said: "Our findings point to the important contributions that individuals of diverse backgrounds and origins made to the English navy during this period. This adds to the ever-growing body of evidence for diversity in geographic origins, ancestry and lived experiences in Tudor England."
Co-author Alexzandra Hildred, Head of Research and Curator of Ordnance and Human Remains at the Mary Rose Trust, added, "The variety and number of personal artefacts recovered which were clearly not of English manufacture made us wonder whether some of the crew were foreign by birth. However, we never expected this diversity to be so rich. This study transforms our perceived ideas regarding the composition of the nascent English navy."
Receive content, products, events as well as relevant industry updates from The Analytical Scientist and its sponsors.
J Scorrer et al., R Soc Open Sci, 8 (2021). DOI : 10.1098/rsos.202106
The Mary Rose (2021). Available at: https://maryrose.org/news/multicultural/