Fields & Applications
Microscopy,
Spectroscopy
On the Origin of Color
The 170-year-old mystery behind the first color photographs has been solved
Lauren Robertson | | Quick Read
Using a combination of electron microscopy, X-ray analysis and UV-Vis spectroscopy, a team of researchers from the Centre de Recherche sur la Conservation (CRC CNRS-MNHN-Ministère de la Culture) has finally uncovered the origin of the world's first color photos (1).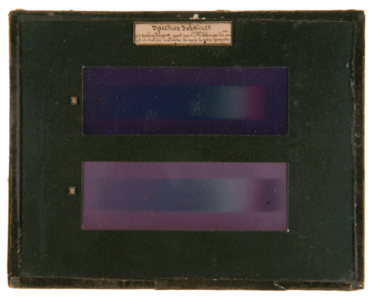 In 1848, French physicist, Edmond Becquerel, produced "photochromatic images" of the solar spectrum in full splendor. Since then, the origin of the colors in these photos has been widely debated within the scientific community. Now, more than 170 years later, we finally have an answer.
Using UV-Vis spectroscopy, the team at CRC observed that visible light absorption by the images could be due to silver nanoparticles of various shapes and sizes. They confirmed their theory by viewing the photochromatic material with electron microscopy, visualizing micrometric silver chloride grains and silver nanoparticles. Transmission electron microscopy was then used to study the size distribution of these nanoparticles, and their location within the silver chloride matrix, which pointed toward a plasmonic origin to the photochromatic colors.
"We propose that silver nanoparticles within the light-sensitized layer of the photographs reorganize when exposed to light – some fragment and others coalesce – enabling it to absorb different colors," says Victor de Seauve, lead author of the paper. "The color we see is the only one not absorbed – the one that caused this reorganization." By combining spectrometry with electron microscopy the team were able to detect surface plasmon resonance around silver nanoparticles to confirm the hypothesis.

"The greatest challenge we faced during this study was the sensitivity of silver chloride to the probes of the various analytical techniques employed," says de Seauve. "By exhaustively studying beam damages, we managed to avoid sample damage during electron microscopy experiments by coating our samples in carbon and working at low temperatures," he adds. "This is a great step toward understanding how beam damages can affect the analysis of such sensitive materials."
Receive content, products, events as well as relevant industry updates from The Analytical Scientist and its sponsors.
V de Seauve et al., Angew Chem Int Ed (2020). DOI: 10.1002/ange.202001241