Fields & Applications
Genomics & DNA Analysis
Sense a Revolution?
DNA aptamer-based sensors could take the world of personalized medicine by storm, but only if aptamer selection doesn't prove to be a roadblock
Rich Whitworth |
Towards the end of 2013, Tom Soh and his team at the University of California, Santa Barbara, US, developed a microfluidic-based sensor device to measure real-time concentrations of drugs in vivo. It uses DNA aptamers, which are nucleic acid species engineered through repeated rounds of selection to bind to a molecular targets, to trigger an electrical signal (see Figure 1). The sensor is known as the microfluidic electrochemical detector for in vivo continuous monitoring (MEDIC).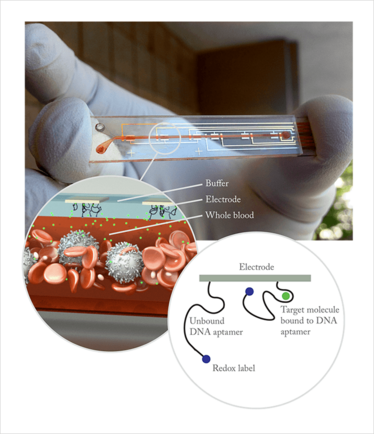 The group demonstrated the system's capability by measuring in vivo concentrations of a chemotherapeutic in live rats and of an antibiotic in human whole blood; in both cases, MEDIC provided high sensitivity and specificity with good temporal resolution (1). A video (tas.txp.to/0414/medic) shows a cartoon of the device in action, which highlights how the liquid buffer filter allows the system to be used with whole blood.
Looking at the potential widespread applicability of the technology, the big question is how quickly or easily DNA aptamers can be generated against target molecules. Ryan White, who was involved in MEDIC before moving to the University of Maryland, Baltimore, is co-author of a recent paper on the current and future role of aptamers in electroanalysis (2). The paper indicates that the limited number of proven aptamers is hindering progress, slowing uptake beyond academic laboratories and proof-of-concept studies.
"In our review, we highlight MEDIC as one of the advances in the field. I think that the MEDIC example shows a synergistic marriage between sensing chemistries and engineering for a device that is truly capable of taking on the challenge of something like personalized medicine," says White. He believes that the sensing technology has matured to a level where the analytical field must now identify what is needed in terms of detection. "We need to talk with clinicians and physicians to find out where this technology can have a real impact?"
Feel free to jump in with your ideas by commenting below
Receive content, products, events as well as relevant industry updates from The Analytical Scientist and its sponsors.
B. S. Ferguson et al., "Real-Time, Aptamer-Based Tracking of Circulating Therapeutic Agents in Living Animals", Sci Transl Med 5:213ra165 (2013).
Juan Liu et al., "The Current and Future Role of Aptamers in Electroanalysis", J. Electrochem. 161 (5), H301-H313 (2014).