Fields & Applications
COVID-19
Silent Spread: COVID-19 in Art
Rebecca Kamen's coronavirus-inspired sculptures trace the migratory pattern of COVID-19
Lauren Robertson | | Quick Read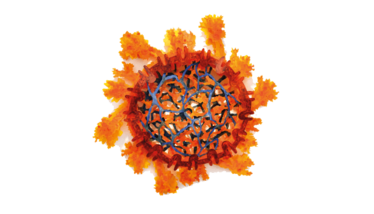 Rebecca Kamen has always been fascinated by the connection between scientific research and art. In 2015, she told us, "I have devoted my life to an intuitive examination of properties that overlap from discipline to discipline, […] connecting common threads that flow across various scientific fields to capture and reimagine what scientists see."
She is often inspired by the process of scientific discovery and the last year has been no exception. "The pandemic continues to be an inspiring time," she says. "For the past year, I have been collaborating (via email) with microscopists from the National Institutes of Health, a heliophysicist, a quantum physicist, and a biological mathematician in the UK on a new series of artwork that creates bridges between the concept of 'corona' at both the micro and macro level."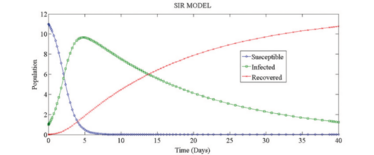 The artwork will form part of a larger exhibition of her portfolio, titled "REVEAL: The Art of Reimagining Scientific Discovery," at the American University, Washington, DC in the fall. The exhibition will also premiere a large wall-mounted installation, Silent Spread, that reflects, traces, and symbolizes the migratory pattern of SARS-CoV-2 through 28 individual sculptures. The layout of this piece was inspired by an SIR diagram of COVID-19, which was then mirrored (as seen below) to inform the final design.

Here, we can see one of the 28 graphite-on-mylar sculptures of SARS-CoV-2 that make up the installation. "The choice of gray color was inspired by viewing the NIH/NIAID/RML scanning electron microscopy images of the virus," says Kamen.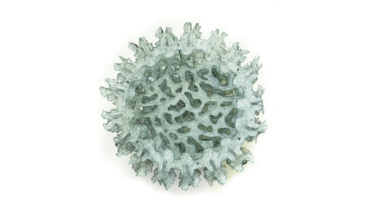 Want to find out more about Rebecca Kamen's work?
Check out this piece about her "Divining Nature" project inspired by the orbital patterns of the 83 naturally occurring elements in the periodic table.
Or head to her website to learn more about the artist.
Receive content, products, events as well as relevant industry updates from The Analytical Scientist and its sponsors.