Fields & Applications
Liquid Chromatography,
Environmental
Simulated Moving Bed: IMPRESSively Sustainable
How KNAUER contributes to an EU sustainability initiative with chromatographic knowledge and the application of simulated moving bed technology to recycle solvents and reduce waste
sponsored by Knauer
In the past, the core components needed to produce materials such as polyesters could only be sourced from fossil fuels. But things are changing as the industry recognizes the need to move towards more sustainable practices – especially new biorefining approaches for the production of intermediary chemicals. The EU's IMPRESS Project brings together 10 leading companies and several research and educational organizations to create a process in which these intermediates can be produced using renewable resources, such as byproducts from the forestry and agricultural industries.
Sustainability is a key part of the corporate philosophy at KNAUER, and we have established environmental-friendly processes in all of our departments. To name just a few examples: the entire company uses only green electricity, we optimize manufacturing processes through life cycle assessment, and we always consider the ecological impact of new products during development. Our philosophy and actions, in combination with our expertise in chromatography, meant we were a great fit for IMPRESS – and we have been involved since September 2019.
Many goods can be produced using second-generation biomass, which is first pretreated and converted into sugars and sugar alcohols using process technologies, such as fermentation and filtration. Chromatography is then used for the separation and purification of these products – and that's where KNAUER steps in.
In fact, KNAUER has a wealth of experience in the use of different chromatographic techniques for the separation of sugars. And we knew of a technology that was not only very well suited to the application – but also highly sustainable and able to slot into a continuous process: simulated moving bed (SMB).
How We Work
KNAUER develops and manufactures a wide range of scientific instruments for chromatographic separations for use in both analytical laboratories and in production sites. Offerings include systems and components for analytical HPLC/UHPLC, preparative HPLC as well as fast protein liquid chromatography (FPLC) and multicolumn systems, such as SMB. Our lab has a team of interdisciplinary application specialists from a variety of professional backgrounds, enabling us to look at complex separation problems from several angles and to find the best solution for each task, to help with method development, or to optimize an existing method.
Introducing SMB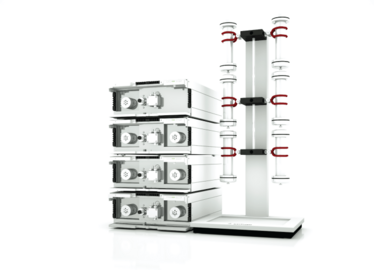 SMB systems continuously separate a product stream into two fractions. The continuous mode of operation is a huge advantage at the production scale because the need for equipment maintenance and cleaning is very low. Once the process reaches a steady state, an SMB system can run efficiently for days or even weeks. In short, it's fast and productive.
But that's not all: SMB technology is also highly sustainable. The majority of the solvent used is recycled in the system and only a low level of dilution is required. Specifically for the IMPRESS project, most of the necessary sugar and sugar alcohol separations can be performed using water as the mobile phase.
KNAUERs SMB systems are incredibly flexible, and can be used in many different separation modes, allowing them to be configured for varying separation tasks. In addition, they are also available in different materials and pressure ranges. And once a separation method has been developed on our SMB system it can be quickly scaled up to pilot scale.
Through our involvement in the IMPRESS project, KNAUER is even better positioned to develop individual and innovative solutions for your needs – including those involving SMB – whatever your industry.
To learn more about SMB and the IMPRESS Project, watch this video: https://www.youtube.com/ watch?v=YLnQG_RzuH
Receive content, products, events as well as relevant industry updates from The Analytical Scientist and its sponsors.