Fields & Applications
Environmental,
Professional Development,
Gas Chromatography,
Mass Spectrometry
The Environmental Chromatographer
We chat with Frank L. Dorman, Resident Scholar at Dartmouth College, former Associate Professor at Penn State, and Senior Principal Environmental Market Manager at Waters Corporation, who remains excited (and concerned) about the impact of environmental pollution on human health – after more than three decades working with gas chromatography-mass spectrometry
James Strachan | | Career
How did you get into analytical science – especially the environmental side of things?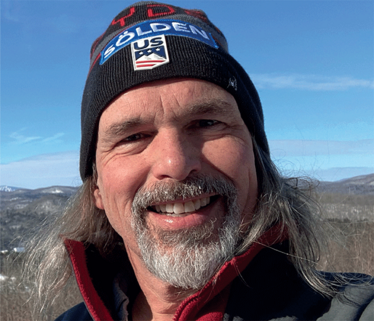 I was brought up in Pennsylvania – about 45 minutes to the southeast of Pittsburgh. I was right in the middle of the decline of the steel mills; the pollution from them – and the impact on the local area – was something we were all very aware of. Mostly, it was the financial impact that everyone worried about, but I can still picture the areas of defoliation that were downstream from the mills. Nothing grew there and even as a kid you had to wonder what that meant for human health (though we didn't use those words as kids).
I went through school always interested in two areas: music and science (probably in that order). I almost went to music school but decided to pursue a college education and focus on science, which eventually became a focus on analytical chemistry. I graduated from Juniata College in 1987 and went on to the University of Vermont to get my PhD in in analytical chemistry in 1992.

Following my PhD, I became a senior chemist with a large network environmental testing laboratory that allowed me to get a ton of experience in a wide variety of areas, including gas chromatography-mass spectrometry (GC-MS) and sample preparation for organics analysis. That was my entrance into chromatography and MS – and I'm still here more than 30 years later!

I left the commercial environmental world to take a position with a chromatography consumables manufacturer, where I eventually became the Director of Technical Development (basically, R&D). In this capacity, I was able to bring back my interests in physical chemistry and apply those to the design and manufacture of a number of novel GC column stationary phases – working alongside one of my oldest collaborators and friends, Paul D. Schettler. While I was with Restek, I also began a research faculty appointment at Juniata College and began to support and mentor undergraduate research students. There, I collaborated with Jack Cochran, who became a great friend; he has also contributed immensely to research that I have been involved with over the years.

(To read about Jack Chochran's career and his thoughts on GC×GC)
You then moved fully into (and then out of) academia…

Yes. After 14 years I finally decided to take the jump into full-time academia, taking a position at Penn State University as an Associate Professor. There, I established a research group that used various separation science tools in environmental forensics, forensic chemistry, and analytical chemistry. I was truly honored to have a number of fantastic graduate students; it was a very enjoyable experience. In my 10 years at Penn State, I believe that my students made a significant impact to the body of scientific knowledge – I am extremely proud of all of them. A PI couldn't hope for more!

Most recently, I took a position back in industry with Waters Corporation as Senior Manager for Global Environment Marketing. In addition, I have an academic appointment at Dartmouth College as Resident Scholar, so I am still engaged in teaching and expect that I may have opportunities to help mentor research students – which has been some of the most fulfilling work I have done over my career.
Tell me about your Scientific Achievement Award from GC×GC?

This award was presented virtually at the 2021 GC×GC Symposium. Unfortunately, the pandemic didn't allow us to meet face-to-face. I believe it was awarded for a career of research in multidimensional GC×GC and I would have a difficult time highlighting a single paper. Perhaps I should take this opportunity to thank a few of my greatest collaborators – people who have worked alongside me in this exciting field for many years and without whose help many of our efforts would have been much more difficult, if not impossible. I've already mentioned Jack Cochran, but I should add Eric Reiner and Jean-Francois (Jef) Focant to this list. The four of us remain good friends to this day and we've shared a number of great times that have resulted in some excellent science – and great stories!

I also need to point out that much of my work would never have been possible without a huge amount of support and collaboration with LECO Corporation. Specifically, Mark Merrick and Michael Mason have both been enormously helpful – and I'm happy to call them friends as well. Lastly, without the vision and support of Donald Patterson Jr and Jean-Marie (John) Dimandja I believe my research group's work would have been more difficult and, in fact, the field of GC×GC would not be where it is today.
Many thanks to all!
In terms of your research to today, what "gets you out of bed in the morning?"

Besides coffee and ski racing? At least with regards to science, I continue to be concerned and excited to learn more about how we impact human disease through exposure to the myriad of compounds in just about everything. It is clear that, though we benefit from the use of things like pesticides, for example, they may also have a deleterious effect on our health. Understanding this, however, is exceptionally challenging. It involves a very wide range of skills that demand high-quality collaborations – no single person or group can effectively research this area on their own. And I still get very excited about a new technique or finding that may allow us to further understand our complex chemical world in the hopes of making a positive impact to our health and our planet.
What is your view on the value of physical meetings for the field?

I believe that we have come to accept virtual meetings (and they do have some benefits), but there is still nothing like in-person meetings. In-person symposia are more effective when it comes to the social interactions that play such a critical role in the establishment of a scientific network for an individual. We accomplish so much more when we work as a team. That said, I already have my wonderful network of collaborators, so we can still get on calls to get caught up, but for people in the early stages of their career, I can't imagine how they will cope – and that will surely have a negative impact on our field.
Receive content, products, events as well as relevant industry updates from The Analytical Scientist and its sponsors.