Fields & Applications
Materials,
Liquid Chromatography,
Mass Spectrometry
True Colors
Speeding up the aging process to help reconstruct the colors of the past.
Maarten van Bommel |
Preserving our cultural heritage has great societal impact. Millions visit museums and historical collections every year and derive enjoyment, inspiration and education from the objects they see there. My role is to help provide the context that makes these cultural artifacts so fascinating, and preserve them for future generations. I work both at the faculty of humanities, where we teach conservators, and at the faculty of science, within the analytical chemistry group. This ensures the integration of art and science, which is key in the preservation of cultural heritage.
Right now, I have two main lines of research, closely interconnected. One is the investigation of organic colorants used in textiles, furniture, paintings and drawings. I have studied objects from 3,500-year-old archaeological textiles to 20th century art. By understanding which organic colorants were used in an object and how they have changed over time, including degradation mechanisms, we can develop preservation strategies and even reconstruct the original appearance of the object.
Tools of the trade
Analytical science forms the basis of all chemical research carried out in the field of cultural heritage, and developing better analytical methods is critical to allow us to extract more information without damaging the objects we aim to preserve. The main technique used for organic colorants analysis is chromatography, predominantly (ultra) high-performance LC ([U]HPLC). For organic colorants, photo diode array (PDA) is the detection technique of choice (1). For those components that cannot be identified based on retention time and PDA spectra, we are increasingly turning to MS. In particular, the sensitivity and high resolution of the Orbitrap MS offers new possibilities.
The chemical variety of organic colorants is huge and, to improve separation power, comprehensive 2D-LC techniques are being introduced. We use ion-exchange chromatography in the first dimension to separate dyes based on charge, followed by a second separation using ion-pair reversed-phase chromatography and detection by both PDA and quadrupole TOF-MS (QToFMS). This allows hundreds of colorants to be separated in one run (2). Inorganic materials (used as fixation agents) and can also alter the color of the object. Scanning electron microscopy coupled to energy dispersive X-ray spectroscopy (SEM-EDX) is used to identify the inorganic composition.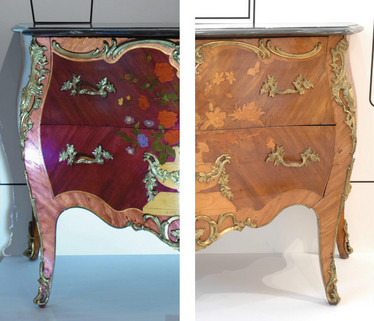 (Left) A. Bongen, Commode, 1766, illuminated with colored light to visualize its original appearance, Photograph by Federica van Adrichem. (Right) The same commode under normal white light. Photograph by Jaap Boonstra.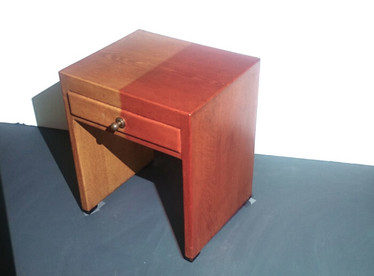 Piet Kramer, Nightstand, 1933–1936. Half is illuminated with white light (left) and half with colored light (right), Photograph from the Cultural Heritage Agency of the Netherlands.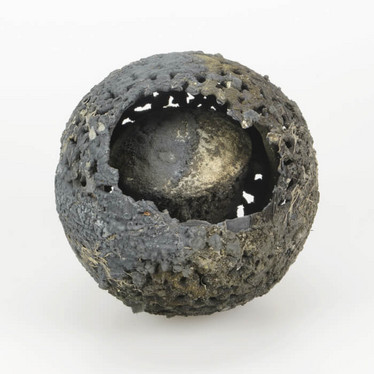 Adrichem; Possible handwarmer, with an internal cardan-mechanism. Gilded silver, possibly German, 17th century. Photograph by Restaura.
Light touch
Analytical results are just the start of the research. Even with chromatographic information about the composition, is often difficult to know the exact color, since that is also dependent on how the colorant was applied. Therefore, we study historical sources for recipes, which we recreate in the lab. We then apply artificial aging to our "mock-ups"; for example, by exposing them to an intense light source to stimulate fading. The faded material can be analyzed for degradation products, and the fading rate can be used to determine future behavior. However, the color of an object often comes from a mixture of colorants and it is impossible to tell which degradation products originate from which parent molecule. To help solve this puzzle, we recently partnered with several organizations to initiate the Toolbox for studying the Chemistry of Light-induced Degradation (TooCOLD) project.
In the TooCOLD project, we are developing a light-degradation cell coupled on-line to chromatographic techniques and MS. We will first separate complex mixtures of dyes and guide each individual dye to an exposure cell, then the dye will be trapped and exposed to light, before the degradation products, also a mixture, will be separated in a second chromatographic system, followed by high-resolution MS. In this way, we can study the degradation pathway of individual components, which can be related to historical objects by analyzing samples or faded reconstructions. The main advantage of the TooCOLD system is the speed – normal degradation studies can take weeks or even months, but we expect to do this in a day. The toolbox can be applied in other fields as well – we are collaborating with Unilever to examine food sustainability and with water companies who wish to use the light treatment to purify water. We are working with a company to develop a commercially available product based on this technique.
Understanding the use and behavior of colorants is very useful but won't allow us to accurately reconstruct the appearance of the original object. Therefore, we developed a technique using colored light to mimic the original appearance, with the color of each section determined based on chemical analysis and reconstruction research (3). Pictured on is a small table designed by Piet Kramer, which was partly illuminated for a museum display, creating such a realistic impression that we received complaints from museum visitors who thought we had painted the object!
Receive content, products, events as well as relevant industry updates from The Analytical Scientist and its sponsors.
A Serrano et al., J Chromatogr A, 1318, 102–111 (2013).
BW Pirok et al., Anal Chem, 91, 3062–3069 (2019).
MR van Bommel et al., "Bringing back color: retouching faded furniture with colored light", AIC Wooden Artifacts Group Postprints, Houston, Texas, 95–109 (2018).