Techniques & Tools
Gas Chromatography,
Technology
Better, Smarter GC
How the Agilent Intuvo 9000 GC is boosting productivity in two very different application areas.
sponsored by Agilent Technologies
The Scent of Innovation
Alessandro Casilli, a senior scientist at Firmenich, tells us how the Intuvo helps sniff out efficiency gains.
What is Firmenich? And what is your role?
Firmenich is the largest privately-owned company in the flavor and fragrance business – we create fragrances and flavors for the world's most desirable brands. Our clients operate in the food and beverage industry, as well as in the cosmetics, perfumery and home care products industries. Firmenich has been in existence for nearly 125 years and, with more than 7,300 employees in around 100 countries and various dedicated research centers worldwide, we are among the top companies in the world in this market. Innovation is crucial to our success.
As a senior scientist in the Analytical Innovation team in the USA, I work with my team to identify and implement state-of-the-art instruments in routine or R&D applications across the company – we are always striving to improve our analytical capabilities. Sometimes that might be a small innovation; sometimes we'll integrate a completely new instrument – or even a completely new concept in order to provide the best products in terms of performance, guaranteeing the safest standard levels. And so the work is never boring! We have to understand the needs of internal stakeholders and work with suppliers to help make that a reality. As you'll imagine, much of our research is focused on volatiles, so gas chromatography is a critical tool.
Why did this industry appeal to you?
Flavor and fragrance are such an important presence in our lives – just think of the flood of memories released by the scent of a familiar perfume, or the taste of a favorite childhood food. It's also a tough field for analytical chemists, who must routinely carry out analyses ranging from separating thousands of components to extracting a single ingredient. I enjoy the challenge of developing methods accessible to all users.
How do you maximize productivity in the lab?
Productivity and high throughput are not only buzzwords – they are also important goals. But I've learned that you must proceed with caution; otherwise, the time taken to develop or adjust a method can outweigh the advantages. You can invest a great deal of time trying to improve throughput, and end up with a method that is too complicated to apply on a daily basis. We aim to boost productivity by identifying instruments that simplify day-to-day procedures. The Agilent Intuvo 9000 GC system is a game changer in this regard. A more efficient oven and easier column installation reduces time spent on maintenance and makes the instrument more accessible to non-expert users. And yet, its conventional column and inlet means that it can slot easily into existing procedures.
How have you applied the Intuvo?
We have found the innovative chip technology to be the most unique and valuable feature of the Intuvo – it is absolutely unprecedented. The Guard Chip provides an independent, programmable heating zone between the inlet and the column, which we are using as a trap. We inject samples in the inlet, and they are transferred into the Guard Chip, which is initially kept at a low temperature before heating up to allow the transfer of the fraction of interest; for example, going from 40 to 120 degrees. This process reduces the need for sample distillation/extraction and protects the column from heavy fractions that might cause contamination.
We have found the Guard Chip to be particularly powerful when used in a mid-column backflush configuration. Once the fraction is transferred into the second part of the column, we can backflush the first portion of the column and Guard Chip, meanwhile the second part of the column is finalizing the analysis. Before the end of the analysis we are ready to start the next injection, with a clean Guard Chip and first part of the column. It has proved impossible to perform this procedure with any other instrument but, even in this relatively complex configuration, we found that the Intuvo was robust and reliable. Though the Intuvo will not replace all conventional GC systems, we see it playing a key role in applications where high-throughput, ease of use and reliability are paramount.
The Taste of Success
Eurofins is a world leader in food, environment and pharmaceutical products testing. Marvin Overbeeke, Khalid Bensbaho and Elisa Platjouw tell us how the Intuvo is speeding up pesticide testing at Eurofins Lab Zeeuws-Vlaanderen.
How do you use GC-MS in your work?
Both the pesticide and the dioxin departments at Eurofins have GCMS instrumentation, and our challenge is always to achieve more with less. One method that is currently under development aims to quantify 400 pesticides in a single run.
What are the most important factors for you when it comes to choosing a GC-MS instrument?
In short, sensitivity, selectivity and robustness. We also consider how easy it is to work with; our analysts should be able to use and maintain the machine – and add new methods – as quickly and as easily as possible. The ease of use of the Intuvo was one of the main attractions for us.
What difference has the Intuvo made in your lab?
One big difference is that, thanks to the Guard Chip system, we can now analyze dirty matrices (for example, oily or spicy foods) with significantly less maintenance of the system. And when we do perform maintenance, it is quicker and easier, so there is less downtime. At the 2018 European Pesticide Residue Workshop (EPRW) we presented a poster demonstrating a 67 percent drop in downtime (Figure 1). Put simply, the Intuvo is one of the best, most robust and most sensitive devices we have in our lab.
Your poster also mentions the MassHunter Workstation software…
The new software is more intuitive and user friendly than previous software, with more options to automate processes. It is very visual – you can look at your sample and your control simultaneously to see immediately if you have found the right compound. Another feature is that we can tailor what the analysts see, making sure each analyst only sees the options they need for their analysis. We found that the MassHunter software reduces calibration time by 78 percent (Figure 1).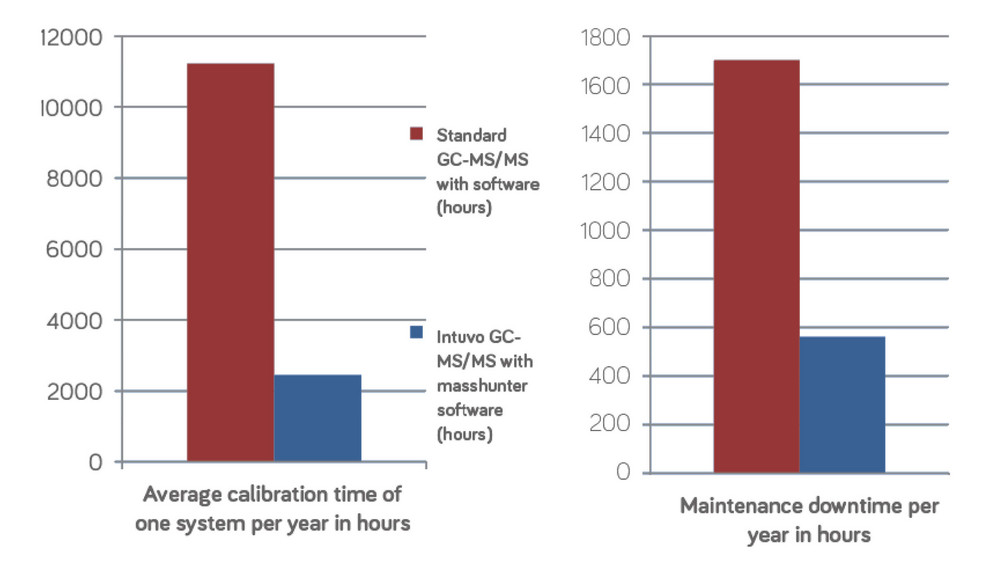 Making the Leap
A new GC system is a major investment – why choose Intuvo?
By Eric Denoyer, Marketing Director, Agilent Technologies.
The Agilent Intuvo 9000 GC System compares with a typical GC system the way a smartphone compares with a traditional telephone. It has a fast direct-heating design, uses half the power, and takes up half the bench space of a conventional air-bath oven GC instrument. New ferrule-free direct connections with plug-and-play flow path components eliminate a major source of maintenance and complexity, while built-in automatic leak checking ensures connections are made correctly. A unique disposable Guard Chip protects the column from undesirable high molecular weight contaminants and eliminates the need for cumbersome column trimming.
Spending less time on maintenance and reducing potential errors that can lead to unplanned downtime leaves more time for running samples, which is a real time and cost saving for lab managers. In addition, as the Intuvo's direct heating system can heat a capillary column as fast as 250 °C/min, while also having the capability to rapidly cool the column, inject-to-inject cycle times are faster.
Although the Intuvo system improves efficiency in several ways, it was designed to use previously developed, capillary GC applications, which means it can be adopted in an existing lab with little or no disruption. For example, the Intuvo continues to use the familiar time-proven fused silica capillary column, although it is wound in a more efficient and convenient planar format. It also leverages proven inlet and detector technologies. Therefore, the chromatographic behavior of, and analytical results from, an Intuvo system will look and feel very familiar to individuals comfortable with conventional GC systems.
CLICK HERE to find out more about the Intuvo
Enjoy our FREE content!
Log in or register to gain full unlimited access to all content on the The Analytical Scientist site. It's FREE and always will be!
Login
Or register now - it's free and always will be!
You will benefit from:
Unlimited access to ALL articles
News, interviews & opinions from leading industry experts
Receive print (and PDF) copies of The Analytical Scientist magazine
Register
Or Login via Social Media
By clicking on any of the above social media links, you are agreeing to our Privacy Notice.