Techniques & Tools
Mass Spectrometry,
Environmental,
Metabolomics & Lipidomics,
Gas Chromatography,
Liquid Chromatography
Blowhole Breathalyzer
Could bottlenose dolphin breath analysis help with conservation efforts?
Stephanie Sutton |
We've covered human breath analysis before (1, 2) – and it's not as straightforward as it appears. Now, taking the challenge a step further, scientists based in California and Florida have developed an instrument that analyzes the metabolites in dolphin breath to determine health (3). The work is especially relevant after an unusually large number of dolphin deaths along the Atlantic coast of the US in 2013. Health assessments of dolphin populations could go a long way towards aiding conservation efforts by giving an early indication of serious problems, such as infectious diseases or contamination. According to the research team, breath analysis and comprehensive metabolite profiling have not been attempted in cetaceans before.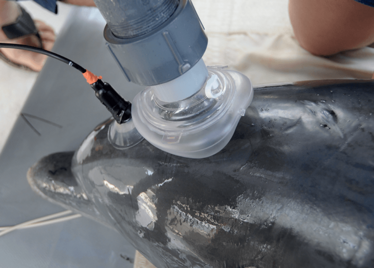 "The project started when I was introduced to Frances Gulland from the Marine Mammal Center and Stephanie Venn-Watson from the US Navy's Marine Mammal Program. We saw that breath monitoring concepts from humans could potentially be very useful in this population of animals," explains Cristina E. Davis, a professor at the University of California who led the study. "There is very little knowledge on the baseline breath metabolite composition of marine mammals, but several studies have shown that cetacean breath could hold diagnostic value."
Davis and her team designed an insulated tube that traps and chills the breath exhaled from a dolphin's blowhole. Breath samples were collected from both wild dolphins and dolphins from the National Marine Mammal Foundation in San Diego ahead of gas chromatography-mass spectrometry (GC-MS) and liquid chromatography (LC)-MS analysis.
"The device can maintain temperature control during the sampling process and was designed specifically for dolphin lung physiology. It allows us to get very reproducible samples even in ambient outdoor environments," says Davis. "When it came to profiling the exhaled metabolites, we chose an untargeted approach to broad spectrum metabolites, so that we could observe as many different biomarkers as possible," (see Figure 1).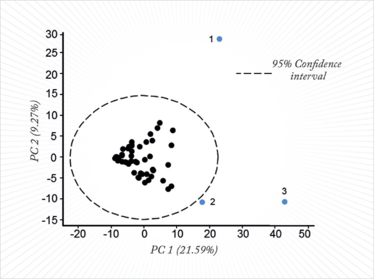 Breath analysis is challenging because of the large variability and low abundance of exhaled metabolites, but dolphins and other cetaceans are particularly suited because they have separate digestive and pulmonary systems, helping to avoid contamination of the breath sample. Dolphins are also "explosive breathers" with rapid gas exchange. Davis admits that small variation may still occur and that follow up studies using chemical standards may be necessary to more precisely measure key metabolites.

"We are now working on a longitudinal trial to study how baseline metabolites are associated with animal health," adds Davis. "We are also working on expanding the veterinary applications of the approach."
Receive content, products, events as well as relevant industry updates from The Analytical Scientist and its sponsors.
Lisa Spacek and Terence Risby, "Breath Analysis for Disease Diagnosis", http://tas.txp.to/1114/breath1
Terence Risby and Joachim Pleil, "CSI: Breathprint", http://tas.txp.to/1114/breath2
A. A. Aksenov et al., "Metabolite Content Profiling of Bottlenose Dolphin Exhaled Breath", Anal. Chem., 86921, 10616-10624 (2014). DOI:pubs.acs.org/doi/abs/10.1021/ac5024217